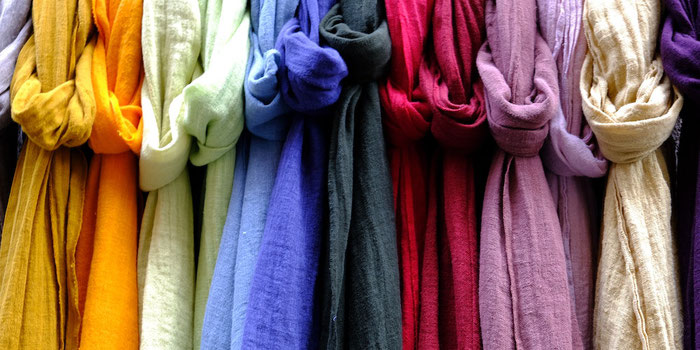 It's a minimalist's must-have - multi-purpose, lightweight, and stylish - to travel lighter, easier, and better.
1. neck scarf
When it's cold out, a scarf can be a plain good ol' scarf to keep your neck warm.
Wrap around your neck in any style or knots you want, it's sure to do it's snuggly job.
2. shawl
Worn over the shoulders, a scarf can become a wrap or a shawl to cover up some more.
3. fashion accessory
Especially with a minimalist capsule wardrobe, adding a scarf to different clothing combinations can create entirely new looks and outfits to make them appear unique.
It's a versatile mix and match addition that can be worn pretty much year-round.
4. skirt
Wrap and knot the fabric around your waist to make a short, knee-length, or long skirt.
A great wardrobe addition, a makeshift piece in a pinch, or for extra cover.
5. dress
Tie up top and you can create a simple, easy off the shoulder dress or coverup.
Toga!
6. hand towel
It's a great paper towel substitute for spills, messy hands, or quick hand drying. 
7. bath towel
Don't have a bath towel when getting out of the shower?
You can towel dry with a scarf.
8. travel pillow
Need a pillow?
Ball up the scarf into a bundle and you'll be catching zzz's in no time.
Great for traveling on planes, trains and buses since you wedge it into your neck.
9. pillowcase
Sleeping on a sofa or a questionable pillow?
Throw the scarf on top as a quick pillowcase.
10. sheet
Need a quick top or bottom sheet in pinch?
Unravel, lay flat and voila - a sheet.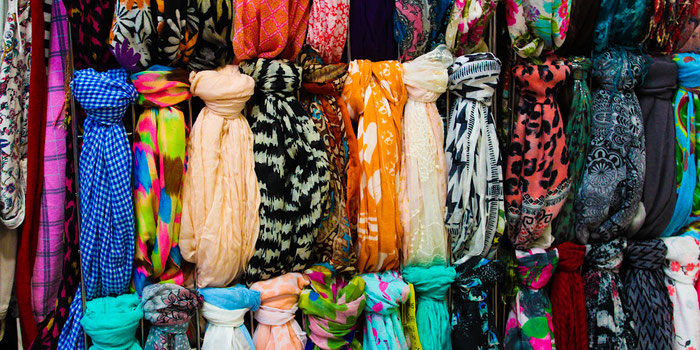 11. blanket
Makes a great extra blanket when chilly, especially on cold planes and trains. 
12. beach coverup
No need for an extra outfit, just wrap your scarf around your waist for an easy coverup.
13. beach towel
It's also a beach towel that you can throw on a chair, on the sand, and dry off with.
14. head wrap
Too hot out?
Touring a religious site, temple, or museum?
Turn your scarf into an instant head wrap. 
15. bandana
Roll it up tight and swirl for a quick and easy head or neck bandana and accessory. 
16. face cover
Layer across your nose, mouth to protect your face in hot, snowy or sandy climates.
17. electronics cover
Wrap around your laptop or tablet for a soft, scratch resistant cover during travel. 
18. window curtain
In need of a window covering for sun or privacy?
Hang that sucker up for some shade.
19. privacy curtain
Changing for the beach?
Wardrobe malfunction?
Change behind the scarf for privacy.
20. carry bag
Wrap items up and tie the ends together for a quick and easy carry bag in a pinch!