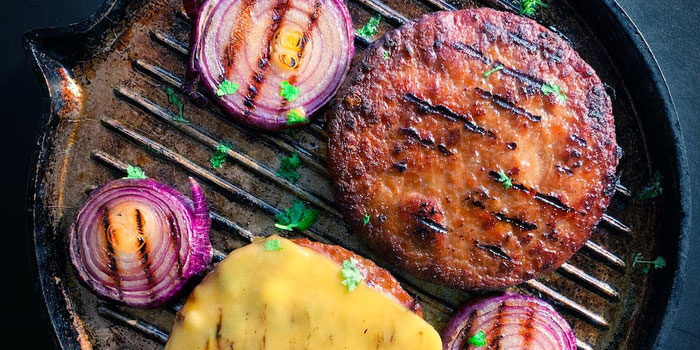 Even the most dedicated vegans may cringe at the usual summer invitation to a backyard barbecue.
When it's time to face the grill, do vegans have to just grin and bear being left out of the barbecue scene?
Below is a list of 13 vegan barbecue recipes from around the world for delicious eats – without the meats.
Thanks to fiery grills providing the smoky flavor, you don't have to give up the grill marks and you won't miss the meat for a moment!
Mediterranean Grilled Avocados
This delicious, hot-off-the-grill barbecue recipe includes two superfoods – avocados and chickpeas.
The smoky blend of warm, melty avocado, and crispy chickpeas brings on the exquisite flavor.
When blended with cool diced mango and cucumber, as well as salty capers and spicy pepper, it's a vegan treat with barbecue heat.
What's not to love!
Grilled Eggplant Baba Ghanoush
Eggplant provides a satisfying, meaty meal without the meat, which is also what makes it a vegan fav.
This vegan recipe for Baba Ghanoush blends grilled eggplant with garlic, lemon, and spicy red pepper with a food processor into a delicious smoky dip for hot pita points.
It makes a sensual date-night at-home dish or a perfect addition to a backyard barbecue.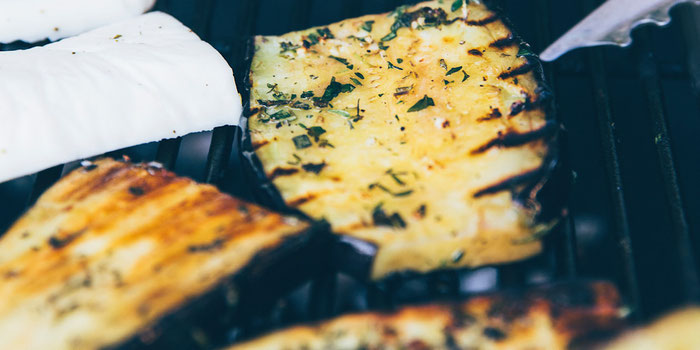 Sweet Cinnamon Grilled Plantains
Plantains make a delish dish on the grill that can go either sweet or savory.
This is a sweet treat for a vegan barbecue that is simple to make.
With a drizzle of coconut oil, topped with a sprinkle of cinnamon and brown sugar, grilling plantain halves result in a great glazed treat that everyone will love.
Lettuce Wraps with Jerk-Grilled Tofu
Sweet and spicy chunks of marinated, grilled tofu are topped with pineapple salsa before being wrapped in butter lettuce leaves in this summer recipe.
Hints of lime and cilantro combine with garlic, ginger, thyme, allspice, nutmeg, and coconut sugar. Yum!
Your non-vegan friends may convert!
Grilled Vegetable Skewers with Chimichurri Sauce
These skewers combine sweet and savory with chunks of sweet potato, red bell pepper, red onion, portobello mushrooms, and baby red-skin potatoes.
Serve this colorful combo with an Argentina-inspired green chimichurri sauce to perfectly set it off with a spicy blend of serrano pepper, cilantro, parsley, garlic, lime juice, and a hint of maple syrup.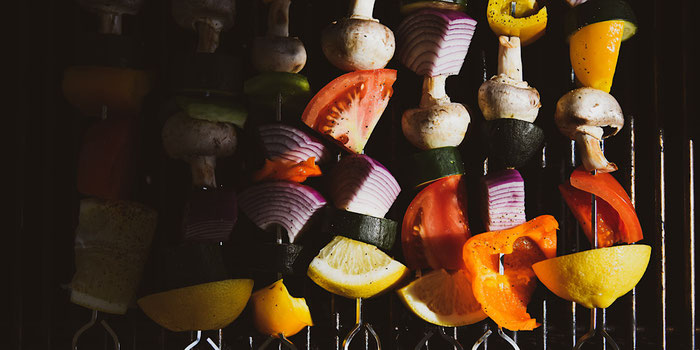 Grilled Corn with Sriracha Aoli
Grilled corn can be a meal in itself.
But when you add lime, fresh herbs, and spicy sriracha aioli, the delish corn dish blasts into the taste stratosphere.
This is a taste inspired by the popular Mexican street food.
Grilled Tofu Kebobs with Mint Pesto
Chunked, grilled tofu is tossed with a mint pesto featuring a blend of almonds, garlic, parsley, and lemon pulsed in a food processor and blended with olive oil.
The grill gives the tofu a smokey flavor and the tangy pesto sets it off perfectly in this vegan, gluten-free recipe.
Grilled Vegetable Fajitas with Creamy Jalapeno Sauce
Nothing packs more flavor into a tortilla shell than fajitas, and vegans don't need to miss all the fun.
These fajitas feature grilled zucchini, asparagus, red bell pepper, portobello mushrooms, and red onions marinated, grilled, and then served with a spicy, creamy sauce for a taste-tingling blend of cool and spicy to perfectly set off the vegetable fajitas.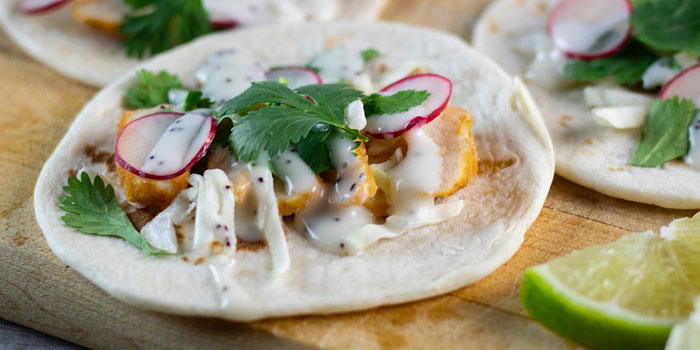 Magical Grilled Peaches
Nothing says summer more than fresh, juicy peaches—except maybe when those peaches are grilled until they form their own natural, caramelized glaze.
This recipe uses a drizzle of coconut oil, a touch of mesquite seasoning for smokiness, and a sprinkle of coconut sugar to set off the flavor of summer-ripe pitted peach halves.
Grilled Cauliflower Tacos with Mango Slaw
Cauliflower has finally gotten its long-awaited accolades as the world's most versatile vegetable.
This recipe results in savory tacos featuring grilled cauliflower, mango slaw, and avocado crema wrapped in a corn tortilla.
This is a treat for the tongue that thrills and then chills with spicy hot pepper and creamy avocado.
Even carnivores won't miss the meat with this savory treat.
Italian Grilled Margherita Pizza
Although vegan burgers are a hot favorite at BBQs, pizzas are an equally loved treat!
Pizza doesn't have to miss the summer grilling fun, and neither do vegans.
This pizza recipe features grill-cooking for a smokey flavor.
Top it with tomato sauce, sliced tomatoes, fresh basil, and an easy-to-make vegan mozzarella.
Red pepper flakes give this grilled pizza an extra bite that will keep you biting.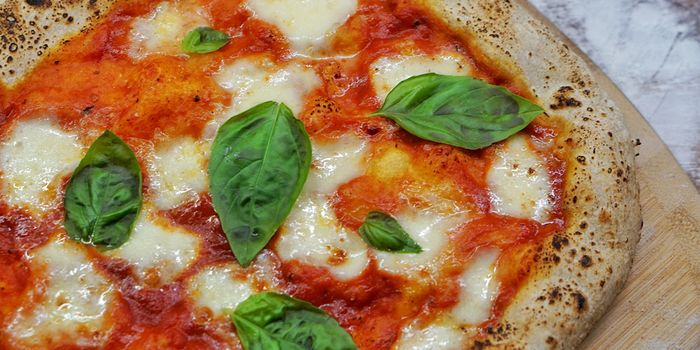 Grilled Baby Potatoes with Lemon-Herb Dressing
When potatoes meet flaming grill, they crisp and carmelize, making the flavor go pow!
When you top sliced grilled baby potatoes with a delicious lemon-herb dressing, the flavors combine and complement.
This recipe adds the kiss of lemon, garlic, parsley, cilantro, and pepper pureed into a delicious green sauce.
It looks as good as it tastes!
Grilled General Tso's Cauliflower
Who needs chicken when you have the uber versatile cauliflower?
This one glazes grilled cauliflower florets in the classic combination of soy, chili, brown sugar, ginger, and sriracha, with a sprinkle of sesame seeds to add crunch.
Use bamboo skewers to cook the florets on the grill to add the smokey flavor for a delicious vegan version that everyone will love!