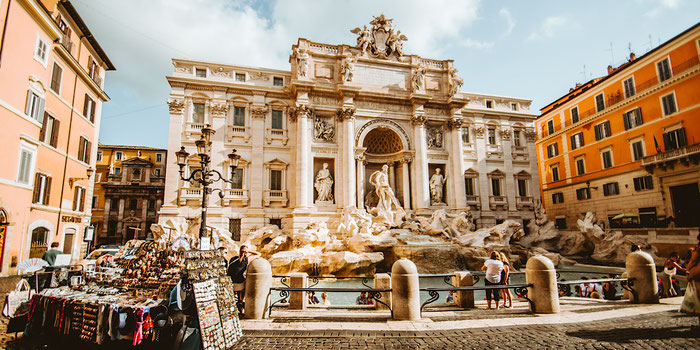 Here's my list of the top spots to get tasty vegan meals... when in Rome.
100% bio
Piazza di Porta San Paolo 6a
All vegan, all organic cafe open all day for breakfast, lunch and dinner.
Has sandwiches and treats for takeaway, a great coffee bar, a huge lunch buffet that's pay by weight, and an a la carte and taster menu of dinner options with organic beer and wine for aperitifs.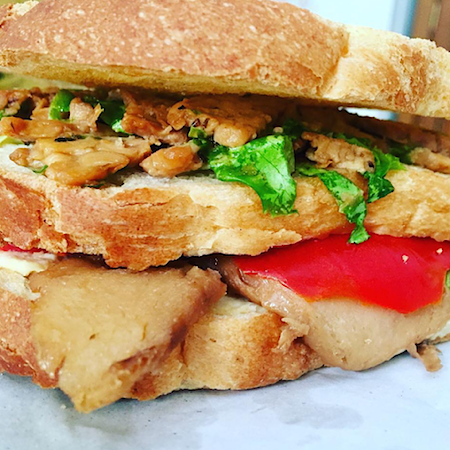 alvarado street
Via Attilio Mori 27
Funky bar serving up vegan beer and vegan bar foods like vegan sausages and cold cuts.
banco fast food
Via Ostiense 40
Local, natural fast food chain with a delicious vegan menu of burgers, tacos, noodles, nuggets, bowls, wraps, dips, seasonal specials, plus fresh cold-pressed juices and beers.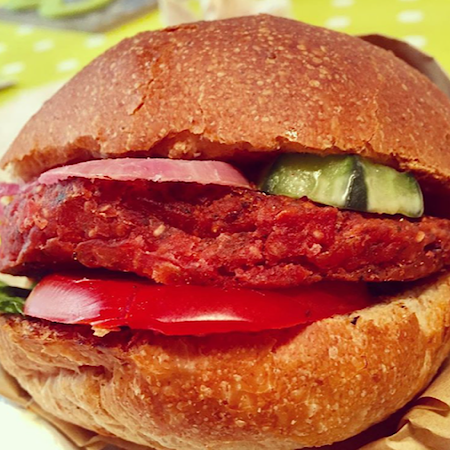 bistrot veg & veg
Via Dei Latini 51 
Cute vegetarian restaurant serving inventive and artfully presented vegan plates. 
breaking bread bistrot
Via Degli Olivi 49
Popular local all vegan cafe serving breakfast, lunch, dinner, bakery goods and desserts.
cambio vita
Via del Governo Vecchio 54/55
Juice bar with vegan burgers, sandwiches, salads, cakes, cookies, juices, and gelato!
dall' albero
Via Salaria 163-167
Popular restaurant, bar and store that serves raw meals, plus sandwiches, pizzas, desserts, and more, and even makes its own vegan artisanal cashew and almond cheeses in its very own laboratory.
ecru
Via Acciaioli 13
100% vegan restaurant serving artistic raw foods like burgers, sandwiches, and noodle dishes.
fa bio
Via Germanico 43
Cute little spot for great vegan sandwiches and wraps, plus fresh juices and smoothies. 
flower burger
Via Dei Gracchi 87
Fun and funky vegan burger chain that serves brightly colored, nutritious, and tasty vegan burgers, plus soft serve ice cream.
il margutta
Via Margutta 118
Veg restaurant, and art gallery, with a lunch buffet with vegan options, plus a taster menu and a la carte dinner options.
iphame
Via Agostino Depretis 64
Offers tasty sandwiches with vegan meats and cheeses, plus fresh smoothies with soy milk.
ivegan
Via Angelo Emo 125
All vegan shop and kitchen serving homemade burgers, hotdogs, wraps, desserts and more.
la capra campa
Via Dignano D'Istria 51
100% vegan bistro serving up creative, classic and modern, cooked and raw foods.
lattuga
Via Vespasiano 30
Chic veg cafe with a selection of vegan sandwiches plus salads, snacks, juices and more. 
madre terra
Via Nomentana 223
Modern 100% vegan Italian restaurant serving everything from pizzas to noodles to desserts to cakes. 
mater terrae
Largo Febo 2
Beautiful fine dining on the rooftop of the Raphael Hotel, with vegan and raw menu options.
ops!
Via Bergamo 56
Very popular local spot with a pay by weight 100% vegan buffet plus desserts like tiramisu. 
ossido alternative vegan bistro & bar
Via Gentile da Mogliano 154
100% vegan spot serving tasty burgers, dogs, wraps, bowls, cheesecake and more.
puccetto
Borgo Pio 176
Juice and smoothie bar with lots of vegan snacks, sandwiches, burgers, muffins and treats.
romeows cat bistro
Via Francesco Negri 15
Rustic and chic reservation only vegan fine dining space with free-roaming cats!
so what?!?
Via Ettore Giovenale 56
Casual vegan restaurant serving authentic Italian foods like pastas and desserts and more.
solo crudo
Via Federico Cesi 22
Locally loved all raw vegan gourmet food cafe with pasta, wraps, sushi, desserts and more. 
universo vegano
Piazza del Paradiso 18
Vegan fast food chain serving up delicious burgers, wraps, pastas and desserts.
veg and wine
Via Trionfale 94
An authentic Italian restaurant and menu that's usually half vegetarian and half vegan. 
vegan store 83
Via Lorenzo Ghiberti 19
Vegan stall in Testaccio Market serving fresh made sandwiches, desserts, snacks, drinks, plus an enormous selection of vegan foods, supplies and beauty products.
veggie days
Via Tuscolana 924
Vegan fast food chain with tasty burgers, curries, pastas, cakes, ice creams and more. 
vegusta
Via Delle Palme 31
Vegan street food like burgers and fries.
Also does festivals & closes restaurant in summer. 
wani vegan bakery
Via Gabriello Chiabrera 162b
Vegan bakery serving sweets and baked goods plus savory pizzas and casseroles.
zazie
Via Cesare Bosi 9
Vegan juice bar chain serving vegan lunch options like salads, soups and bowls.