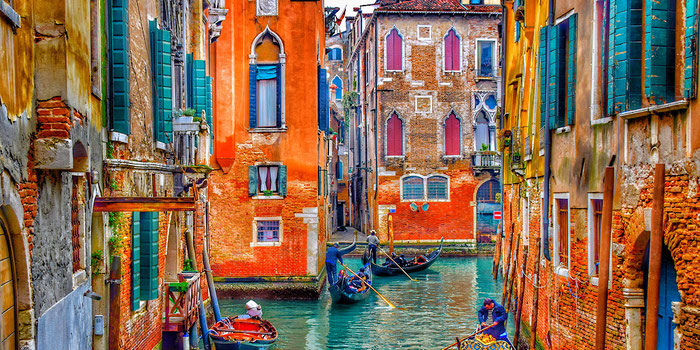 Eating vegan is easy in Venice!
Sure you can find cheeseless pizza or vegan gelato anywhere - but you can also find all the delectable Italian classics, and more, all easily veganized.
Most spots are easy to get to just by walking around or you can hop into a water taxi or on a water bus, and cruise around the many canals.
There's even a few places on the mainland that are great stops on your way into or out from the islands.
Here are some of my favorite finds.
BIO SOUND SYSTEM
Via Doge Michiel 2/C 
Located out on Lido, Bio Sound System is a vegetarian restaurant with daily changing veggie and vegan menu with tofu and seitan dishes, plus vegan cakes!
CAMOMA VEGGIE TAKE AWAY
Sotoportego de Rialto Ruga dei Oresi 57
100% vegan to-go spot serving up lasagnas, sandwiches and desserts.
Capatoast
Cannaregi 3102
Offers vegan toasted sandwiches, sweet or savory with vegan cheeses and vegan mayo.
Chef Express
Mestre train station
A local chain with vegan coffee drinks, sandwiches, croissants, and cakes to go.
Great stop for traveling in or out of the city.
Cocaeta
Fondamenta San Giobbe 548a
Delicious vegan Venetian crepes with tons of sweet and savory options.
Da mario alla Fava
Calle dei Stagneri 5242
Upscale Italian trattoria with separate vegan menu of pastas and desserts.
Frary's
Fondamenta dei Frari 2558
Mediterranean restaurant with plenty of worldly inspired vegan options.
Gelateria Chocolat
Corso del Popolo 169-171
This one is special because it has a selection of vegan gelato plus vegan waffle cones!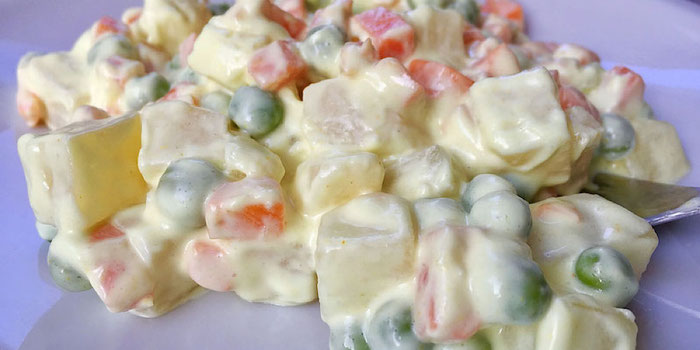 LA TECIA VEGANA
Calle dei Sechi Dorsoduro 2104
Off the beaten tourist path, La Tecia Vegan is a 100% vegan, organic, and super popular restaurant with a huge menu of delicious Italian dishes and comfort foods.
The best cheesy, meaty lasagna I've ever had in my life!
Make a reservation because locals love this place!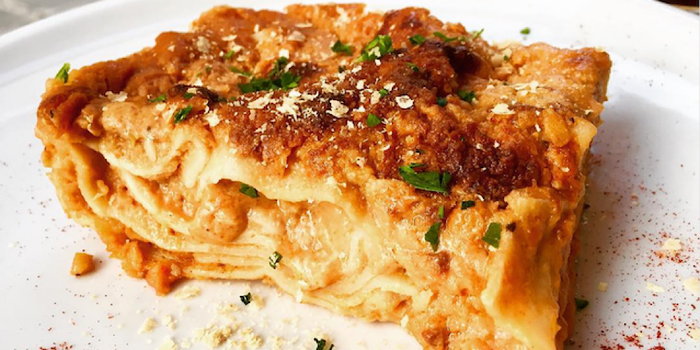 La Zucca
Sotoportego del Tintor 1 Sestiere Santa Croce 1762
Restaurant with several vegan options like soups, pastas, vegetable dishes and desserts. 
LE SPIGHE
Via Giuseppe Garibaldi 1341 Castello
Local, seasonal pay by weight buffet with health food shop attached.
Naturalia
Sestiere Dorsoduro 3525
Large vegan/veg shop with vegan health and beauty products, dry foods and fresh foods.
Great for snacks to go or vegan groceries like milks, cheeses, meats and more.
QUANTO BASTA
Cannaregio 148
Located on the mainland, this vegetarian kitchen serves coffee and lots of vegan options with fresh veggies like pastas, wraps, burgers and cakes.
VgOloso
Viale Ancona 10a
Also the mainland, in Mestre, this spot is a casual all vegan cafe with burgers, sandwiches, soups, pastas, desserts, smoothies and more.