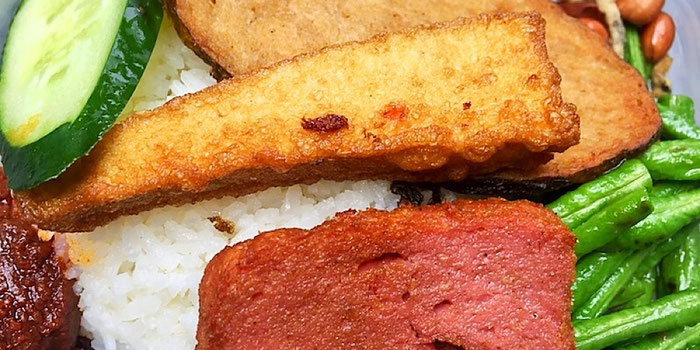 The best hidden gem for delicious eats in Singapore's Jurong West is Vegetarian Villas - is one of my favorite foodie finds.
Almost completely hidden in Singapore's Jurong West neighborhood, you'll discover this spot nestled on the first floor of an apartment building, but it's worth the treasure hunt to find it and here's why.
This chic, cozy cafe boasts a huge menu of vegetarian, and mostly vegan, Asian specialties all with extraordinarily tasty mock meats that really make the dishes pop.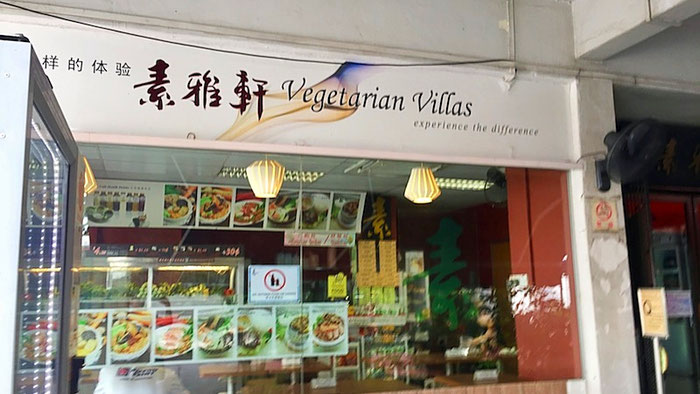 The menu has many traditional meals on it, including several rotating daily specials.
Locals love this place for its clay pot rice, yong tau foo, and build your own soup counter where you can choose from a giant display case of fresh vegetables, a variety of mushrooms, noodles, and mock meats to create your own combination of yum.
There's also a large selection of bottled juices and teas with unique flavors like barley, honeydew, and chrysanthemum.
And with super fast, friendly service, indoor and outdoor seating, and insanely affordable prices - what's not to love? 
Here's some of my favorite dishes that I ate every single day!
nasi lemak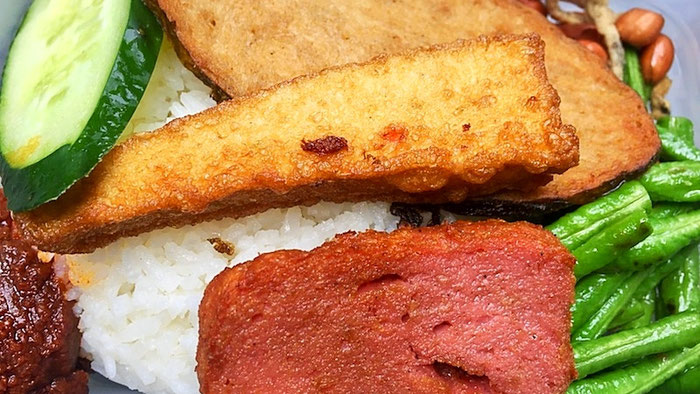 I'm a huge fan of their nasi lemak, and so is everyone else, because this one usually sells out fast.
It's golden fried tofu, mock fish and sausage, fresh green beans, toasted peanuts, rice, and their own homemade special spicy sauce.
Mix it all together for a total flavor explosion in your mouth.
pork rib rice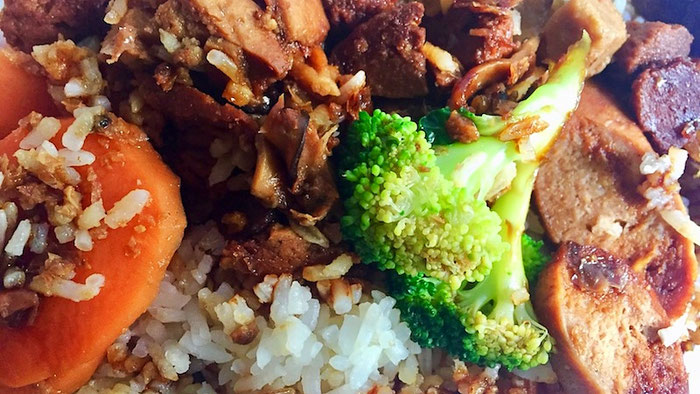 The super tasty pork rib rice dish comes full of savory slices and chunks of vegan pork, plus carrots and broccoli, and a salty savory sauce, all on a bed of rice.
Umami, eat your heart out.
This satisfies all your taste buds and your entire tummy, too.
go visit
Visit Vegetarian Villas at Block 479 Jurong West Street 41 #01-264.
If you visit the restaurant, you can also stock up on snacks and treats at the Takara Vegetarian Convenience Shop right next door.
Or order from Vegetarian Villas online for delivery via Deliveroo.