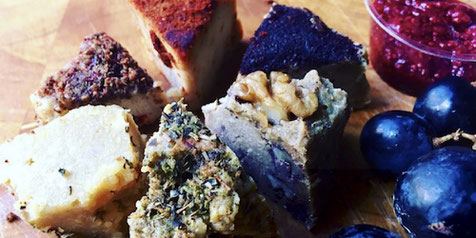 The UK's first 100% vegan pizzeria... And they deliver! I've never heard of anything so fantastic!
Being a huge pizza lover, and vegan, of course, I could not have been more excited about the opening of this 100% plant-based pizza restaurant. No worrying about reading the menu and scrutinizing the ingredients! All vegan cheese and meat to eat to my heart's content! And most is also gluten-free, too. 
And it's not just pizza! Purezza does a little bit of everything -  coffee, juice, yogurt, breakfast, salads, sandwiches, ice cream, sodas, and even beer and wine!
Normally I like to go into restaurants in order to get the full experience. I'm a huge sensualist, so I love to take in all the details that envelop you when in a proper dining room. But since this place delivers, the neophiliac in me perked up at the uniqueness of that thought and so I had no choice but to get delivery.
Who doesn't want delicious vegan food delivered right to their front door?!
A note about their delivery service, Deliveroo: super easy. You can order and purchase online and then the entire progress is tracked for you. Mine was to be delivered at 20:00. I got a text from the driver saying he may be 5-10 minutes late. He arrived at 20:04. That's pretty darn on point for delivery! Impressive. 
They've got some pretty interesting pizza choices, such as bases of butternut squash and hummus, but I stuck with the very classic tomato sauce this time.
I loved the Monete: tomato sauce, vegan cheese and seitan, and the Pesto: tomato sauce, pesto, courgette (eggplant), onions, pine nuts and cherry tomatoes. Both a perfect blend of Italian flavors and spices. Fresh vegetables, savory seitan, and the perfect melty vegan cheese. Classically delicious pizza.
Visit Purezza at 12 St James Street. Or, be lazy like me and order online and have it delivered from Deliveroo!