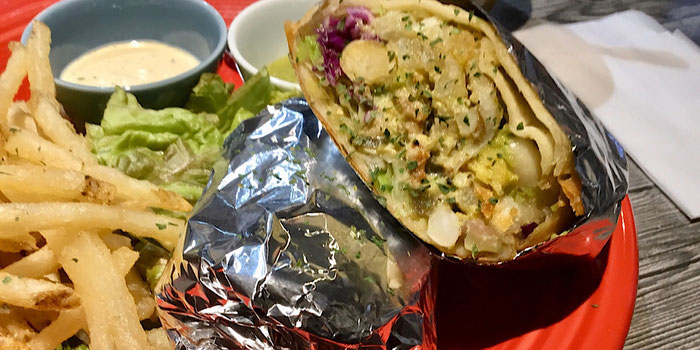 I found the best vegan junk food on the planet at the fun Hideout Burrito in the trendy Shibuya neighborhood of Tokyo, Japan.
Deep fried burritos?
Oh, hell yeah.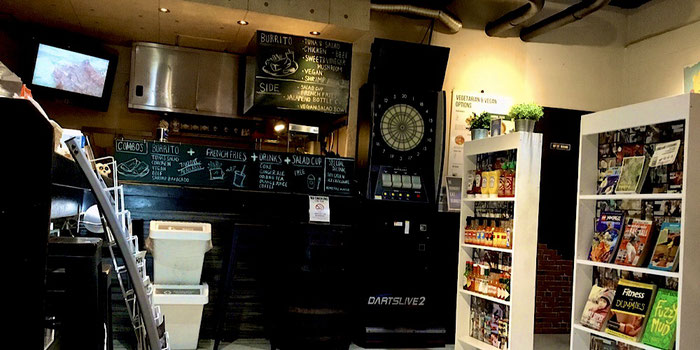 Hideout Burrito is a total hideout.
Once you find it, head down the steps to find a comfy, casual joint tucked around the corner, complete with cool tunes and friendly folks.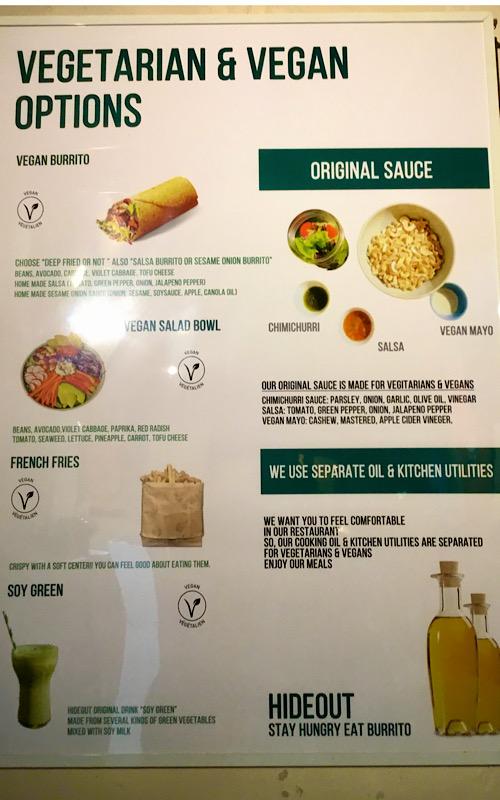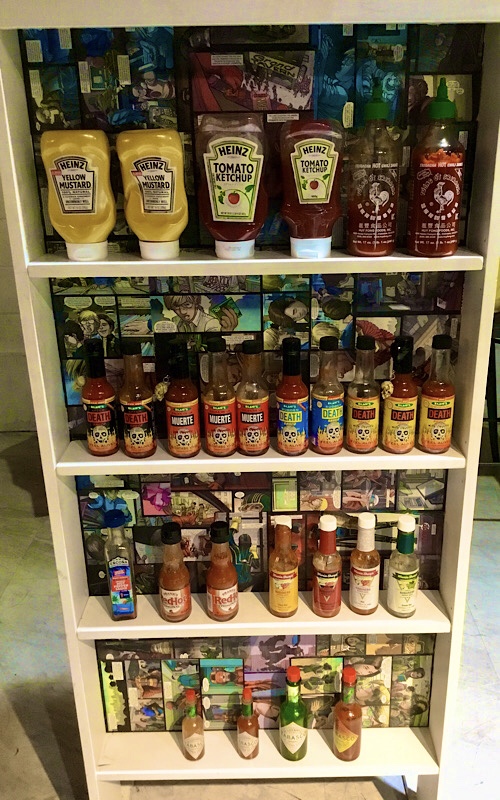 A super simple menu offers a whopping 6 different vegan burrito options, including creative seasonal specialties, with hot sauces galore to smother to your heart's content, a soy green smoothie, and even a selection of vegan ice cream flavors.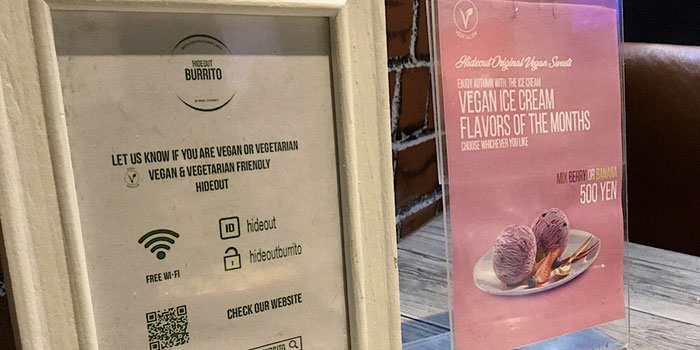 Props to the commitment to zero waste by offering eco-friendly biodegradable straws, recycling receptacles, and even serving fun shakable side salads in mason jars. 


And now... burrito porn.
Salsa Vegan burrito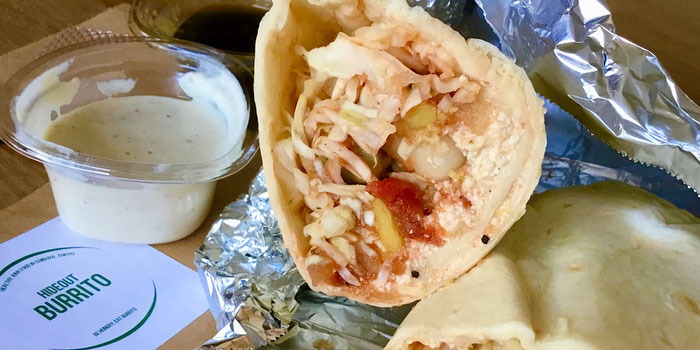 The first burrito I tried was the vegan burrito, along with the classic jalapeño salsa flavor option.
With creamy tofu cheese, beans, crunchy cabbage, avocado, and spicy sauce, this one was a total flavor explosion.
Which is why I then had to try them all. 
Sesame Onion vegan burrito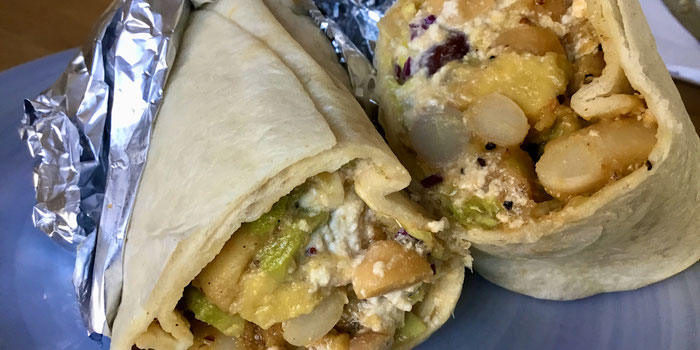 Another classic vegan burrito full of beans, veg, avo, and cheese, but this time complete with a zingy homemade sesame onion sauce for a tasty Asian fusion kick.
Sweet & vinegar mushroom burrito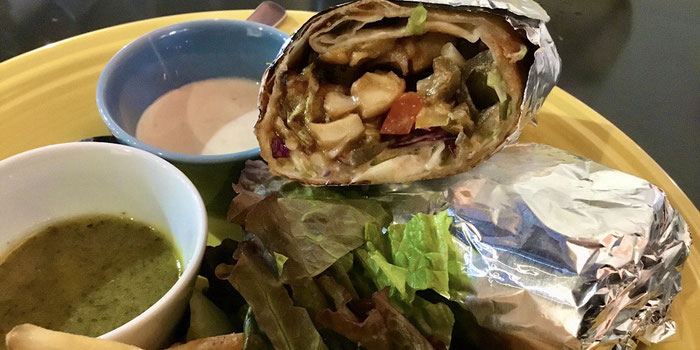 The perfect marriage of sweet, savory, tangy and umami is hiding inside this surprisingly exciting mushroom veggie burrito.
Add jalapeños for an extra punch.
Beans & avocado burrito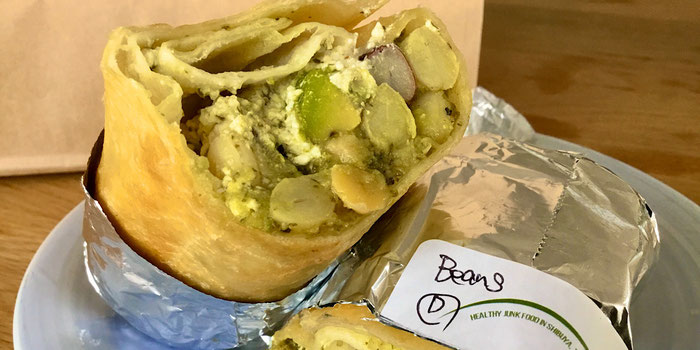 How can beans and avocado get even more delicious?
When there're smothered in tasty cheese and sauce, wrapped into a tight burrito, and then deep fried!
Seasonal burrito: teriyaki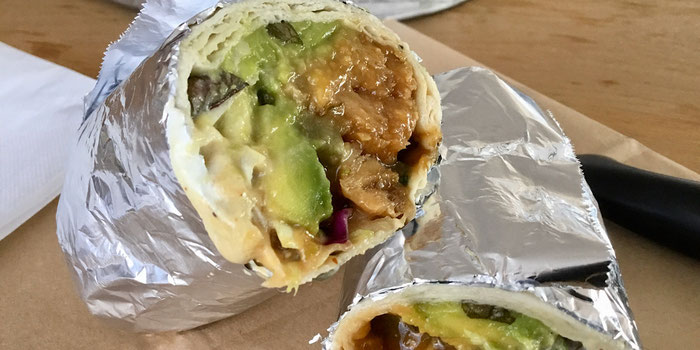 With avocado, veggies, deep fried soy meat, mayo, and a flavorful teriyaki sauce, this one was a total sweet and savory treat.
Seasonal vegan burrito: california style
This whopper was jam-packed with avocado, cabbage, beans, soy meat, quinoa, and fries - inside the burrito - and then deep fried on the outside.
What a protein powerhouse.
I've never had anything so tasty and filling.
Two satisfied thumbs up!
Go visit
Go get these bad boys.
Find Hideout Burrito at 35-4 Udagawacho in Shibuya, Tokyo.