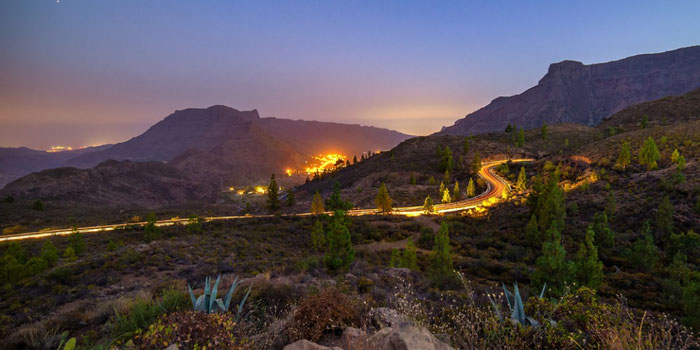 If you want an interesting trip, head to Spain.
If you want to go to an unbelievable party with your friends, switch between the mainland and the island of Ibiza.
But if we think of a romantic getaway, what's the first island that comes to mind?
Of course, it's the Canary Islands!
Although you will be immersed in the Spanish warm atmosphere of entire bliss and morning breeze, Canary Islands are not that Spanish, after all.
Territory-wise, they are closer to Africa, so you get an amazing mix of a perfect climate, sunny culture, and a whole lot of romance. 
But today we will be talking about the largest city in all Canary Islands, Gran Canaria.
It manages to connect the best of both worlds, the architecture of colorful Spain, the spirit of the wilderness, and the silky touch of a cold morning.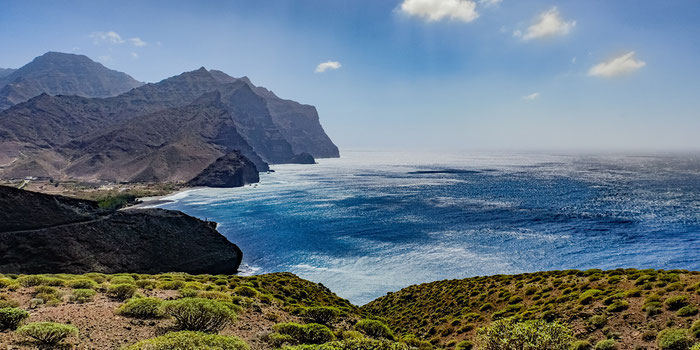 Las Canteras, the beach of your dreaMs
Gran Canaria is blessed in terms of climate conditions.
It's just right.
It's so pleasant and mild, you will never have to die from suffocation during hot days.
In winter, you can expect 17°C, and in summer, the temperature rarely rises higher than 25°C.
That, combined with the amazing Atlantic Ocean climate, gives you an unforgettable opportunity to visit one of the most luscious beaches in your life.
What makes it so special?
You've never seen such untouched beauty, such as wilderness and grace.
Beaches of Las Palmas look drastically different from your lazy hotel vacation.
These sands were never touched by humans with the purpose of refinement.
Everything feels as natural as it can be.
Try snorkeling, observing marine life with your partner, discover new seashells, play in the ocean.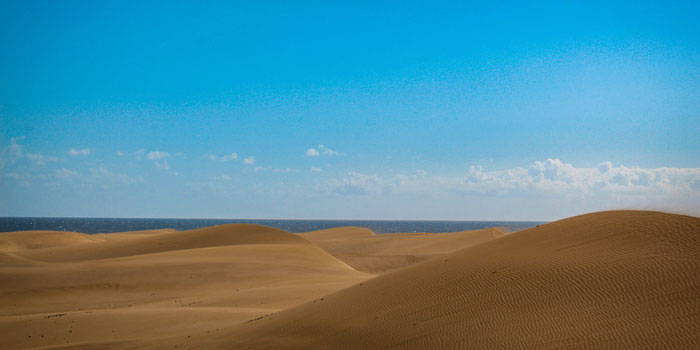 Maspalomas Beach, a pure fantasy
Situated in the south of Gran Canaria, Maspalomas is one of the most popular beaches in Europe.
It is "a journey within a journey" because once you come to the south of the city, here are kilometers of adventures waiting for you along the lines of the coast.
Visit the Lighthouse which used to serve a higher purpose, travel to the pond (Charca), and when you are done seeing this incredible beauty, arrive at Punta de Maspalomas, a huge dune of sunlit sand that looks like gold and gems.
It will lead you to Playa del Inglés, another beach.
Vegueta, your cultural getaway
Vegueta was and remains an interesting neighborhood for parties and leisure time.
Here you can talk to natives, make friends, communicate, maybe even find a date if you came here single.
Consider visiting the Cathedral de Santa Ana, the great Canary Museum, an infamous Modern Art Center and, of course, Casa Colon.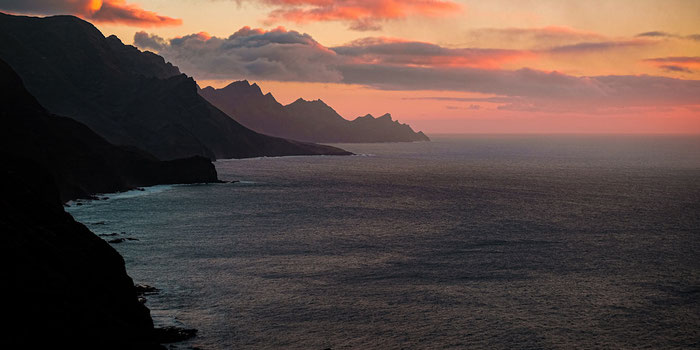 Gran Canaria sunset spots
Nothing is more spectacular than Las Palmas before dusk.
Every spot can be considered perfect here, but the best view you can get is in the highlands.
Las Palmas has a great car-sharing and bicycle-renting policy, so anytime you are ready for a little adventure, it's time to grab some snacks, delicious wine, and head to the highlands where the sunsets will be so spectacular, you will want to fill up all the memory card with those photos.
If you want to spend a romantic dinner and night there, consider booking a hotel or rent a small house there till dawn.
The possibilities are truly endless! 
Nude swimming in the Atlantic Ocean
If you want romance and freedom, head to the Las Palmas quiet nudist beaches.
They are some secluded spots where you can sunbathe those butt cheeks.
Especially considering that every beach in Gran Canaria is a nude beach.
Yes, don't stare with surprise, let them live!