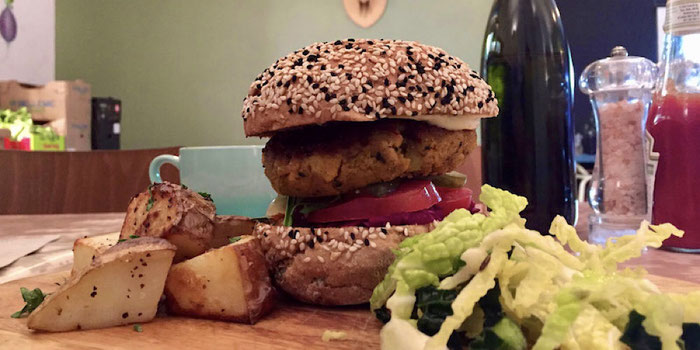 I recently had the pleasure to stop in to Milgi, a plant-based restaurant and bar in Cardiff, Wales.
It's a beautiful, chic, cozy and welcoming place serving up some tasty, worldly-inspired vegan and vegetarian dishes.
One whiff of the fragrant smells from the kitchen and you know you're in for a flavorful treat.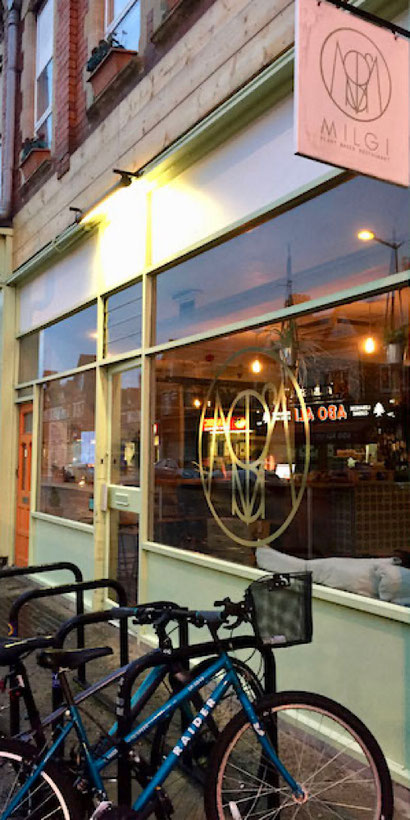 milgi bar
Milgi is unique in their approach to both nutritious food and drinks because they offer just about everything you could want to eat and drink.
In addition to a full menu of breakfast, lunch, dinner, bar snacks, and desserts (cake!), they also have a quite a variety of teas and coffees, juices and smoothies, and wines and cocktails.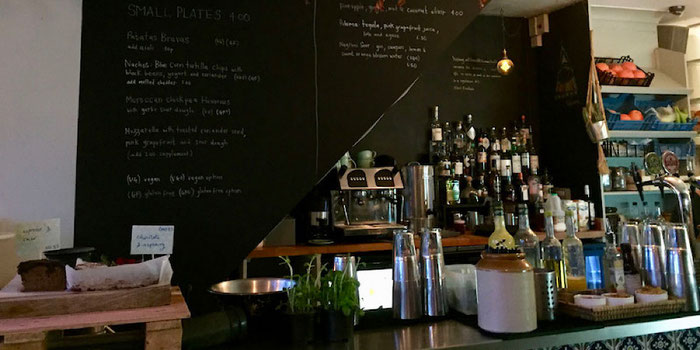 Some especially creative, and all homemade, drinks really popped, like the kombucha, chai, chili hot chocolate and golden milk, which I decided I had to try.
golden almond milk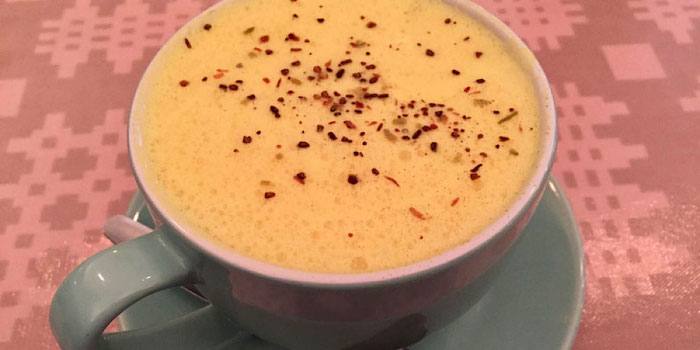 I got a lovely mint green cup and saucer of blonde creamy deliciousness made with almond milk, turmeric and agave syrup (instead of honey) and sprinkled with an aromatic spice blend of cardamon and cinnamon on top.
Perfect to combat the cold Cardiff weather!
With such mouth-watering temptations on the menu like pakoras, vegan meatballs, a tofu wrap, a whole food bowl, polenta roasted squash and even a nut roast Sunday dinner, it was somewhat of a challenge to choose what to order.
But then I saw a cauliflower and butter bean burger, that quite literally, had my name on it and my fate was sealed. 
cauliflower and butter bean burger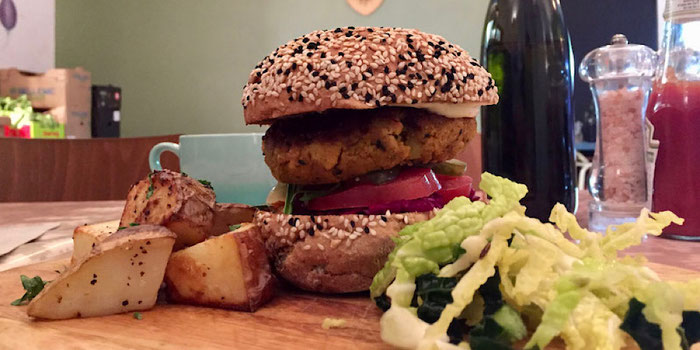 And wow to this burger.
It arrived delightfully presented on a rustic chopping board and accompanied by some super fresh green slaw and chunky garlic roasted potatoes with cilantro. Yum.
The burger was a large spicy and savory patty made of butter beans and cauliflower bits, served on a tasty seeded bun from a local Portuguese bakery, adorned with lettuce, tomatoes, pickles, and carrot chutney, topped with a tangy housemade vegan aoili sauce, and the pièce de résistance, a sweet kombucha infused red cabbage sauerkraut. 
Definitely a very filling and satisfying meal.
I loved how all the carefully crafted, complex layers of flavors combined perfectly to fit all five taste profiles of sweet, salty, sour, bitter and umami.
Very happy taste buds!
chocolate and raspberry cake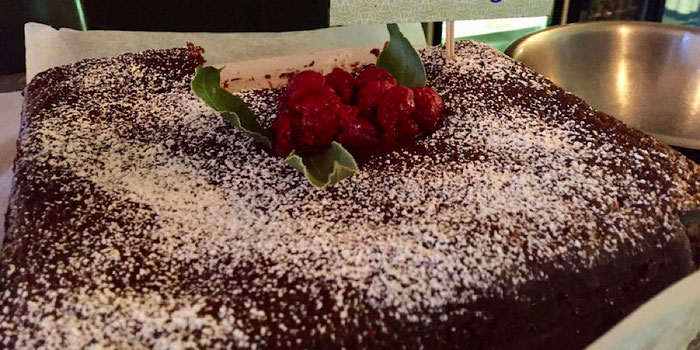 You definitely can't pass up the selection of vegan baked goods and desserts, like this chocolate lovers' dream cake.
visit milgi
You can sample this yum in two ways! Visit Milgi at 213 City Road in Cardiff or go catch their stall over at the Cardiff Market.