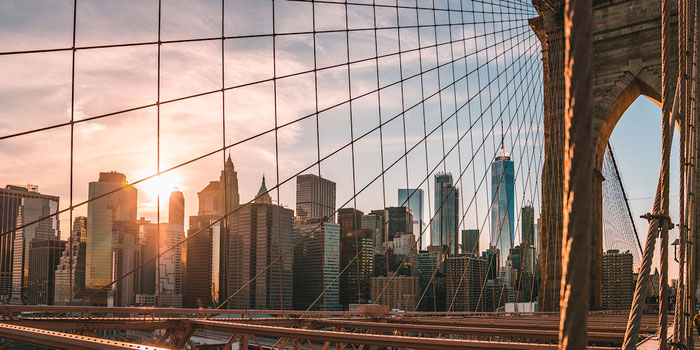 A collection of the best quotes about the Big Apple.
"The city seen from the Queensboro Bridge is always the city seen for the first time, in its wild promise of all the mystery and beauty in the world."

F. Scott Fitzgerald
"Once you have lived in New York and it has become your home, no place else is good enough."

John Steinbeck
"There is no place like it, no place with an atom of its glory, pride, and exultancy."

Walt Whitman
"In New York you've got to have all the luck."
"One can't paint New York as it is, but rather as it is felt."

Georgia O'Keefe
"Make your mark in New York and you are a made man."
"I would give the greatest sunset in the world for one sight of New York's skyline."

Ayn Rand
"New York, you are an Egypt! But an Egypt turned inside out. For she erected pyramids of slavery to death, and you erect pyramids of democracy with the vertical organ-pipes of your skyscrapers all meeting at the point of infinity of liberty!"

Salvador Dalí
"Quite simply, I was in love with New York. I do not mean 'love' in any colloquial way, I mean that I was in love with the city, the way you love the first person who ever touches you and you never love anyone quite that way again."

Joan Didion
"There is something in the New York air that makes sleep useless."

Simone de Beauvoir