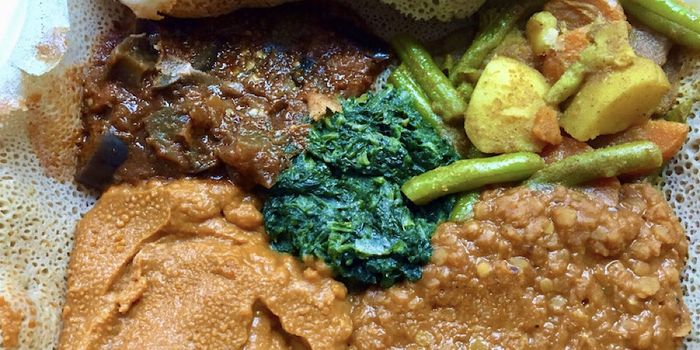 Ethiopian is my all-time absolute favorite type of cuisine in the world.
And here's why. 
It's amazingly delicious slow-cooked, superbly spiced, colorful vegetables and lentils simmered to perfection.
Fresh, healthy, and plant-based, it's a vegan's dream meal.
vegetarian fasting plate
Technically called the Yetsom Beyaynetu, or the vegetarian fasting plate, this vegetarian meal actually came to be because Orthodox Ethiopians don't eat meat or dairy products on Wednesdays or Fridays, in addition to several more scheduled fasting periods throughout the year.
Since they're eating a vegetarian diet pretty regularly, it has to be quite delicious and nutritious for everyone.
The spices are what really sets the food apart.
The main spice is called berbere, and is a mixture of garlic, onion, red chili peppers and more, all sun-dried and then ground into powder.
It's savory, spicy, and pretty mild.
An even spicier version, called mitmita, has hotter peppers and more spices such as cardamon, cumin and ginger, so it packs a flavorful punch.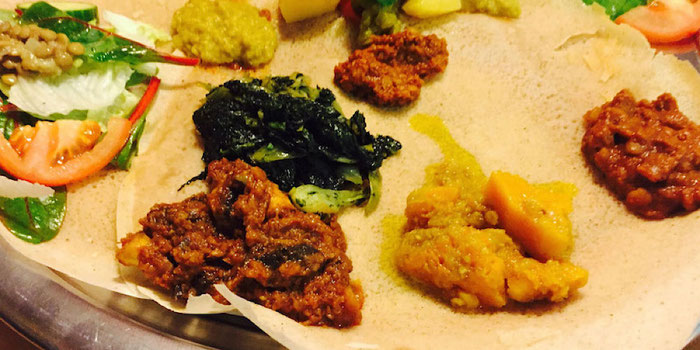 vegetarian combination platter
Outside Ethiopia, the plate is usually called the vegetarian combination or the vegetarian platter.
In this vegetarian meal, 6 to 12 different wats, which are essentially stews, are served on a huge round tray, covered in an equally huge piece of injera, with extra injera rolls as backup, and usually a salad, too. 
Family-style sharing is very popular when serving Ethiopian food, all the wats are placed on a tray together so that everyone can share all the different foods and also share the dining experience together.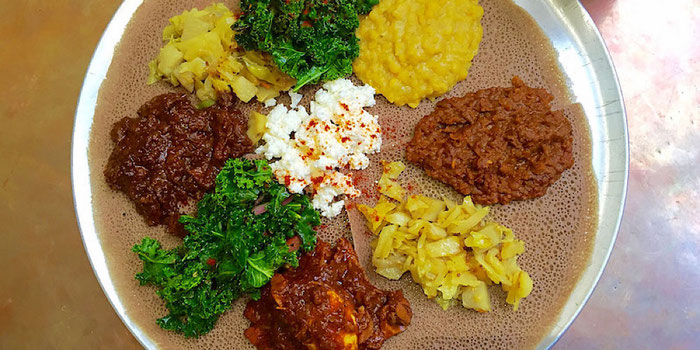 injera
Ethiopian cuisine is served on a sheet of bread, like a plate, and then you eat it with your hands, using the bread, like a scoop. 
The bread is called injera and is made of teff grain, a staple grain of Ethiopia.
It's a spongy, fermented, tangy-tasting sourdough that's naturally gluten-free and high in nutrients such as iron. 
Injera ranges in color from light to dark, depending on the grain quality, but the color differences only really mean less or more tang in the flavor. 
Injera is made in giant pancake-like circles, up to 20 inches wide.
It's thin like a crepe, and porous on one side, so you use that side to pick up your food and absorb the sauces, while your fingers hold onto the flat backside of the bread (and don't get messy).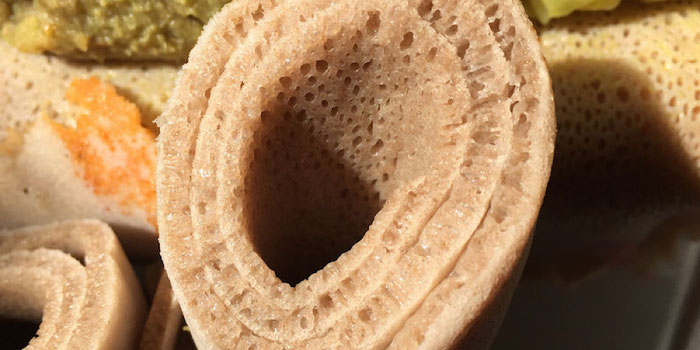 wats
Wats (or wots) are the individual stews that make up your meal.
Exactly how many wats you get, what's in them, what they're called, and even the spellings of the words, all slightly differ from restaurant to city to country, but there's usually 6 to 12 popular wats that can make an appearance in a traditional Ethiopian vegetarian meal.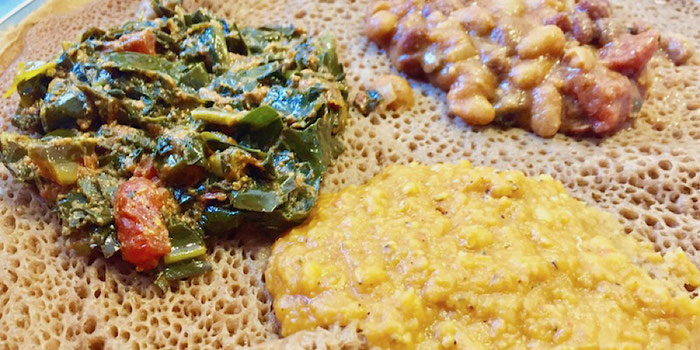 misir wot
My favorite dish is the misir wot, a savory stew of red lentils, red peppers, cooked in vegetable broth and spicy berbere sauce.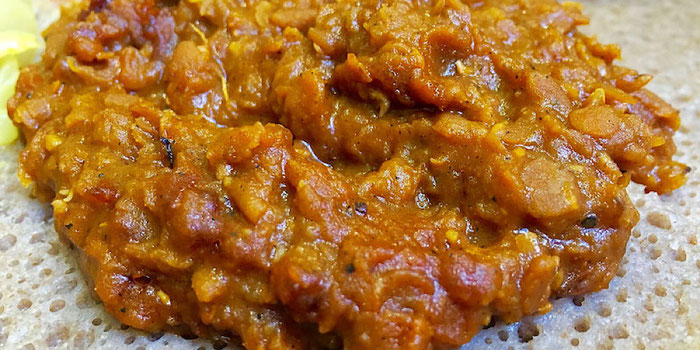 eggplant tibs
Eggplant tips is eggplant bits simmered with onion, tomato, ginger, garlic and berbere spice.
shiro
Shiro is a stew made of chickpeas, with onions, garlic, peppers, and berbere spice.
kik alicha
The kik alicha is a creamy stew of soft yellow lentils, very gently and delicately spiced with ginger, garlic and tumeric.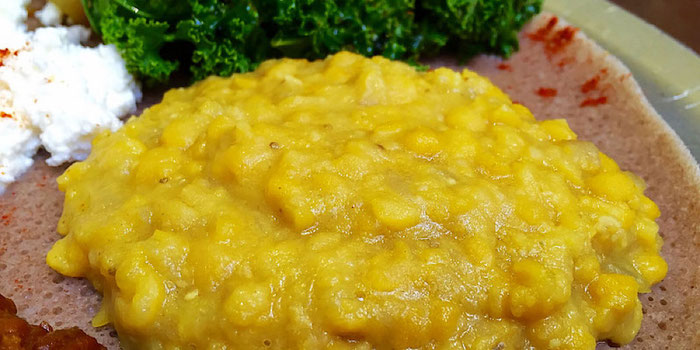 keysir
Keysir is a bright red wat made of beets, and seasoned with onions and spices.
atakilt alicha
Atakilt alicha is a fresh mix of cabbage, potatoes, and carrots, simmered in vegetable broth and garlic, ginger and tumeric.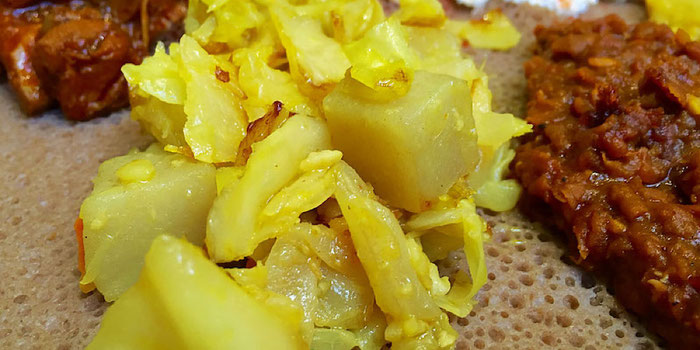 fosolia
Fosolia is a sweet and savory dish of green beans, often with carrots and potatoes.
gomen
Goman is a dish of greens like collard greens or kale seasoned with a tasty mix of olive oil, tomatoes, onions, garlic, ginger and jalapeño.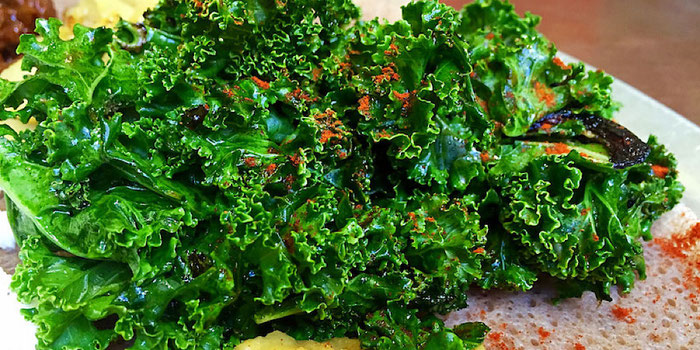 fitfit
The fitfit is a zesty vinagagrette-flavored salad of injera bits mixed with tomatoes, onions, garlic and jalapeño spices.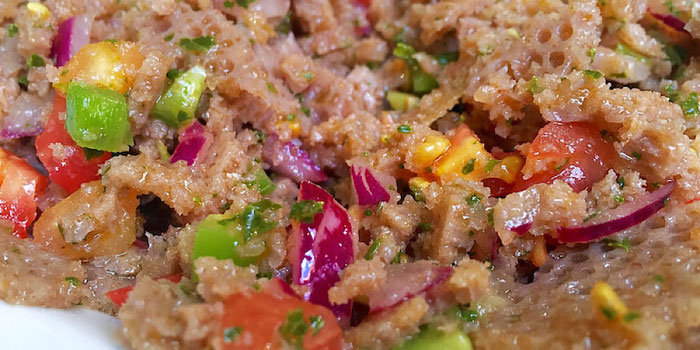 beer in a coconut
ethiopian coffee
Lastly, definitely don't miss the coffee.
It's beautifully and ceremoniously presented, with richly aromatic roasted beans.
It's a coffee-lovers dream and a delight for all the senses.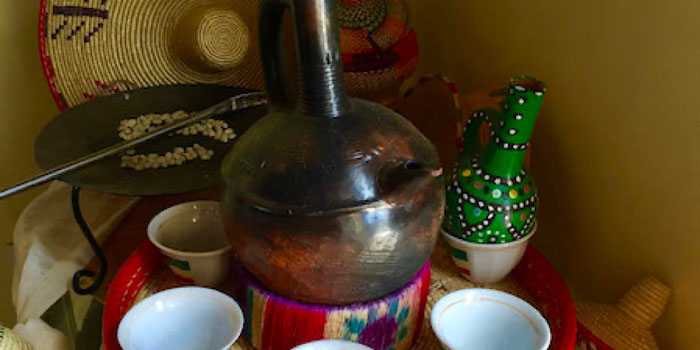 A vegetarian Ethiopian platter is basically a huge, satisfying, flavorful, gluten-free vegan meal packed with plant-based protein, fiber, vitamins and minerals, that you get to eat with your hands!
What's not to love?!