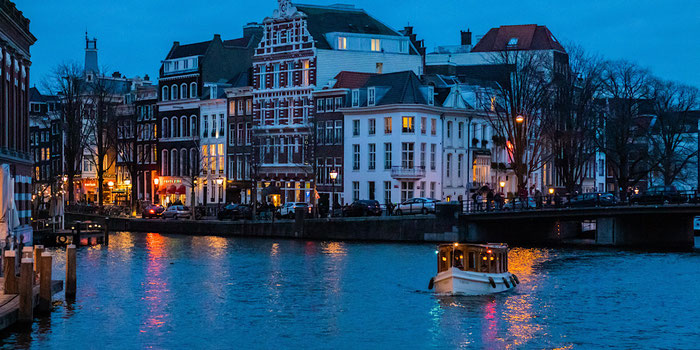 Amsterdam is an endlessly beautiful and interesting city.
There's so much to do, to see, to eat, to drink.
I'm never done with Amsterdam.
I'm always left wanting more. 

My favorites are the art, the architecture, the bridges, the tulips.
Even the central train station is stunning.
And it's an extremely walkable city. 
You can easily walk anywhere and everywhere in Amsterdam and you get bonus canals to see!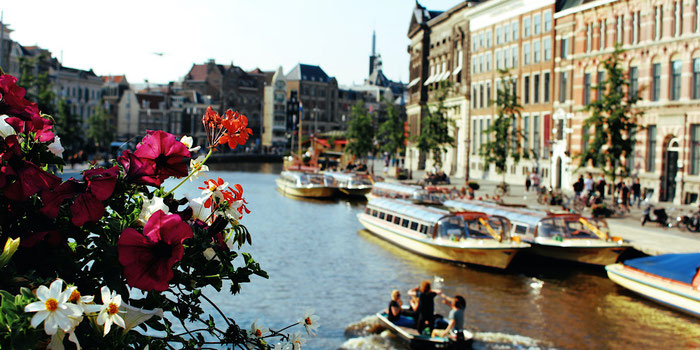 So what are the things to do in Amsterdam?
You can take a canal cruise, drink beer at Heineken, visit the Anne Frank House, the Rembrandt museum, the Van Gogh museum, or the museum of modern art in Museumplein.
These things are all great, and very classically Amsterdam. 
I recommend skipping the touristy things, getting off the beaten path, and exploring the real Amsterdam. 
Fair warning: this is Amsterdam, so these are adult activities.
See the Holiday Lights and the Light Festival
Holland during the Holidays is magical place to be.
Everything is beautifully decorated and illuminated.
You'll see giant Christmas trees adorned with thousands of twinkle lights, light strings decorating city streets, candles in windows.
It feels like magic.
Also during the holidays, you can catch the Amsterdam Light Festival which runs through December and January.
It's like a huge light installation that's spread out all over the city.
It's really an awesome sight to see.
There's everything from statues to sculptures to light installations dancing above the canals.
A fun, impressive and unusual way to showcase artistic talent.
Take a free walking tour
Instead of getting the touristy version, with a free walking tour, you'll get an insider's perspective on the city and learn secrets, cool tidbits and the history of the city.
Way better than a tour of the 'must-see' sights, this tour will tell you the most interesting stuff. 
You'll learn about the Dam monument and how Amsterdam started, the history at the Royal Palace, and the story behind the infamous VOC (aka the Dutch East India Company) which thrusted Holland to success back in the day.
And lots of other interesting little bits, like hidden Catholic churches that were disguised to look like regular canal homes but really had gigantic churches inside.
Tour the Red Light District and see the working girls, the crazy condom shops and learn about the history of the sex trade in the city.
And your guide will point the iconic coffeeshops. FYI, in the Netherlands, coffeeshops = weed shops.
They may actually sell coffee too, or not, but they're all called coffeeshops.
And, the bikes.
In Holland, everyone cycles.
If you are walking around the streets and you hear a loud BRING BRING, it means a cyclist is approaching, you're in their way, and you'd better move your ass.
They ring with reckless abandon.
So watch out.
It's said by locals that the canals in Amsterdam are made up of 1/3 mud, 1/3 water, and 1/3 bikes.
If you notice, there are no guardrails along any of the canals and people park bikes (and cars) insanely close to the edges.
So, bikes fall in a lot. 
This happens so often, in fact, that the city does regular cleanings with barges and cranes to pick them up all up.
I find this hilarious.
And was tickled pink getting to watch it happen. 
Traveler tip: When on walking tours, always be polite, and tip your tour guide well. 
If you skip the guided tour, you can use this app to go on your own tour.
And definitely go track down some of these yummy foods in Amsterdam. 
Visit the Sex Museum
If you're going to go to a museum, sure you have your pick of great artists and their subsequent museums, shops and souvenirs, but I'd say go to the most unique one - the Sex Museum.
It's not porn (well, not totally), it's more of a curated tour of art history, showcasing love and sex-positive related art from around the world.
There's a lot of history behind each piece and you can learn about humanity and nature of man.
I mean, hey, this is how we got here, right. 
The museum itself looks small from the outside but inside, it is actually a huge, multi-story, multi-sensory and multimedia experience.
It's not just strolling though monotonous hallways looking at framed paintings.
It's more like going up and down Escher-like staircases to different areas and levels, watching skits and movies, and more.
You can walk through a life-size recreation of the Red Light District complete with props and moving statues.
You can watch a vintage movie of dancing girls. Check out vintage boots worn by dancers at the original Moulin Rouge in Paris.
You can see a re-enactment of the great artist Henri de Toulouse-Lautrec painting a model in his studio.
There's even a life-size Marilyn Monroe exhibit, giving America's two cents on mid-century female sexuality.
One thing's for sure - you'll never get bored in this museum - or anywhere in Amsterdam.