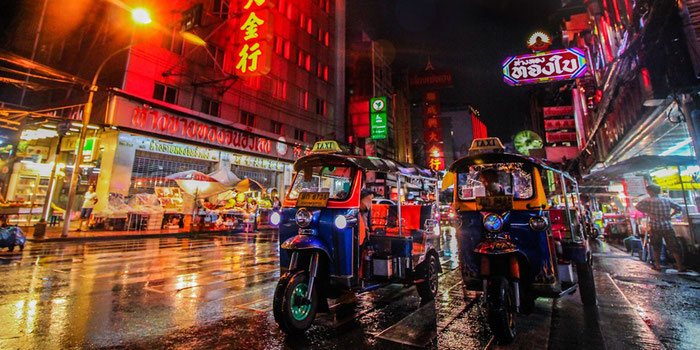 Getting around in Thailand is pretty easy and cheap.
As a solo traveler who visits Thailand fairly often, I can safely say that there are a lot of transport options, and not a whole lot of hassle to the local transportation.
Here are some of the best ways that I recommend getting around in Thailand.
Grab
Grab is a ridesharing service in Southeast Asia with a convenient app that makes it easy to find, book, and pay for your ride on a secure platform. 
Grab is easier than a taxi because it's on-demand directly to your location whenever you need it.
It can also be safer than a taxi since it's completely cashless, and drivers get rated and reviewed on the app.
Tuk-tuk
Riding in the backseat of a speeding tuk-tuk is an essential Thai bucket list tick.
These are easy to flag on the street and get to where you're going, with plenty of adventure, and for not a lot of money.
The cost is up to the driver and is always negotiable.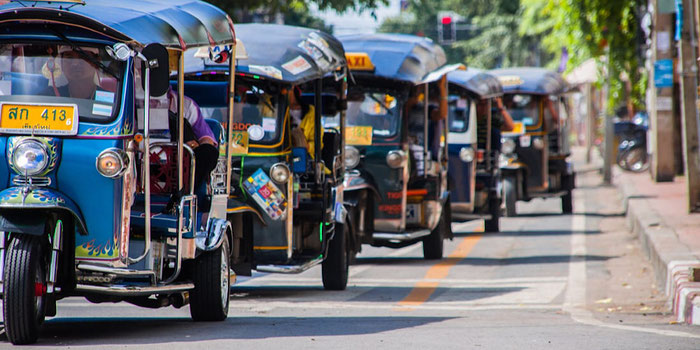 Songthaew
Thailand's local buses are bright red covered pick up trucks called songthaews and are ubiquitous in major cities.
Your flag one down, tell the driver where you wanna go, climb in the open back of the truck and sit down on a bench, and hold on for dear life.
These are super cheap and easy to catch if you don't feel like walking.
Scooter
Thrill seekers can rent a scooter anywhere in Thailand for just a few bucks a day.
Traffic in Thailand is crazy and bikes crash a lot, so if you get a scooter, be sure to wear all your safety gear and be extremely vigilant.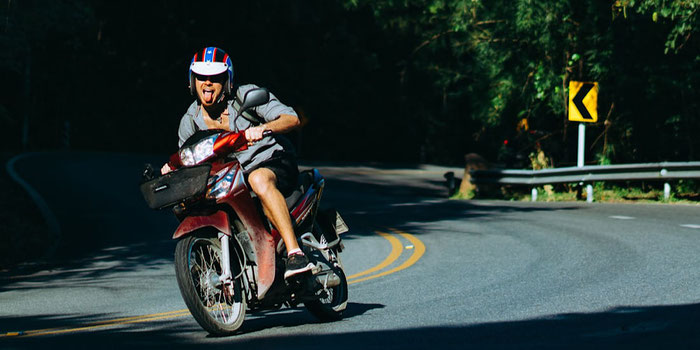 FerrY
Island hoppers will need to book ferries to bounce from exotic locale to the next. In this case, you'd take a ferry.
They're air conditioned, safe to ride, easy to book, and a pretty fun transportation route with some of the best scenery in the world.
For example, to get from Koh Lanta to Phuket, you can book a ferry online for as little as $22 USD.
FlY
When you need to travel longer distances than local transportation can carry you, check Rome2rio for all possible options and prices.
I recommend flying versus taking long distance buses or trains.
Flights within Thailand are very inexpensive, and the airports are relatively easy to navigate.
Flying is also safer than taking long distance trains or night buses, where travel scams and opportunistic crimes like pickpocketing and theft are pretty common. 
Try Momondo for cheap flights in Thailand (and anywhere else in the world).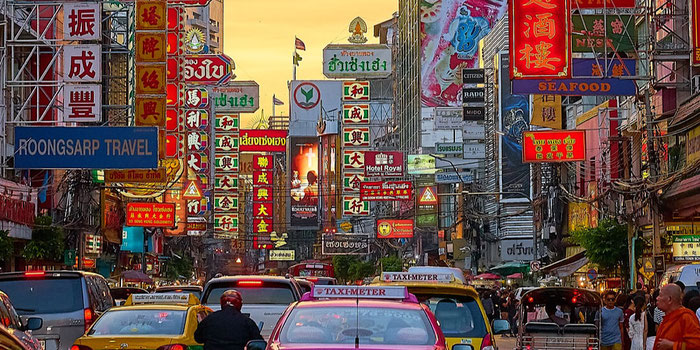 Walk
For traveling shorter distances, a ride might be more of a hassle than just walking.
Thailand is a beautiful country with well organized cities and infrastructure.
It's pretty easy to walk around most cities and get where you're going by foot.
Walking is good for you and it's free.
Check out all the eats I found in Chiang Mai just by walking around.
Getting around in Thailand can feel like the adventure of a lifetime, but it's pretty easy to do.
Just stay smart, don't forget your haggling skills, have the right travel apps at your fingertips, book services through reputable companies, and you'll be maneuvering around like a pro!