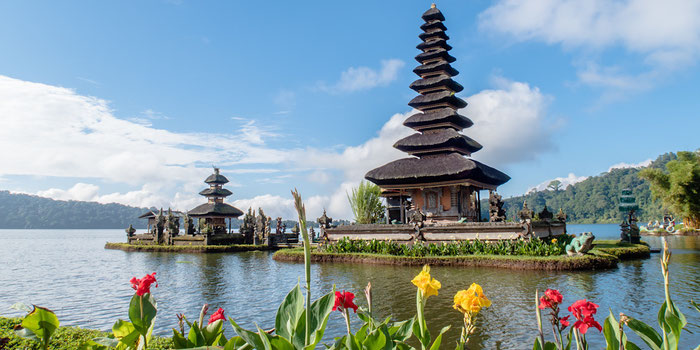 Bali is arguably the most popular destination to visit of all the Indonesian islands.
With a population of just over four million, it's by no means as densely populated as the island of Java, which is the home of the Indonesian capital Jakarta.
Instead, Bali cultivates a far more laid-back vibe.
Its slower pace of life sees locals and tourists alike bask in the island's rich natural beauty.
There is something pure about the island of Bali that draws people towards it.
Some 80% of the island's economy is derived from tourism, so it's safe to say that its authentic yet exotic culture is what entices tens of thousands of travelers each year. 
Pura Tanah Lot
As natural rock formations go, Tanah Lot is up there with the very best of them on this beautiful planet of ours.
Atop the rocky islet sits one of the island's oldest sea temples.
Pura Tanah Lot is considered the most sacred place for Hindus in Bali.
It's a magnificent place to watch the sunset.
Visitors are not permitted to enter Pura Tanah Lot, but the setting alone is well worth exploring.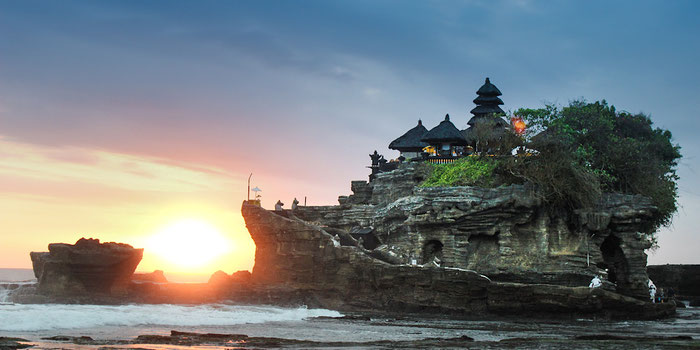 Uluwatu Temple
Another magnificent temple to experience in Bali is the Uluwatu Temple.
Some say that this place is even better for unspoilt sunsets than Tanah Lot.
According to archaeologists, Uluwatu Temple dates back as far as the 10th century.
It was thought to have been constructed to ward off evil sea spirits from the island.
The perfect Uluwatu Temple experience is to watch one of the Kecak sunset dance shows which are nearby the temple.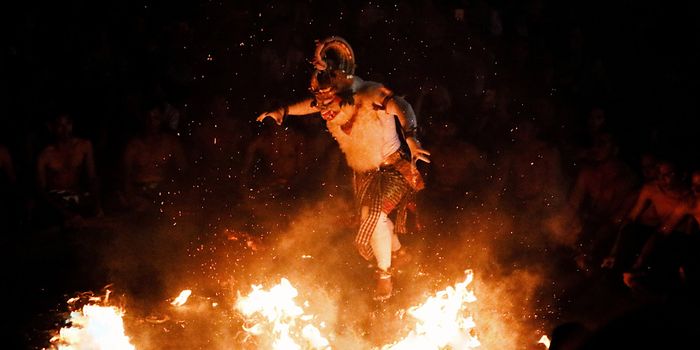 Ubud's Sacred Monkey Forest Sanctuary
Ubud is one of the most coveted areas to explore among travelers in Bali, thanks largely to its unspoilt nature and climate.
Located due north of Bali's capital city of Denpasar, the magnificent forestry creates a unique jungle feel, detached from 21st century life.
Deep within the heart of Ubud lies the Sacred Monkey Forest Sanctuary, which is home to long-tail macaques who roam free here without any fear of captivity whatsoever.
It's a truly inspirational sight to see these playful monkeys in their natural habitat.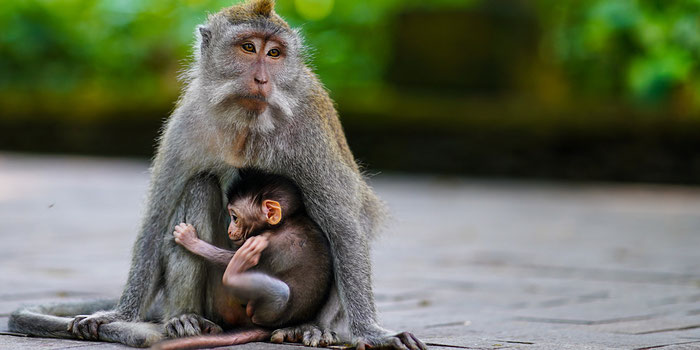 The iconic Tegallalang Rice Terraces
When researching Bali, there are few more iconic images you will find online than the rice terraces.
Tegallalang Rice Terrace is the most impressive of them all and has to be seen to be believed.
There are popular walking trails that you can take through the rice fields here, but keep in mind that some locals will ask for donations and entrance feels to use their paths along the way.
There are several opportunities to sit and have a drink or a bite to eat en-route to soak up the views and the relaxing ambience!