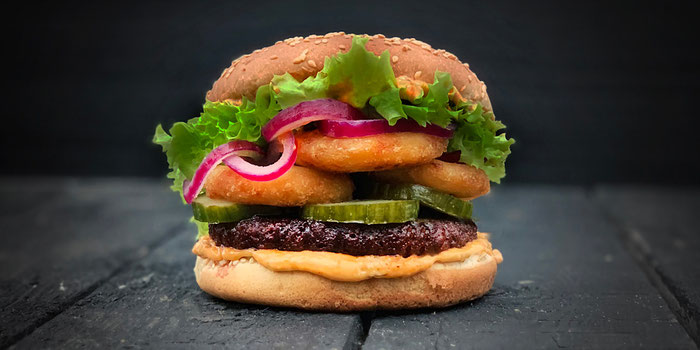 Get ready to feast your eyeballs on some pretty serious burger porn! 
Here are some amazing mouth-watering burgers from around the world, carefully selected and shared by top vegan travel bloggers! 
england
from Burger Abroad
My favorite vegan burger has to be at The Loving Hut in Brighton, England. I've sampled vegan burgers all over the world, from fine dining to fast food to street carts. And, when I picture a burger, it's gotta look like a classic burger - savory patty, cheese, mayo, and the fixins, all on a chewy bun. Loving Hut over-delivers, every time. It's nothing but delicious burger goodness. 
portugal
from Mindful Wanderlust
Black Mamba Burgers and Records is a vegan burger and punk/metal vinyl shop in Porto, Portugal. Every burger on the menu is named after a genre of music, except for the sign of the devil-choose from Doom, Stoner, Core, Punk, or 666. It is a simple space with a cool concept, and friendly staff, but what's even better are the amazing burgers! First of all, they are giant, and second, they are mucho delicioso.
Our favourites were the Stoner Burger-seitan patty with mushrooms, and the 666-leek and potato burger with vegan cheese. You can either order the burger on its own, or with with fries. We went with the fries every time! You only live once right? The burgers at Black Mamba were some of the best we've ever tried. They left us satisfied and wanting to come back for more. And of course, we did.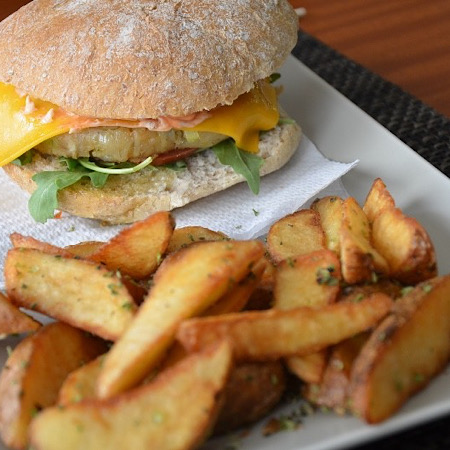 germany
from Indefinite Adventure 
There are so many places to choose from for great vegan fast food in Berlin, but my favourite is definitely to be found at Yoyo Foodworld, an all vegan burger joint also serving wraps and pizzas in the grungy yet appealing party district of Friedrichshain. 
The burgers here are not huge and they might not be very impressive to look at, but everything is organic, service is super fast and they might be the best value vegan burger you'll ever find: my go-to order, the homemade lentil burger, with fries costs only €4.90 and it's just so satisfying!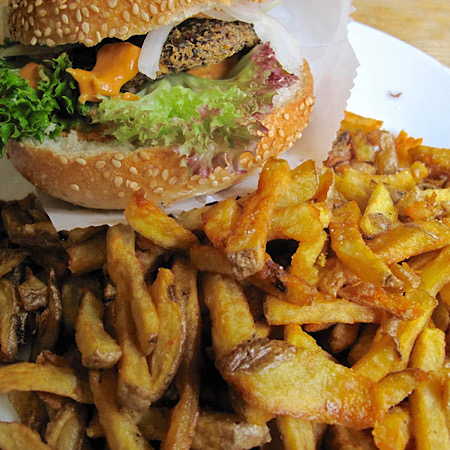 vietnam
from Vegan Food Quest
It's hard to choose the best vegan burger we've ever eaten as there are so many things to consider. We're constantly adding burgers into our virtual 'Vegan Burger Hall of Fame' as we travel about looking for the world's best vegan food. The 'Banh Bao Burger' at the luxury eco resort Six Senses Con Dao is up there amongst the best for sheer creativity, deliciousness, fusion of local flavours and the brave use of fermented tofu! 
The bun is made from steamed Vietnamese 'banh bao'; it's soft and light, perfect for the giant burger patty which is made from rice and sweet potato before being crumbed and fried to give it a crispy outer shell. There's a mix of Vietnamese herbs like lemongrass, garlic, chilli and ginger and it's served with sweet potato fries, mushroom tempura, onion rings, grilled corn and a side of salad.
This burger is laden with fermented tofu (think 'blue cheese of the vegan world') which is a popular condiment in Vietnam used in rice congee (porridge). There's also hoisin, chilli or spicy peanut sauce to play with making it a real slice of exotic vegan burger heaven.
It's an epic vegan burger feast made by a brilliant chef with a passion for creating imaginative and delicious food; plus we ate it on the best beach on Con Dao, a beautiful (and often not visited) island in Vietnam. Can't ask for more than that?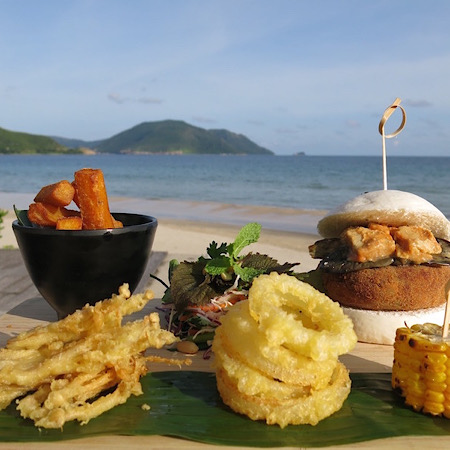 sweden
from Veggie Visa
This past summer I visited a dear friend in Malmo, Sweden after spending about a month in small towns in Spain (i.e. places without a lot of vegan options). The first thing we did, after I landed, was head to The Vegan Bar for a burger and beer...yes, there is an all vegan bar in Malmo, called The Vegan Bar, that serves vegan burgers and beer. The menu was short and simple.
I opted for the cheeseburger, fries, and a Brooklyn Brewery beer. It was outstanding. The tasty, meaty patty was slathered in vegan mayo, and topped with cheese, and veggies. The thick-cut fries were crispy, salty, sticks of deliciousness. And the beer...a refreshing accompaniment to wash it all down with. It was the perfect post-flight meal.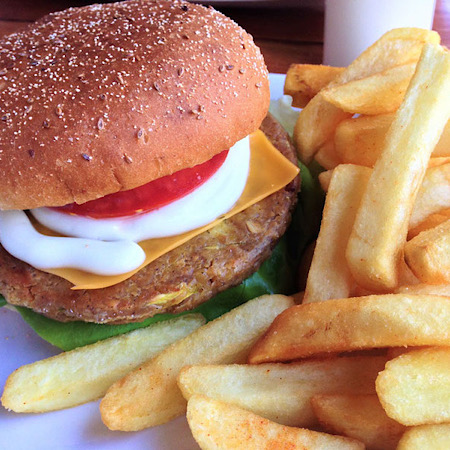 singapore
from Mostly Amelie
It was clear from the moment I stepped foot in Singapore that I was not going to be the health nut I usually am – all those vegan junk food options! Veganburg's concept is quite simple: a gourmet burger joint like so many have sprung up worldwide in recent years, with several nicely crafted burgers, seasoned fries and fancy ice teas, tastefully served in a hip interior. And, you've guessed it, every last one item on the menu is vegan.
The restaurant was filled with teenagers, families and a few tourists – a very typical fast food joint crowd – all enjoying their sans meat burger combo. This concept would surely be a great success in the West. Should anyone want to pick this up from here, I'll be your customer number one!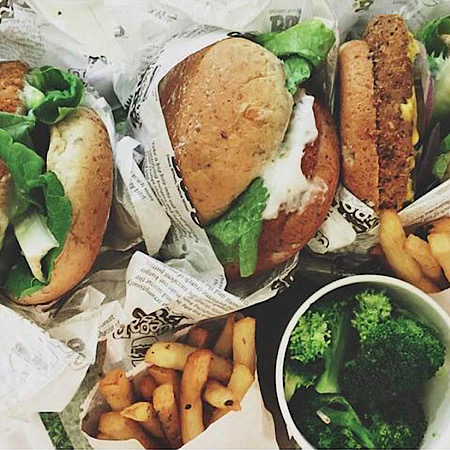 austria
from Angloitalian Follow Us
We've been fortunate enough to have tried several different types of burger in a variety of vegan restaurants around Europe over the past two years and each time we're always hoping that we're going to find the one burger that we all dream about. The one that you immediately finished and fancy ordering another of.
The Swing Burger from the Vienna-based vegan "take-away" style burger bar called Swing Kitchen was exactly that. The kind of burger you feel like you'd quite happily eat two of, regardless of how you might regret it immediately afterwards.
It's a remarkable simple recipe of a soya burger between two buns topped with your expected layer of vegetables, plus a few slices of faux-cheese; but paired with the in-house BBQ sauce it's beyond mind-blowing. It's universe-explodingly-bonkers. I really wish I'd have bought one more.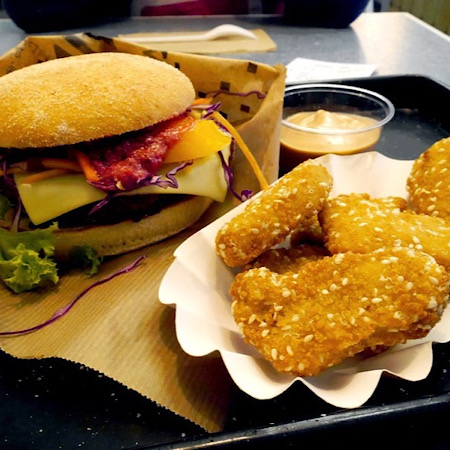 cambodia
from Plant Powered Nomad
ARTillery Cafe Beetroot and Chickpea burger with homemade vegan mayo. I was having a bad day when I ate this burger, and I can't begin to describe how much I needed it. I always think a burger isn't a burger unless it gets all over your face, your hands, and the table. In other words, if you're feeling sad and too serious go and get yourself a burger like this because it's impossible to eat it and keep taking yourself seriously. Good burgers are the perfect happiness food.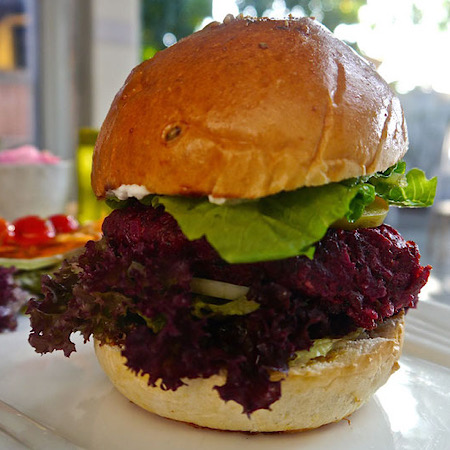 canada
from Justin Plus Lauren
Boon Burger is an all-vegan burger cafe that started in Winnipeg, but has expanded to include a location in Barrie, Ontario, Canada. "Boon" means "bean" in Afrikaans, but it also means "something to be thankful for". I am certainly thankful that Boon Burger exists! There are several varieties of burgers on the menu, including various patties made out of mushrooms, chickpeas, tofu, and black beans.
I tried the Salsa Burger, which had an assortment of Mexican-themed toppings, like corn chips, salsa, mayo, red onions, tomatoes, guacamole, and vegan cheese, all on top of a black bean burger. It was absolutely delicious. I'm drooling just thinking about it. Boon Burger also serves a vegan version of a Canadian favorite, poutine, which would be great alongside your burger. I love dining here because everything on the menu is vegan. The taste will rival any burger, meatless or not. And rumor has it that they're expanding to include a location in the Toronto area, which means that I'll be able to go there even more often!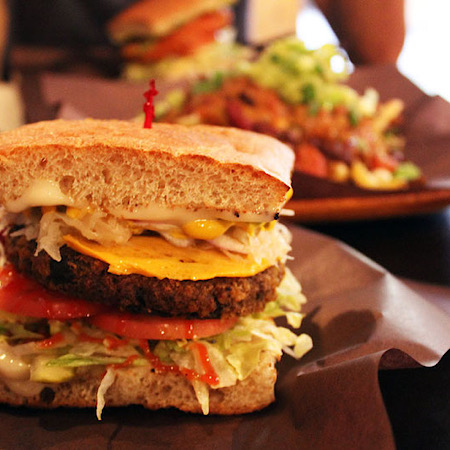 england
from The Nomadic Vegan 
The Lady Luck in Canterbury, England is a grungy rock'n'roll pub that doubles as a live music venue for acts with names like "Lords of Lonesome" and "UK Vomit". While there is plenty of meat on the menu, the place is actually incredibly vegan-friendly. The tattooed staff serve up vegan takes on British favourites, like veggie sausages and home-made mash, alongside more exotic fare like mushroom jambalaya.
But what you really want to hear about is the burgers, right? Well, The Lady Luck certainly doesn't disappoint. The Southwest Red Bean Burger is a lightly-spiced, home-made patty served on a vegan white roll. And if you want to spice it up some more, you can have it topped with veggie chili, jalapeño peppers and a fiery hot sauce, which transforms it into a Veggie Chili Burger (pictured). Either way, the burger comes with a generous helping of thick, crispy fries and a token side salad, which is really just a couple of tomato slices on some lettuce.
If you want to make it healthier, you can choose the "skinny option" and swap out the fries for a larger salad. Personally, though I'm all about eating healthfully, I would have a hard time turning down those fries. Oh, and you can also ask for extra dips at no extra cost! The BBQ sauce, sweet chili, hot sauce, brown sauce and salsa are all vegan. And if you've still got room for dessert after all that, the home-made apple tart and the chocolate brownie are both vegan, and you can even order a sundae or shake with dairy-free ice cream. Vegans sure do have lady luck on their side in Canterbury!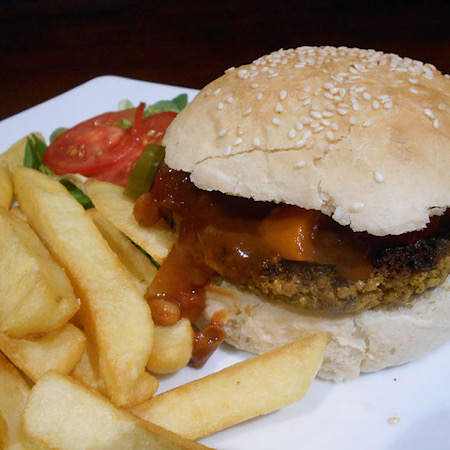 sweden
from The Vegan Word 
This burger from Chutney in Stockholm, Sweden was one of my favourite burgers ever simply because it was a surprise burger! I didn't know anything about Chutney apart from that it was a vegetarian restaurant, and I wrongly guessed from the name that it would be Indian food.
It actually serves a wide variety of different cuisines, and I ended up with the biggest and one of the most delicious vegan burgers I've ever had: two patties, vegan cheese, onions, mayo, ketchup, lettuce, tomato and pickles, served with a side of corn and potato wedges. Somehow I managed to eat my way through it and save enough room for vegan chocolate almond cake!
germany
from Mosaiksteine 
My favorite burger restaurant in Germany is Trash Chic, a little pub in Cologne. It's a nice place to meet with friends for a drink. They also serve vegan and vegetarian food, every dish can be made vegan including all of the homemade burgers. I really love the vegan cheeseburger there.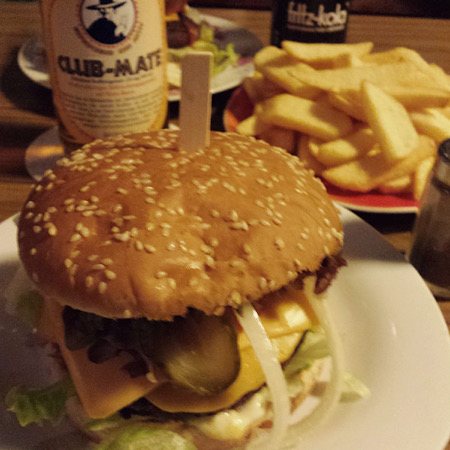 thailand
from The Lost Lemurian
This delicious vegan burger was found at Bodhi Tree Cafe in Chiang Mai, Thailand. The patty is made of mushroom tofu and it comes with salad and pumpkin sesame sauce on the side. It is mouth-wateringly good! This particular burger is listed on their menu as vegetarian, not vegan -but don't worry! I spoke to the staff and if you choose vegan mayo instead of regular mayo, it most definitely is vegan. So if you are in the area, enjoy!