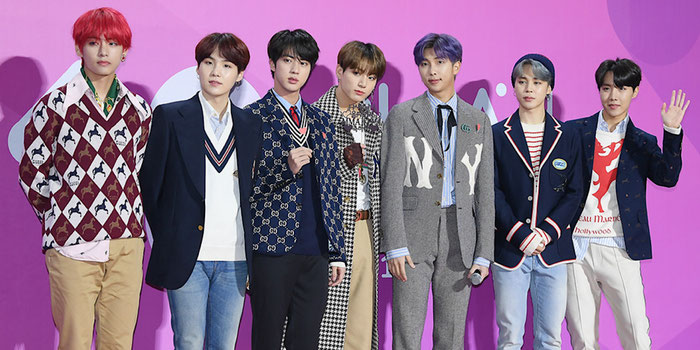 The superstar phenomenon BTS are not only dominating the charts worldwide - they're also changing the way people enjoy music, and here's why.
The Korean septet Bangtan Sonyeondan (방탄소년단) AKA Bulletproof Boys - RM, j-hope, SUGA, Jin, V, Jimin, and Jung Kook - have been together nearly a decade, perfecting their talents across a variety of entertainment and musical genres.
BTS is a complete entertainment powerhouse. This über hard-working group write, compose, produce, and perform (in Korean, Japanese, and English), with perfectly synchronized choreography, and travel for sold-out world tours, musters, and fan meetings.

But that's not all. There's solo songs and albums, BTS World and BT21 Universe, films, docs, reality and variety shows, behind the scenes Bangtan Bombs, endless episodes of the game show Run BTS!, multiple seasons of the travel series Bon Voyage, and their annual anniversary, FESTA, is celebrated with 2 weeks of surprises.
They also constantly interact and entertain via text, photo, VLIVE and YouTube with performances, art projects, talks, song: #RMUSIC, dance: Hope on the Street, music: Tae Tae FM, radio: Honey FM, food: Eat Jin, film: Golden Closet Film, and much more.
What makes these artists so extraordinary is not their polished performances, natural comedic talents, or how they've toppled Asian stereotypes, it's that they're such a positive influence for the world's most inspired fanbase - ARMY - because they speak out about social rights, mental health, and learning to love yourself.

From the Connect, BTS global project to unite art and music, Love Myself campaign to end violence, Speak Yourself speech to empower youth, Dear Class of 2020 talk to encourage grads, Clean Energy sustainable future initiative, to the millions made happier every day - BTS are using their influence to make the world a better place. 
This is a collection of some of their most motivational and uplifting lyrics. Enjoy.
Like an echo in the forest 
The day will come back around
As if nothing happened
Yeah, life goes on
Like an arrow in the blue sky
Another day flying by
On my pillow, on my table 
Yeah, life goes on
Like this again
Life Goes On
Can't hold me down 'cuz you know I'm a fighter
ON
Don't be trapped in someone else's dream
N.O
Go your own way
Even if you live a day
Do something
Put weakness away
No More Dream
In the dark dawn, spreading trembling wings
Keep on shining make it brighter than a spotlight
Dream Glow
If I want to die, 
I'll strive to live as much as I want to die

Moonchild - RM
If you can't fly, then run
Today we will survive
If you can't run, then walk
Today we will survive
If you can't walk, then crawl
Not Today
Everywhere I go, everything I do
I will show you, as much as I sharpened my sword
To all the people who looked down on me
Hey shout it out
We are Bulletproof Pt. 2
We must believe only in ourselves
Love Maze 
To lose your path
Is the way to find that path
Lost
If you try to damage me with simple words like that
I only become stronger
Cypher Pt. 3: Killer
Even if winter comes again
Even if I'm blocked off, I will still walk
We are we are forever bulletproof
We are Bulletproof: The Eternal
I'm diamond, you know I glow up
Dynamite
In the dark night, don't be lonely
Like the stars, we shine
Don't disappear, because you're a great existence
Let us shine
Mikrokosmos
Don't ever be scared
Whatever people say, you're okay
21st Century Girls 
You shine in this pitch darkness
That is the butterfly effect 
Butterfly
Although I'll fall again
I'll make a mistake again
And I'll be covered in mud
I believe in myself because I'm a hero
Anpanman
What am I doin' with my life
This moment won't ever come again
I'm asking myself again, am I happy right now?
The answer is already there, I'm happy
The Most Beautiful Moment in Life
Days when you hate that you're you, days when you wanna disappear
Let's make a door in your heart
If you open that door and go inside, this place will be waiting for you
It's ok to believe, it'll comfort you, this Magic Shop
Magic Shop
It's okay, come on when I say one, two, three, forget it
Erase all sad memories
2!3! (Hoping for More Good Days)
These wings came from pain
But they are wings headed for the light
Though it's hard and it hurts
If I can fly, I will fly


A Supplementary Story: You Never Walk Alone
Run, run, run again
It's okay to fall
Run, run, run again
It's okay to get hurt
Run
Even if you're not perfect, you're a limited edition
Do You - RM
All the dreamers
Put your hands up
Throw your worries away
Jump
You can't stop me lovin' myself
Idol
Dream, you will fully bloom
After all the hardships
So Far Away - Agust D
Forever we are young
Even when I fall and hurt myself
I keep running towards my dream
Epilogue: Young Forever
Yes we're livin' and dyin'
At the same time
But you can open your eyes for now


4 O'clock
I'm the one I should love in this world
Shining me, precious soul of mine
I finally realised so I love me
Not so perfect but so beautiful
Epiphany 
Follow your dream like breaker 
Even if it breaks down, don't ever run backwards, never
Because the dawn right before the sun rises is the darkest
Tomorrow
So what
Don't stop and worry yourself
It's good for nothing
Let go
So What
I want to tell you, that darkness
Exists everywhere, don't be afraid of it
Whatever night may swallow me, I won't give up
The fight for you, we'll shine
Louder Than Bombs
I'm feeling just fine, fine, fine
I'll keep telling myself
Even if I fall down again
I'm fine
I'm Fine
It's okay to shed the tears
But don't you tear yourself
Moonchild - RM
I believe in myself
My back hurting is for my wings to come out
I believe in you, even if things are bleak right now
The end will be great
Fly, fly up in the sky
Fly, fly get 'em up high
It's the path you chose, dude don't be scared
This is just the first flight
Outro: Wings
Bright lights, going forward
You thought I was gonna fail but I'm fine, sorry
Mic Drop
Moss surely grows on a stone that doesn't roll
If you can't return, go straight through your mistakes and forget them all
Never Mind 
Though I walk this crazy world's path
I still want to live longer
I want to find it, my faith
Am I Wrong
In a world where you feel cold
You gotta stay gold
 Stay Gold
Just go instead of worrying
 Go Go
Don't worry even if I leave
You'll do well on your own


First Love
Within this pitch black darkness, 
You are shining so brightly 
Save Me
When you close your eyes
In the darkness, my light
Lights the way for you
Let's walk forward without fear, you and I
Lights
If you have moments where you feel happiness for a while
It's alright to stop
Now we don't run without knowing the destination
It's alright to not have a dream
All the breaths you breathe are already in paradise
Paradise
 You are the standard for happiness and you walk that road
P.O.P Piece of Peace Pt. 1 - J-Hope
I'm becoming weird
You can't go to the peak by being normal, baby
Boyz with Fun
Yes, look down on me like that
It's my hobby to prove you wrong


We On
Nothing can devour me
I shout out with ferocity
Black Swan
Time rushes ever forward
There's no ifs, buts, or maybes 
Outro: Ego
I love I love I love myself
I know I know I know myself
Ya playa haters you should love yourself
Cypher Pt. 4
But this day will be over
When the minute and second hands overlap
The world holds its breath for a little while
Zero O'Clock
You want to become everything, a leader for yourself
But you have to believe in yourself, your own leader
Bad thoughts and pessimistic realizations
That'll seem like it's right but you're really erasing your flavor
I Believe - RM
If I'm the sun, you're the moon, because when I rise, you go down
Cypher Pt. 2: Triptych
The morning will come again
No darkness, no season is eternal
Spring Day
Live however you want, it's your life anyway
Fire
I live so I love 


Trivia: Love
I said it's alright, oh yeah
One day it'll be a good day, for sure
You won't be alone, always
I'll be by your side, we'll be okay
If we're connected, surely it'll be brighter tomorrow
Good Day
There is nothing permanent in the world
Everything is just a happening passing through
People - Agust D
Nothing lasts forever
You only live once
So live your life, not any other's lives
Take chances and never regret, never
Never be late to do what you wanna do right now
Because at one point of someday
Everything you did
Would be exactly what you will be
Right?
Intro: O!RUL8,2?
Even if my knees drop to the ground 
As long as they don't get buried
It won't matter
ON
You've shown me I have reasons
I should love myself
Answer: Love Myself