Here's a brief recap of my personal experience at HYBE Insight in Seoul, Korea - an absolute must-visit for any lover of art, music, dance, K-pop, and definitely for any BTS ARMY. So I had to go check it out.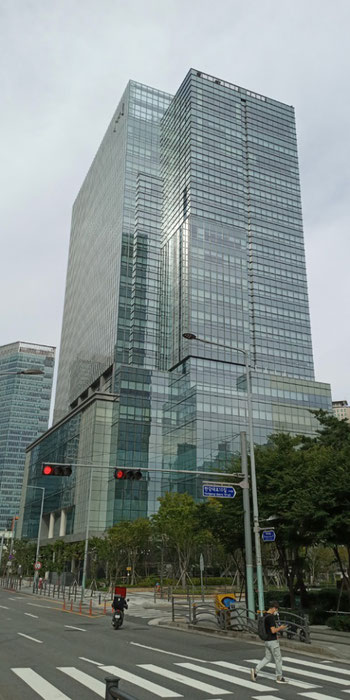 HYBE recently built a massively large building in the Yongsan district of downtown Seoul.
Big Hit, once a teeny tiny label, who became successful because they valued originality and creativity (aka: BTS) - has since transitioned into HYBE - a mega-powerhouse that continues to acquire new talent around the world and pretty much just utterly dominate the entire music industry in Korea, and, the world. 
In homage of the insane scale of their success, HYBE has built an entire museum dedicated to their artists and, like everything else they do, it is beyond impressive.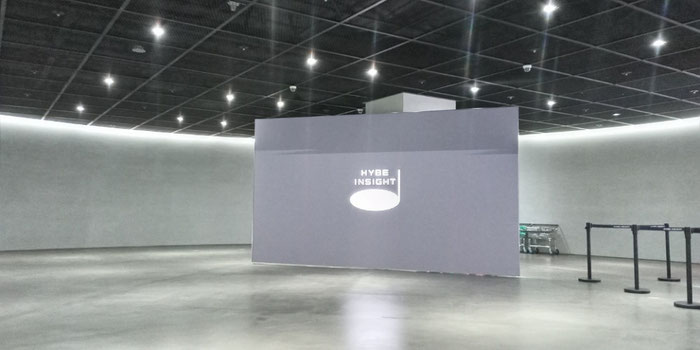 The museum encompasses two entire basement floors of the HYBE building. It's like entering an underground bunker full of magic. 
Then, most everything actually inside HYBE Insight is on a very serious lockdown. Photography is extremely limited, videography is banned, and you can't screenshot anything in the app either.
If you're dying for more tea, they post some pics on Twitter, but personally, I'd recommend being surprised. There is so much packed into this place - it truly must be experienced in person. That's what it was designed for. Photos do not do it justice.

So, here are some of my very favorite parts (where photos were allowed).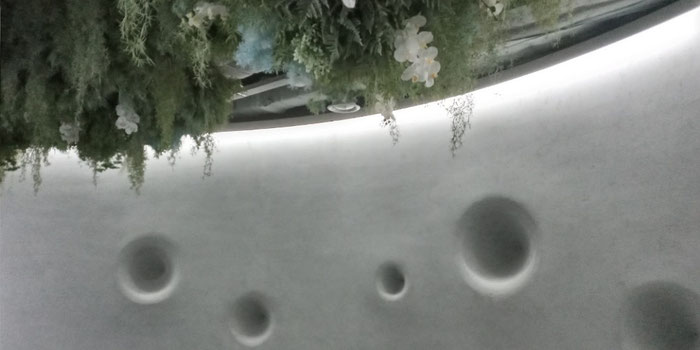 The museum boasts an entirely multi-sensory experience to fully envelop you into the art of creating and experiencing music.
There are sound vibrations to touch and feel.. music to hear... art, dance, and photography to see.. food and drinks to taste... and this super interesting room dedicated purely to scent.
This room is delicately created in honor of the song Euphoria, with muted flowers and greens hanging from the ceiling, and putty-like grey walls adorned with inverted holes filled with a fresh, flowery fragrance to smell. It is ethereal and other-worldly.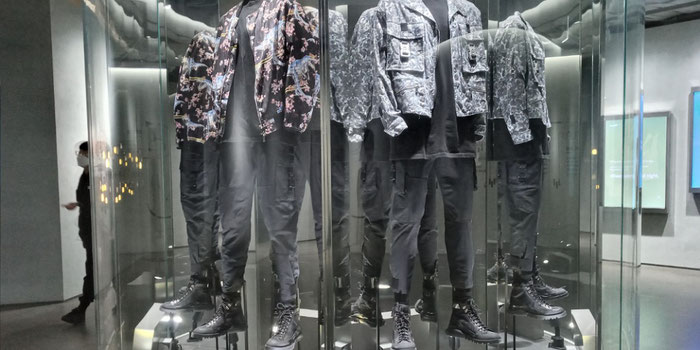 Showcases of costumes worn during concerts makes you feel so close to BTS. These outfits on display were worn during Mic Drop performances. Yeah. 
The details of the jackets, shirts, buckles, pants, and boots were incredible. The power these clothes give off is almost tangible. It's like standing before greatness.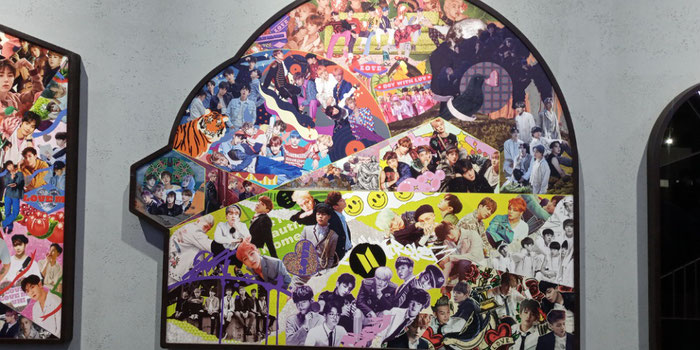 One of the many, many, many art installations in the museum included a collage of all the album concept ideas, and was assembled in meaningful way to illustrate the individual and collective themes they wanted to convey for each album.
Sometimes the layers of meaning and sheer attention to detail to such extremes really blows me away.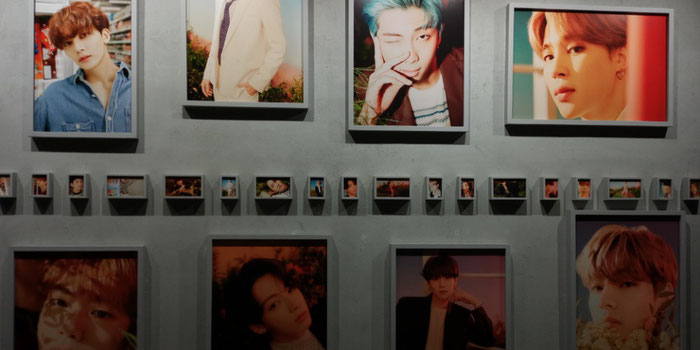 A massively long wall showcased a giant photography collection of all the artists under HYBE labels.
Like the carefully curated gallery it is, each photo feels like it exactly captures each artist's essence.
After hearing so many stories about difficulties and stresses throughout the museum - at this exhibit, you can truly appreciate the talented artists they are, along with all the hardships they've gone through, the obstacles they've overcome, the hard work they've put in, and all their well-deserved successes.
It evokes (dare I say - bittersweet) feelings of pride and gratitude that these artists have given us their passions and their lives. How do we even deserve this.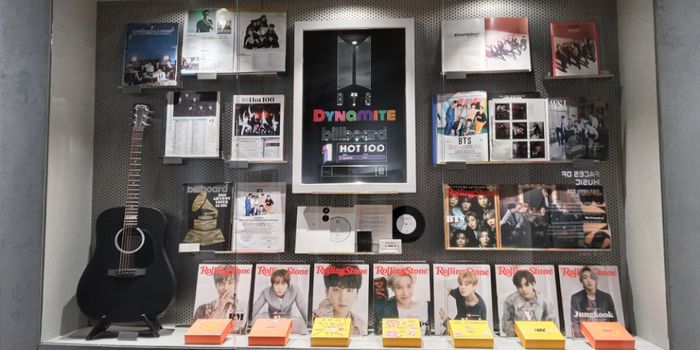 Many objects were donated to the museum from the artists themselves. Seeing them all up close, within inches of your very eyeballs, is just astounding.
If you watched the Butter Unboxing, you can see the boxes they decorated all up-close. They are absolutely adorable. You can even see Yoongi's own personal black guitar. 
Overall - I think HYBE Insight makes you laugh and smile, it helps you learn, understand and appreciate, and ultimately - it just makes you feel good. Which is exactly what they want. So, mission accomplished. I highly recommend a visit for any fan. 
---
Tips for tourists / foreigners:
1 - If you visit during Covid and don't have a personal QR code, then you have to call a Korean phone number and prove you did this to a guard. So, you must have a phone and a sim card with available cellular service to be able to complete this step, or else you cannot enter. (Your admission ticket is also non-refundable.)
2 - There is a timed Augmented Reality game to play during the experience, that players can play to win and receive a prize. You must have a relatively new smartphone with AR technology to be able to play, or else you get an error message, you can't play, you can't win, and you can't get the prize.
3 - There are docent voice guides in the HYBE Insight app that guide you through every installation in the museum. They are all in Korean only. There are also many exhibitions where museum guides explain instructions on when and where to move and what to do, and these are also all in Korean only. Some of the rooms are intentionally disorienting and you need to be told where to go. So you may want to learn some Korean.
4 - You need a HYBE QR code to enter and exit, and you need to scan this to get through all of the doors. It won't accept a screenshot, it has to be live in the app. You must have mobile data for at least 2 hours because you need it to get in, move around, use maps, get notifications, play speeches, read content, follow time limits, get out. If you're a tourist in Korea, you must get a local or global sim with enough data to last. 
5 - Just a heads up: I wouldn't call this a leisurely museum experience. This is a multi-sensory, fast-paced, adventure-filled ride where everything is precisely curated, planned, and timed. There are light shows, media presentations, specific spots to stand or sit in. Walls fold in half. Floors disappear. It is as delightfully chaotic as Run BTS! itself. So go in open-minded and ready to experience every second!
---