Get a taste for the beautifully charming city of Brighton in the historic neighborhood of the South Lanes and stop in for a delicious meal at the award-winning and ever popular Food for Friends Vegetarian Restaurant.
modern elegance
I loved the sleek modern elegance of Food for Friends as soon as I walked in.
The minimalist in me was immediately calmed and relaxed by the warm grey tones and delicate ambience. 
And then soon my senses had to start competing amongst the beautiful presentation and the delicious flavors of the food.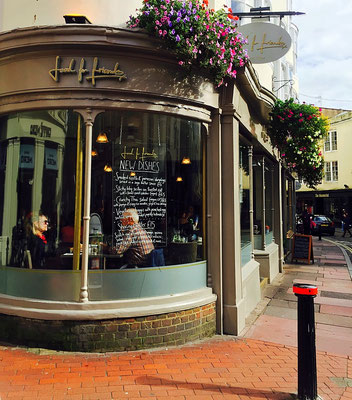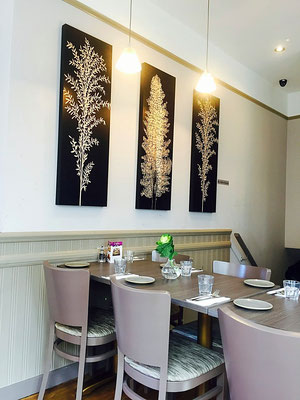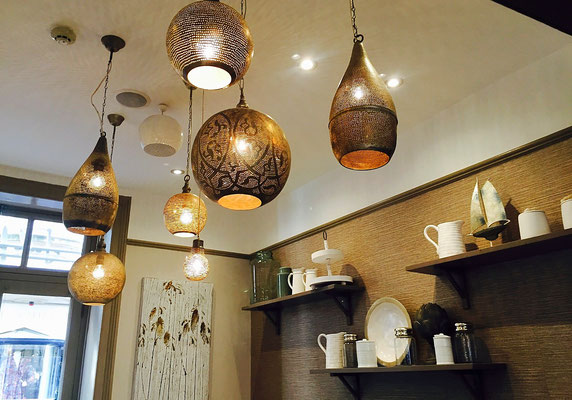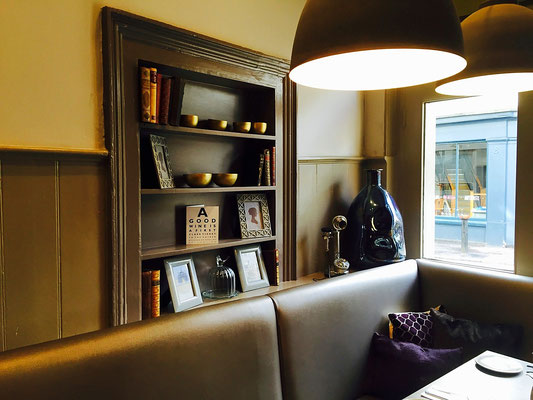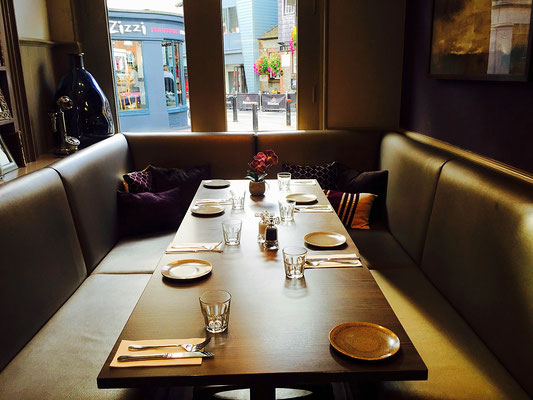 beautiful food
I started out with the sweet and spicy barbecue seitan sandwich that had the most delicious house-made vegan mayo dressing.
And, because I'm such a huge fan of really well done vegan mayonnaise, I was really happy to see it again in the accompanying fennel and carrot coleslaw.
The soup of the day was an appetizing creamy vegetable soup with a cauliflower base and accents of fennel.
I also tried a delicious fresh superfood salad of quinoa, avocado, sweet potato, pomegranate seeds, and roasted nuts in a light spicy lemon dressing.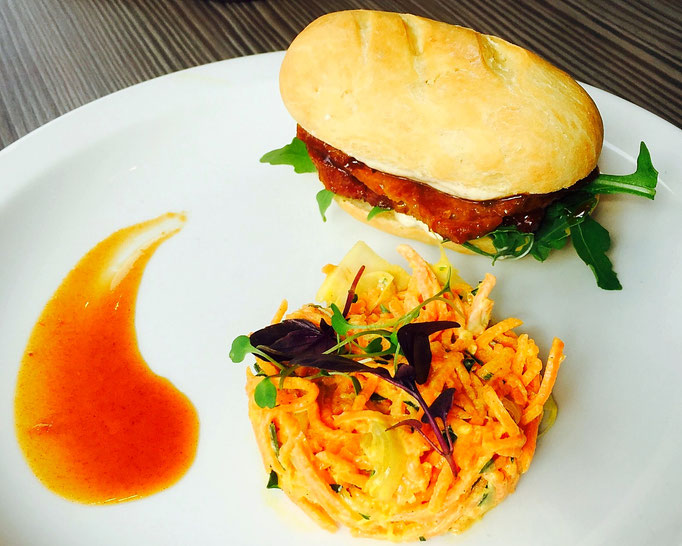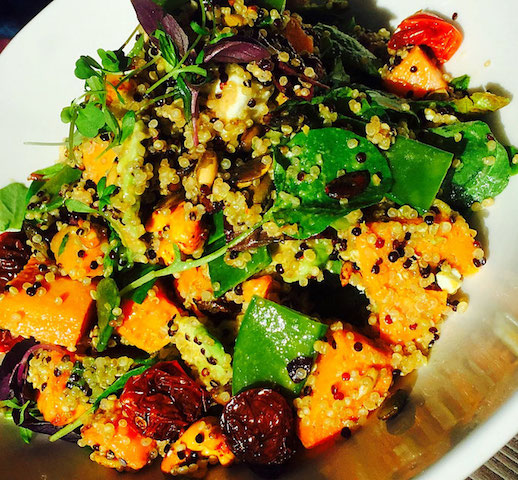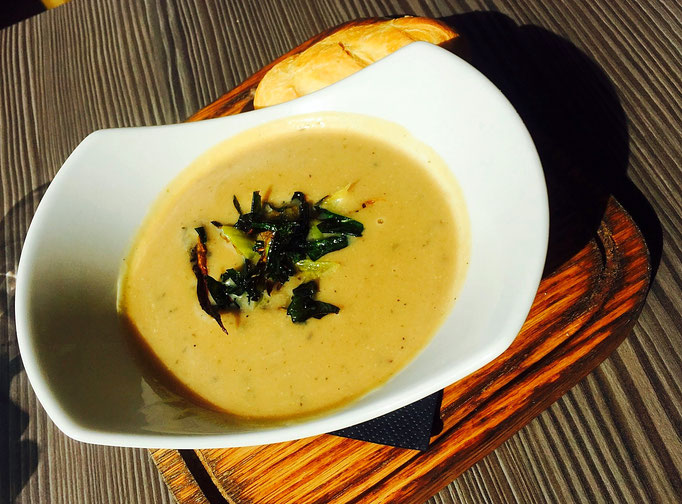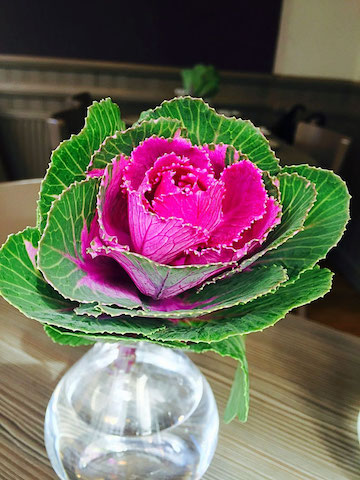 I so was impressed by the invitingly delectable main course that consisted of piquillo peppers, with saffron battered herbed rice, pine nuts, salsa verde, and was accented by a perfectly balanced sweet and not-too-spicy wasabi pea purée.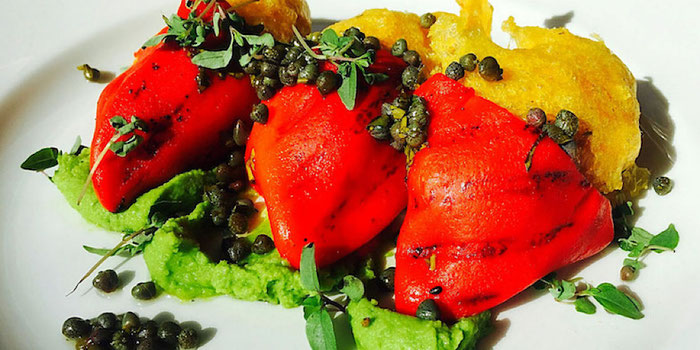 Even more exciting was the beautifully presented dessert of dairy-free lemon and almond cake, quite artistically accompanied by a fanciful powdered sugar and bold raspberry glaze.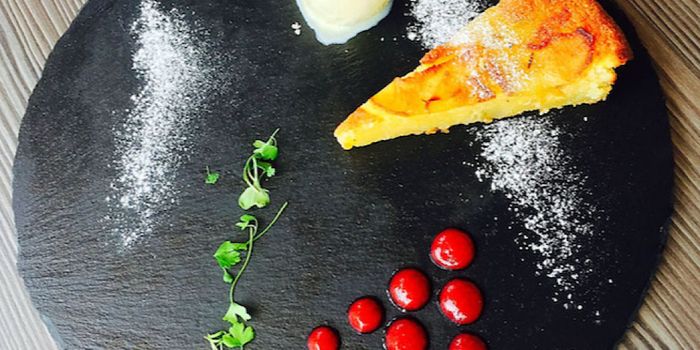 More appetizing goodies on the menu included such treats as tempeh skewers, vegetarian haggis and a tahini marinated roasted eggplant dish.
And, on the dessert menu, even more yumminess like chocolate truffle torte, creme brûlée, and more.
What's great about this restaurant is that, although their menu is largely vegetarian, items that can easily be made into vegan options are clearly noted on the menu and the staff is happy to help as well.
established in 1981
Food for Friends has been a staple of the Brighton vegetarian food scene since since 1981 and has accumulated many well-deserved awards over the years.
They have an extensive wine and cocktail list in addition to their fine teas and coffees.
Try them out for the famous afternoon tea for sweet pairings to enjoy.
visit food for friends