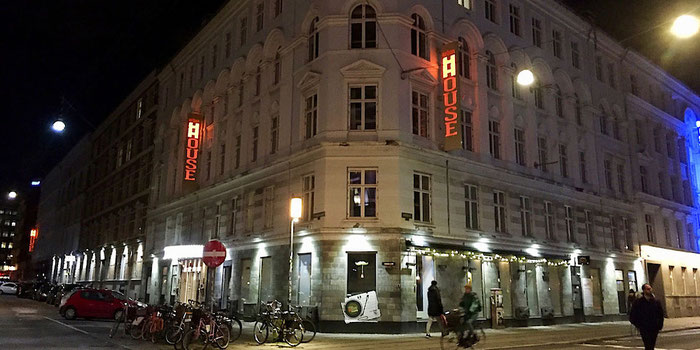 On a recent trip to Copenhagen, I was intrigued by the very artful, unique hotel / hostel hybrid Urban House. Could it be the best of both worlds in one? 

When I really got to check the entire place out, I was pleasantly surprised that not only are they are 2 in 1, they don't stop there, because they also have pretty much anything you could ever want in both.
And, when I say everything, I mean everything. So many features that I came up with 30 reasons why this place rocks!
About the Accommodation
Great location. Urban House is located in an excellent location in Copenhagen's hip Vesterbro neighborhood just 2 minutes from the Central Station, and surrounded by countless shops, bars, restaurants and even a few strip bars if that's your thing. 
Accommodation variety. The building is enormous, and because it's a hotel and hostel hybrid, there are multiple size dormitories to choose from, and also multiple private and family rooms. Whatever size and bed count suits you. And, they all come with private bathrooms. I saw everyone from families with kids, couples, groups, solo travelers and business travelers all during my stay.
24/7 checkin. Arrive whenever you darn well feel like it. Because that's usually when I like arriving at places anyways. 
Checkin app. You can enter your info into an app and breeze through your room checkin. Comes with local guides and works with other hostels in other cities around the world, too.
Reception-less checkin and checkout. The most convenient thing ever! Ever! You'll get a room code emailed to you on the day of your checkin and then you literally just walk directly to your room, punch in the code and voila. No waiting in line, no signing of endless papers, none of that business. There's also some self-checkin kiosks you can use. And some friendly folks around if you need help.
Key-less. No keys, no cards to carry around, or worry about breaking or leaving or losing. Just a simple numeric code. 
Free wifi. Working, reliable, unlimited data wifi throughout the entire building. I checked. 
Free hairdryers, linens, towels and toiletries. You'd be surprised at just how rare these things are, both in hostels and hotels. 
Bedside power and light access. Sockets and reading lights right next to the pillow on each bed. A thoughtful and helpful touch. 
Funky art displays, murals and cool vintage and industrial lighting throughout. Always something interesting or upbeat to look at. 
More Cool Features
Full bar. Serving draft beers, ciders, wines, shots and some specialty cocktails. Always sporting happy hour specials as well. 
Coffee bar. Where they make a pretty mean soy latte. Get one. 
Restaurant. Nice menu selection with burgers, fries, salads, sandwiches, including a delicious "Green Spleen" vegan burger - a savory, house-made, fried vegetable patty topped with lettuce, tomato and overflowing with creamy hummus.
Take-away drink and snack kiosk. Juices and sandwiches to purchase for your room or to go.
Breakfast served every morning. Get some in the lounge or get it in a bag to go.
Self serve kitchen. Feel like cooking? Go for it. There's an entire industrial kitchen at your disposal. 
Laundry room. Lots of machines to use plus a huge flat screen tv and sitting area so you're not bored.
Locker room. Lockers are in the dorms too but if you have more stuff there's an entire separate room you can use for storage.
Quiet room. For hangovers. Or peace and quiet. This is a cute idea. I heart quiet. 
Green escape. Head out back for some fresh air that's not full of car fumes and into a little bit of a green oasis in the city.
Awesome Stuff You Never Expected
Theater. Lounge about on lots of soft chairs and sofas and feast your eyes on a giant flatscreen.
Library. Books galore. Two walls of them actually. And a pool table. You'll never be bored in there. 
Game room. For funsies. Get your game on.
Lounges. Tons of artfully designed lounge areas are scattered all around to chill out in but I especially loved the main bar lounge. A bit of a modern yet eclectic touch, with exposed industrial piping, distressed wooden tables and funky old couches and pillows.
Bike rental. Because it's Copenhagen and it's easy to bike around if that's your thing. 
Stage area. Featuring live bands, shows and entertainment. You never have to leave the hotel!
Tattoo shop. Bet you didn't see that one coming. Neither did I. Urban House's very own Wisdomless Tattoo Club is just below street level and heading down those steps is like stepping a century back in time to a fancy Victorian Parlor room. Not to mention the very well-groomed tattoo artists all decked out in vests and ties. On point.
Free walking tours. There are several of these you can catch right from the hotel, including an alternative tour and food tour. 
Social app. Urban House guests can use the comundu app to connect, meet hotel guests, and find live feed streams on screens throughout the lounge. There's many activities and events, such as 'Movember', and they have their own hashtag: #docopenhagen.
A sense of humor. You don't usually expect a hotel to have a sense of humor but then again, this is no ordinary hotel now, is it?! Funny tidbits are noticeable everywhere from the website to the murals and signs all around, even down to the cheeky privacy sign for your room door that says, "There's a door between us and I like it like that." I do like it like that. Thanks, sign!
check out urban house