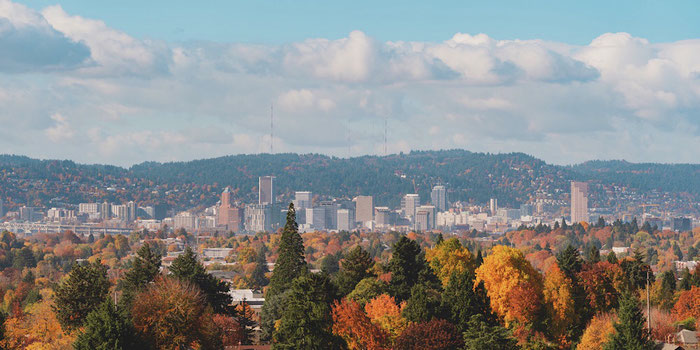 Looking for great vegan food in Portland, Oregon? Here's my roundup of the best must-try spots for tasty plant-based eats all over the city.
a.n.d CAfe
5420 E Burnside
A.n.d is a lovely little cafe on Burnside that has a huge menu and everything on it is consistency delicious, like this bacon quesadilla. Definitely a must. More.
back to eden
2217 NE Alberta, 2217 NE Alberta St, 4804 SE Woodstock Blvd
This all vegan spot has a bit of everything. Featuring excellent tarts, quiches, mac and cheese, and baked goods, plus an ice cream bar, and it's available via delivery.
Beta lukas
2504 SE 50th
Famous for being the best Ethiopian food in the city, Beta Lukas always over delivers. 
blossoming lotus
1713 NE 15th
Super chic restaurant offering an all vegan menu and many raw vegan foods. 
bye and bye
1011 NE Alberta
Hipster to the max, The Bye and Bye is popular favorite because they're an all vegan bar with a chill vibe and great food. Everything on their menu is awesome, especially my favorite, the reuben. Check out all their sister bars by the Lightning Collective for more drinks and noms - the Sweet Hereafter, Jackknife, Dig a Pony, Century Bar, Victoria Bar, Associated and Capitol (with a fab menu inspired by Of Roots and Blooms).
cafe yumm
301 SW Morrison, 1806 SW 6th Ave, 1010 NE 7th Avenue and at PDX
Local chain that serves delicious food bowls with their liquid gold sauce called Yumm Sauce, a super popular and iconic Portland condiment. You can also buy bottles of Yumm sauce at local groceries around town.
DC vegetarian
5026 SE Division
Simply stellar sandwiches like breakfast sandwiches, steak and cheese, and yummy vegan cheeseburgers make this place a must visit.
down to earth
7828 SW 35th
Cozy little cafe in Multnomah Village that makes great home-cooked eats. Great for breakfast and brunch since they do excellent tofu scrambles with vegan cheese.
el nutri taco
2124 NE Alberta, 8436 SE Woodstock
The best vegan Mexican food. Smothered burritos, enchiladas, nachos, and more, all with vegan cheese and sour cream and a selection of meats like tofu, soy curls, tempeh and chicken strips. Huge servings and great prices. More.
farm spirit
1414 SE Morrison
Intimate fine dining restaurant where patrons are served a multi course tasing menu at a counter directly by the chefs. Sources all local foods and products. More.
fatsquatch
3423 SE Belmont
Food cart serving up tasty comfort foods like bbq bowls, deep fried avocado, buffalo wings, jalapeño poppers and more. Nom.
franks a lot
2845 E Burnside
Cute drive-thru hot dog stand that offers a selection of vegan dogs like franks, sausage, bratwurst, and kielbasa. Always delicious, affordable, and really fun to visit. 
homegrown smoker
8638 N Lombard St, 4237 N Mississippi Ave
Best vegan Southern eats! BBQ soy curls, mac and cheese, burgers, burritos and ribs.
hungry tiger
213 SE 12th
Fun bar with vegan comfort food menu such as super tasty vegan corn dogs, chicken and waffles, and cheese fries.
junior's cafe
1742 se 12th
Cozy diner perfect for brunch with delicious tofu scrambles and super friendly service. 
laughing planet cafe
625 NW Saltzman, 1914 NE 42nd, 4110 SE Woodstock, 91 State, 3320 SE Belmont, 922 NW 21st, 3765 N Mississippi, 4405 SW Vermont, 721 NW 9th, 1720 SW 4th
Fun local chain that has a large menu with tons of burritos, bowls and more. More.
the loving hut
1239 SW Jefferson St
Local spot of the popular international vegan chain. Everything is amazingly delicious.
native foods
SW Bridgeport
All vegan chain restaurant that has a gigantic menu of delicious foods like warps, bowls, burgers, sandwiches, and tacos, plus tons of great desserts.
nectar cafe
1925 ne 42nd
Lovely little cafe with great coffee and inventive eats like the jalapeño waffle sandwich. It's amazing. More.
next level burger
4121 SE Hawthorne
Vegan fast food burger joint! Classic burgers at great prices, this is a must visit. More.
paradox cafe
3439 SE Belmont
Cute diner with great vegan menu. Perfect for brunch. Great french toast, pancakes, tofu scrambles and more.
prasad
925 NW Davis, 21 NE 12th
Organic veggie food spot with tasty juices and bowls. Sister restaurant Harlow on Hawthorne in SE.
the sudra
2333 NE Glisan, 8777 N Lombard
All vegan restaurants with Indian-inspired authentic and tasty eats.
sushi love
1122 SE Tacoma St
Super amazing all vegan sushi food cart with inventive creations like the Full Kitchen Alchemist, made with soyrizo, torilla chips and nacho cheese.
thrive sauce & bowls
4641 NE Fremont
The place to go for fresh, local tasty food bowls plus great hot sauce. More.
van hahn
8446 SE Division
Non-profit vegetarian, mostly vegan, restaurant that's run by a Buddhist nun with a large menu full mock meats they make in house.
veggie grill
508 SW Taylor, 3435 SW Cedar Hills
All vegan and totally amazing fast food restaurant with buffalo wings, burgers, wraps, tacos, and more. Plus you can earn rewards, order and pay with an app. More.
vita cafe
3023 NE Alberta
Laid-back spot with tons of really great vegan dishes like tofu scrambles, chicken fried steak, turkey florentine, steak and cheese, reubens, and more.
vtopia
1628 SW Jefferson
Downtown spot specializing in cheese! In addition to raw aged cheese selection, also offers sandwiches, salads and more.
voodoo doughnut
22 SW 3rd, 1501 NE Davis
A Portland icon, Voodoo makes an assortment of tasty vegan doughnuts. More.
white owl social club
1305 SE 8th
Hip bar with lots of vegan options like burgers and smores you can cook at your table.