Penestanan, known as the artist's village of Ubud, is a lush, calm, and quiet village just next to the bustling city of Ubud in Bali. Here's a collection of the best eats all around this little slice of heaven.
alchemy
Jalan Penestanan Kelod 75
Alchemy is a large, modern restaurant that has giant menus of raw vegan dishes plus every type of fresh juice or smoothie combination you could ever want. Prepare to be impressed by stellar raw food styling, because they make a spinach and mushroom quiche with cashew cheese that will knock your socks off.
If you get really excited, they also have instructional classes. An onsite shop has a big selection of goods, including reusables and cruelty-free products.
dharma coffee and juice
Jl Raya Sanggingan 45 Campuhan
(Street level just below Bintang)
I absolutely love Dharma! It's a cozy, yet modern coffee and juice shop that has excellent coffee, kombucha and kefir drinks, complete with a great menu of tasty vegan eats. All of their jackfruit burgers and avocado toasts are simply outstanding. All of them.
Dharma is super conveniently located right outside of Bintang supermarket as well. Follow the little staircase down from the parking lot. Look for the swing chairs outside! 
dumbo
Jalan Campuhan
(across from Bintang, next to The Elephant)
Dumbo is The Elephant's sister cafe. It's a super hip spot that serves an inventive breakfast and lunch day menu, then transitions into a full bar menu complete with wood-fired Italian food in the evenings.
An all vegetarian restaurant, there are many vegan options on the menu. I was wowed by a creamed corn polenta with mushrooms and onions on sourdough toast. Vinyl records for tunes add to the super cool vibe.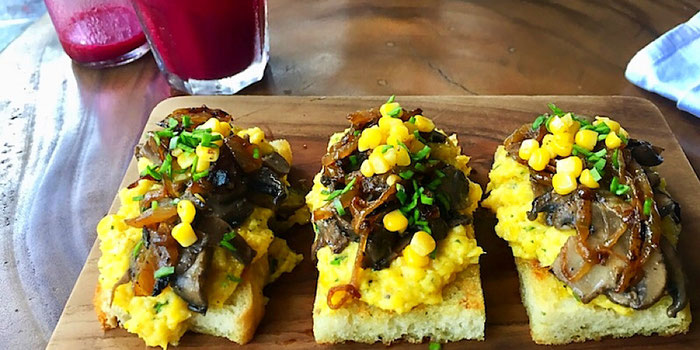 the elephant
Jalan Campuhan
(across the street from Bintang, next to Dumbo)
The Elephant is location just off the main road, with a dining room that overlooks the entire ridge, you really can't beat this view. The restaurant is 100% vegetarian, with several vegan items on the menu, and many more that can be easily veganized upon request. I loved this tasty larb dish made with rice, tofu, lemongrass and lime.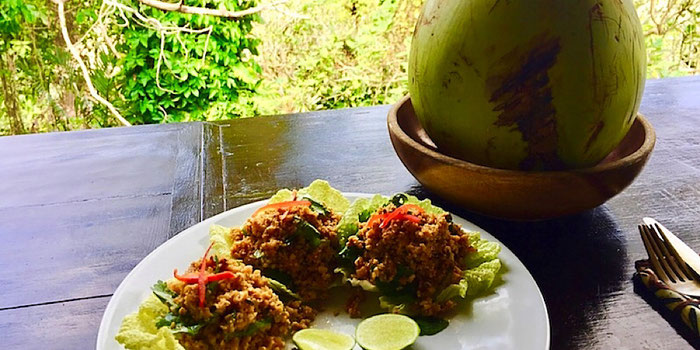 makan makan
Jalan Raya Campuan 18
(Bintang lot on the left side)
This cafe is not all vegan, but it makes up for it in convenience, since it's located right next to Bintang, the largest supermarket around. They have many vegan or easily vegan dishes with tofu, veggies and rice, smoothie bowls, and soymilk for coffee. With a large display of vegan cakes and brownies, including raw chocolate treats, you can always grab something to satisfy your sweet tooth.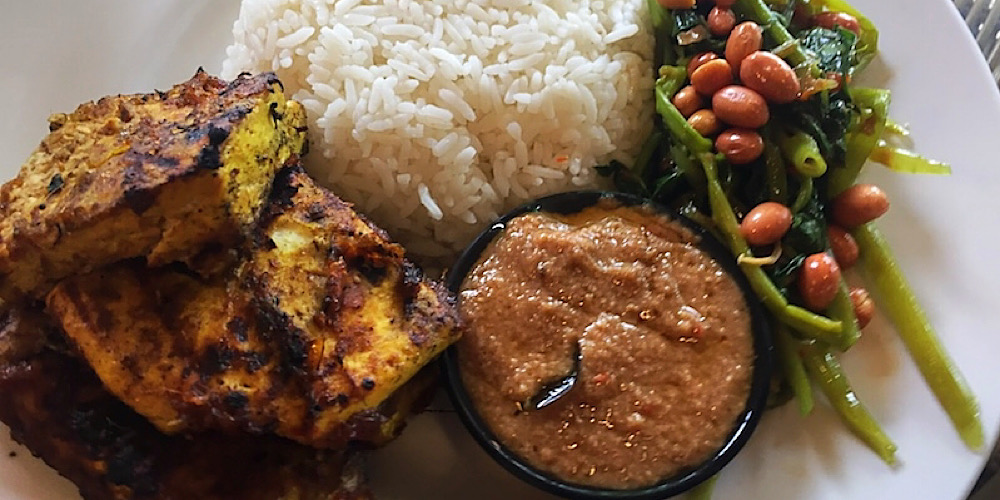 moksa
Puskesmas Ubud II Gg Damai Kab Gianya
(Google maps will take you there)
Moksa is my favorite restaurant because it is 100% vegan and the restaurant is a huge sprawling open-air terrace overlooking their very own permaculture garden. An amazing menu with just about everything you could ever want, including Balinese and Indonesian dishes, plus tacos, pizzas, lasagnas, ribs, burgers and even homemade ice cream.
They even have a farmer's market twice a week, and host classes in yoga, tai chi and more. This place has everything, don't miss it.
mumbai station indian cafe
Jalan Raya Sanggingan 90
(in front of The Shali Bali Spa)
All vegetarian restaurant specializing in Ayurvedic South Indian food and homemade gluten-free dosas with exotic chutney flavors. Most everything is vegan and also delicious. They also feature a High Chai Tea Time for teas and snacks.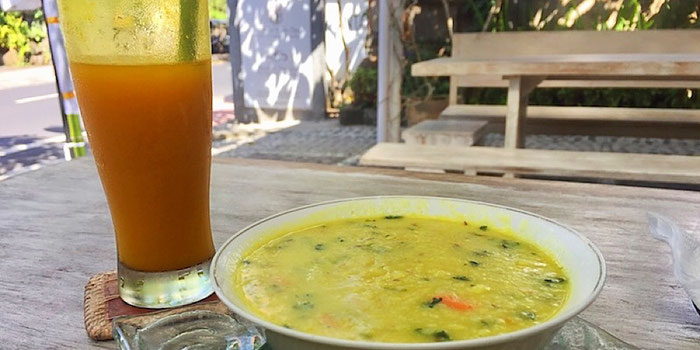 prima warung
Jalan Raya Penestanan Kelod
(close to the intersection of Jl Raya Penestanan and Jl Penestanan Kelod)
Small, all vegan restaurant serving a selection of traditional Balinese dishes all veganized. Usually offers one set meal a day, but super affordable and with very large portions, you definitely won't be disappointed.
yellow flower cafe
Jl. Raya Campuhan Sayan
(Up Penestanan stairs, right at the big sign, continue along footpath)
This little gem of a cafe is nearly hidden among the pathways, but well worth a visit for outstanding smoothie bowls and delicious Balinese dishes like nasi campur. You can also find a small display of fine handmade jewelry for sale from a local artisan.
You'll really get a taste for local village life as you follow the teeny tiny winding jungle pathways to this little refreshing oasis.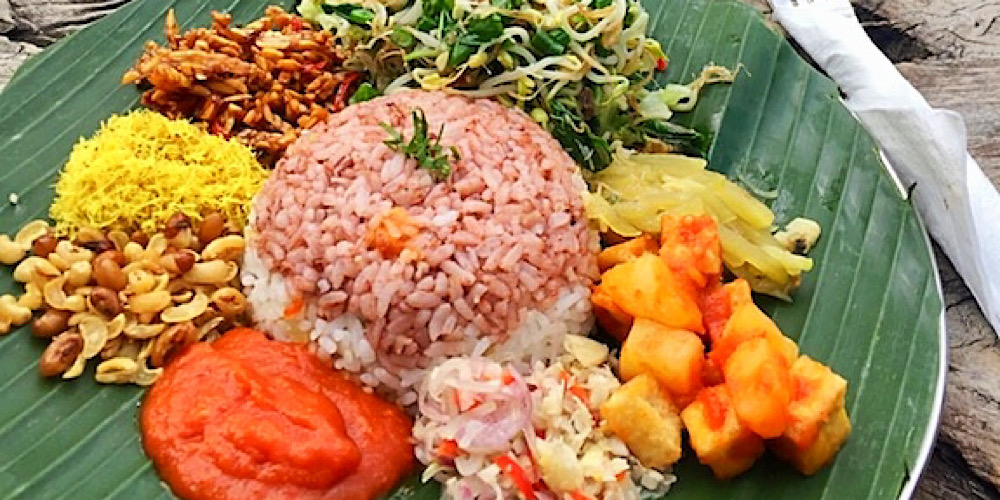 zest
Jl Raya Penestanan Kelod 8
(up the hill just before the road curves, sharp entrance to right, can't miss it)
Zest is an astoundingly beautiful vegan restaurant with a great view, a large menu of tasty eats, immersed in a stunning marriage of nature, art and architecture. With creative bowls, wraps and jackfruit dishes, plus cheesecakes and brownies for dessert, it's hard not to fall in love with this place.
Bonus points for a killer soundtrack you can stream on Soundcloud. Zest is a must visit. It's an experience too good to miss.