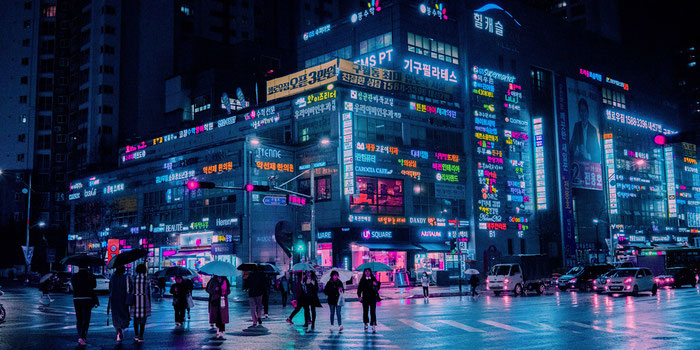 Unless you're a K-drama fan, you probably have no idea that South Koreans enjoy a far better standard of living than anyone else because they're light years ahead of the rest of the world in virtually everything.
With green living, clever design, smart technology, and digital everything thanks to the genius powerhouses LG, Samsung, and Hyundai — plus doors that magically open just like Star Trek — daily life in Korea is like living on a spaceship.
This is a giant photo essay of near 100 snaps showing clever Korean tech, gadgets, and design, and how they make daily life life safer, easier, and more convenient.
As if this isn't enough good stuff, there's also incredibly tasty Korean food everywhere, alcohol that's actually a health elixir, convenient apps to use, and of course, BTS.
Prepare to have your mind blown. 
fastest internet In the world
aRtificial intelligence robots
AUgmented REALITY INformatioN
Cctv everywhere
Korean Instant Messaging
Noise pollution control
Pc bang Gaming cafes
karaoke rooms - norebang
Giant Led display screens
Airport guide maps
aircraft row boarding
NO carry on liqUid restrictions
Ultra clean airports
Restroom lightlocks
Street guide maps
Rechargeable smart cards
Electronic bus inFo systems
Live bus tracking & seating
Live TRAFFIC displays
Live Transit time displays
Traffic safety warnings
car Dash cams
Wireless toll payments
Car door Guard stickers
Automated vertical parking lots
Local booking apps
Unmanned hOtels
Super cheap Luxury hotel rooms
Automatic doors
Wireless call Buttons
WIreless Call / bill buttons
Wireless BuzzErs
Digital order pickup
Self ordering Systems
vending cafes
Robot Cafes
App food delivery 24/7
Solar powered traffic signs
Wind powered Street lights
Electric car charging stAtions
Public Bike rentals
Solar poweRed cell chargers
Air quality MoniTors
Regular city disinfections
outdoor closed smoKing areas
Free Outdoor gyms
free filtered water everywhere
RecyclinG & waste DiSposal
Recycling explained
Diy food Waste Disposal
Limited waste allowed
Energy-saving windows
Energy-saving lighting
Plant INFORMATION signs
Video intercom - front door
Video Intercom - apT door
video intercom - inside apt
Touchscreen Digital door lockS
Fingerprint door locks
vacuum & moPping robots
Air purifiers
Apartment air PURIFIER systems
High tech ELECTRONIC ToilEts
Magnetic soap
touchscreen refrigerators
Touchscreen lightswitchs
Kitchen multimedia systems
Water heated mattress pads
Floor heating
room heating & cooling
Electronic Drying racks
EnErgy-saving outlets
Covered oUtlets
Covered smoke detectors
EleVator call buttons
Eye soft pAper
Bpa-free receipts
Clean skincare and cosmetics
High tech heAlthcare
Automated defibrillators
Home Gas detectors
Touchscreen Utility shutoffs
Manual gas valves
Emergency Intercoms
STairwell safety lights
stairwell blind safety
Fire hydrants & extinguishers
Spray cAn fire extiNguishers
FirEproof doors
StAirwell Anti-Fire shutters
Descending life lines
Safe zone Boxes