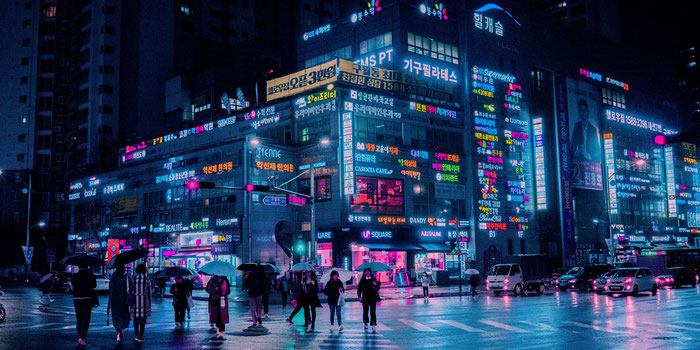 South Koreans enjoy a far better standard of living than anyone else because they're light years ahead of the world in virtually everything. 
With green living, clever design, smart tech, and digital everything thanks to the genius powerhouses LG, Samsung, and Hyundai - plus doors that open just like Star Trek - Korea IS the future.
There's also delicious Korean food, including many plant-based Korean foods, plus alcohol that's a health elixir, and, of course - the incredibly inspirational BTS. 
Yes, they really do have it all. 
This is a (giant) photo essay showcasing my favorite tech, gadgets, infrastructure, and design - and how I think they all make daily life in Korea better, safer, easier, and more convenient than anywhere else on the entire planet.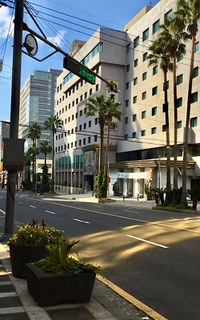 CCTV: Korea is the safest country in the world because cameras are virtually everywhere - inside, outside, and also in every single car - so nobody's getting away with anything. You can safely leave your laptop, phone, wallet, bike, or car pretty much anywhere. Goodbye, crime!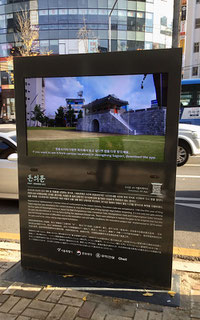 Augmented Reality Information: Find giant digital display screens featuring touchscreen augmented reality that show historical sites in the exact location as they would look today.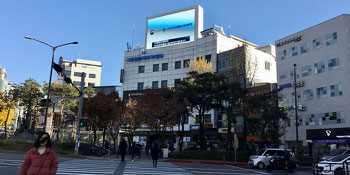 Massive LED Display Screens: Giant display screens everywhere keep you entertained with news and commercials.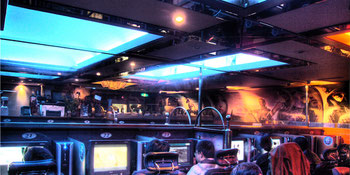 Gaming Cafes: Pc Bang gaming cafes have state of the art computer and sound systems, ergonomic chairs, food and drink delivery - the perfect environment to use the fastest internet in the world to play live online multi-player games.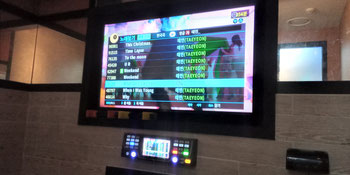 Norebang: Korea takes karaoke to a different level - you rent private soundproofed rooms, play with a state of the art video and sound system, and get food and drinks delivered to you while you sing your heart out. 
AI Robots: Get airport assistance from artificial intelligence robots who give navigation, schedules, and advice.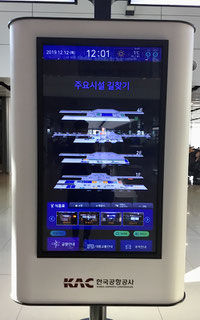 Airport Guide Maps: Never lose your way at an airport with giant interactive touchscreen digital display guides.
Aircraft Row Boarding: Quickly and easily board airplanes according to row, from the back towards the front, so there's less waiting, no hassle, and flying is a breeze.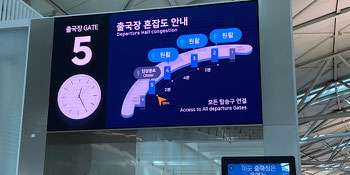 Live Departure Hall Congestion Monitoring: Know where to go at the airport with up-to-the-minute queue monitoring.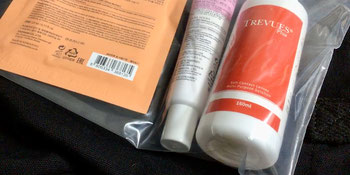 No Carry-On Liquid Restrictions: On domestic flights, there are no liquid restrictions on sizes or amounts, and you don't even have to take out liquids when going through airport security.
Ultra Clean Airports: Complete with auto-monitored feedback screens, no airports anywhere in the world care this much about cleanliness.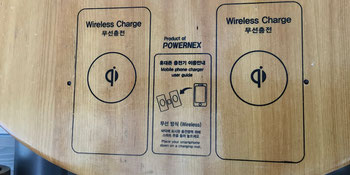 Airport Wireless Charging: Forget messing with wires and outlets, just lay your phone down to instantly charge.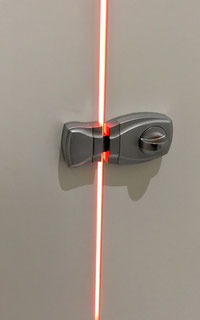 Illuminated Restroom Doorlocks: Airport bathroom door locks instantly turn on an floor to ceiling illuminated red light to signal the stall is in use and locked.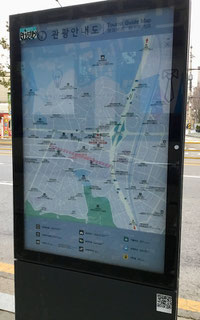 Street Guide Maps: Never get lost with easy location maps citywide.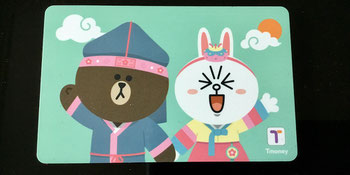 Rechargeable Transit Smart Cards: Tmoney is a rechargeable smart card to pay transportation fees and shop. It can be used for buses, subway, taxis, and convenience stores countrywide, and also has an app.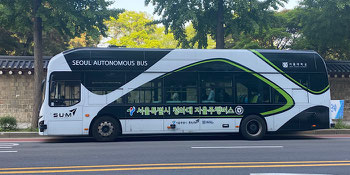 Autonomous Buses: Driver-less city buses will take you to your destination safely and accurately.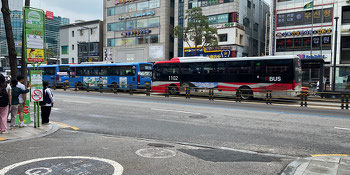 Color Coded Buses: City buses are color coded red, green, teal, and blue to indicate what routes they run.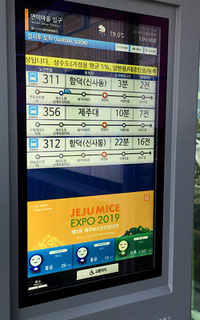 Digital Bus Info Screens: Find electronic real-time bus informations systems on large touchscreen display panels to easily and accurately monitor bus arrivals, with audio announcements. Also free wifi, phone chargers, and heated seats.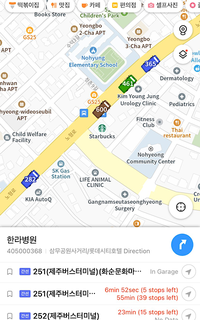 Real-time Bus Locations: Track where the buses all are in real time on the map.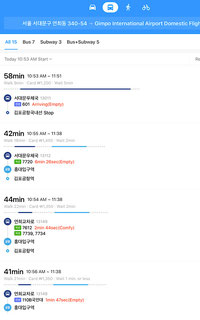 Real-time Bus Arrivals and Seating: Track exactly when the bus is arriving down to the second, plus real time seat availability for your comfort.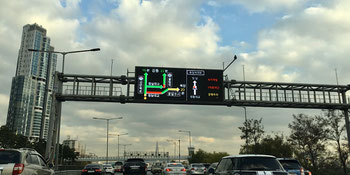 Live Traffic Displays: Quickly check traffic status with a glance while driving.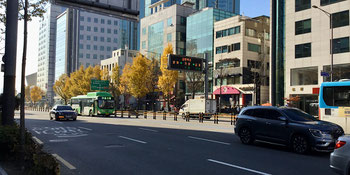 Live Transit Times: Real-time travel calculations are displayed to inform you of transit time.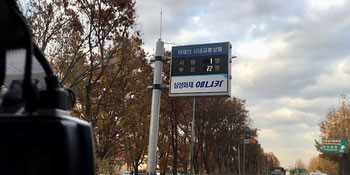 Traffic Safety Warnings: Reminders to drive carefully display yesterday's accident tolls.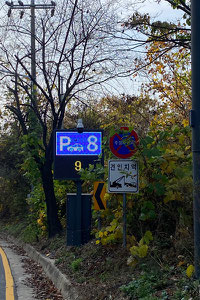 Real-time Parking Lot Counters: Choose what lot to park in by instantly seeing the number of available spots.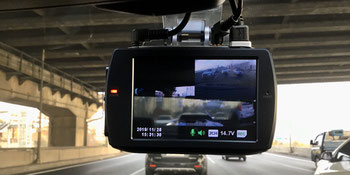 Car Dash Cams: Cars have front and rearview dash cameras installed so all traffic is recorded in case of a scam or accident. Goodbye, road rage.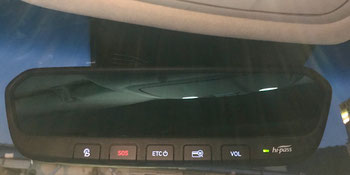 Wireless Toll Payments: Rearview mirrors hold a chip card inside that allows wireless toll payments to be instantly read and charged without even slowing down the car.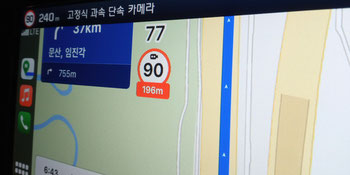 Variable Speed Limit: On highways, wireless monitors calculate your average speed in any given length, so you can drive as fast as you want as long as you keep your average below the limit.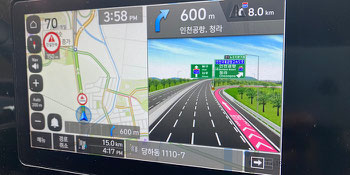 Color Coded Navigation: In complicated navigation, simply follow the brightly colored lane to your destination.
Color Coded Roads: The matching navigation colors are also painted directly on the road so you can't miss it.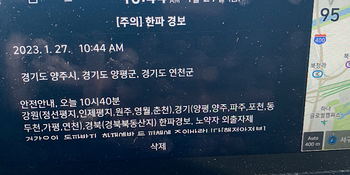 Emergency Alerts: Your car alerts you to emergency weather conditions on the road.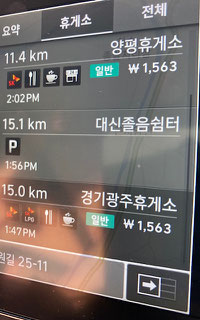 Informative Navigation: Easily view where the next rest area is and what's there so you can plan your pit stops.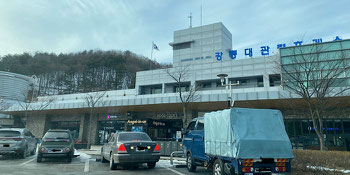 Roadside Rest Areas: These rest areas are not only clean and organized, they're also entire malls complete with shops, groceries, handmade goods, convenience stores, coffee shops, street foods, and food courts.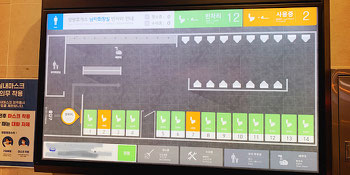 Digital Rest Room Info Screens: Easily glance at what bathroom stalls are open instead of playing a guessing game.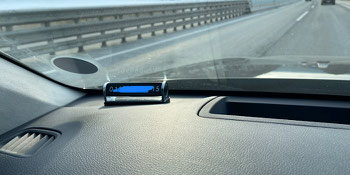 Displayed Driver Information: In case you'd prefer a parked car to be moved, simply call the owner on the phone number displayed on the dashboard!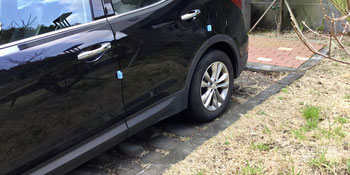 Car Door Guard Stickers: Tiny cushions protect everyone's doors from dings.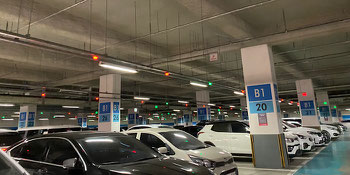 Parking Space Lights: Easily find an available parking space by simply looking for the green lights overhead!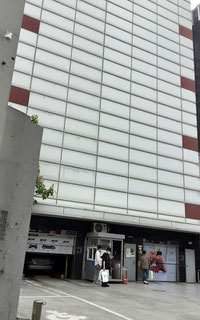 Mechanical Parking Lots: Computerized buildings move cars floors up to park and store them automatically.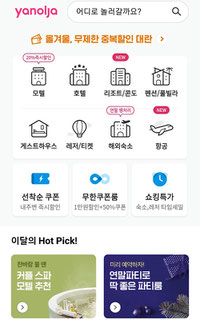 Local Property Booking Apps: Instantly book and pay for a luxurious yet inexpensive local hotel room with just a few clicks on an app.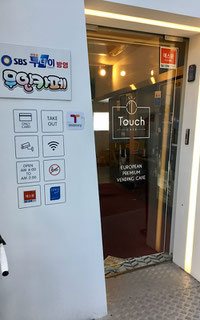 Unmanned Cafes: Order, pay, and get your drink served - all from a machine.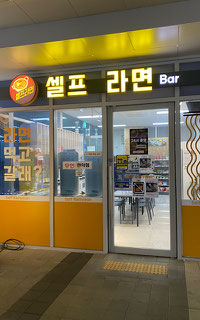 Unmanned Restaurants: Find food, pay, cook, and eat all by yourself at self ramen bars.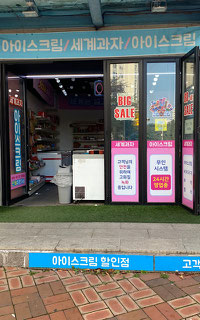 Unmanned Ice Cream Bars: Indulge your sweet tooth guilt-free in unmanned ice cream stores.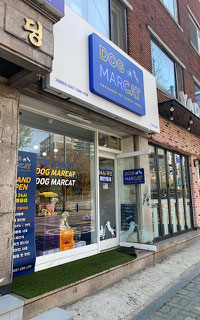 Unmanned Shops: Browse, shop, and self-checkout at unmanned stores.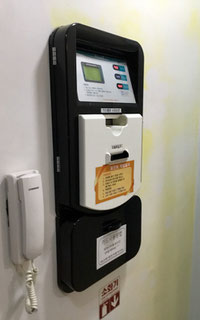 Unmanned Hotels: Check yourself into a high tech unmanned hotel hotel by simply paying at a machine that will instantly unlock your door for you. Check out by pressing one button.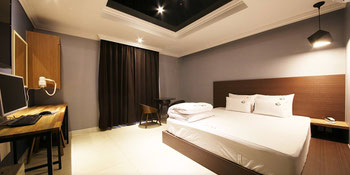 Super Cheap Luxury Hotels: Stay in 5 star luxury hotel suites with TVs, laptops, free toiletries and stocked fridge - all for a fraction of the value. I booked this one for $30 - anywhere else, it'd be well over $300.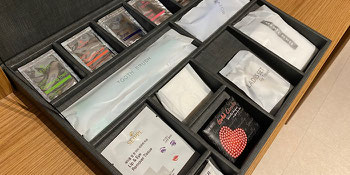 Hotel Free Toiletries: You don't just get soap and shampoo, you get the works - facial cleaner, toner, moisturizer, makeup remover, toothbrush, razor, hair products, and even female and male products. All included.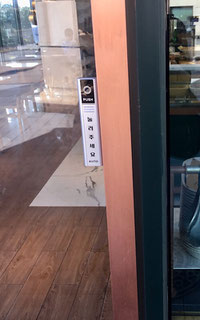 Automatic Doors: Enter any cafe, restaurant, or shop simply by tapping your hand on a touchscreen button and the glass door instantly slides open and closed like magic.
Umbrella Dryer: Easily dry off your wet umbrella by swiping it through an umbrella dryer.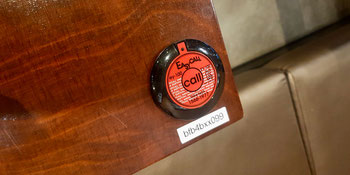 Wireless Call Buttons: While out for Korean cuisine, when ready to order, you press a small wireless button at the end of your table that silently calls the server.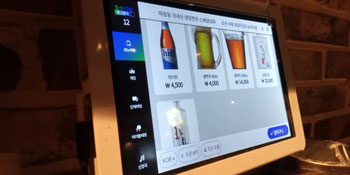 Digital Menus: Easily browse, select and order all your food and drinks from a tablet on your table.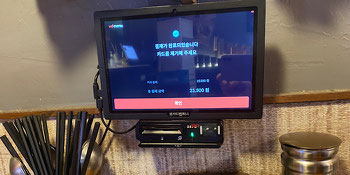 Digital Ordering with Payment: Browse, order, and pay while seated at your table - all within seconds.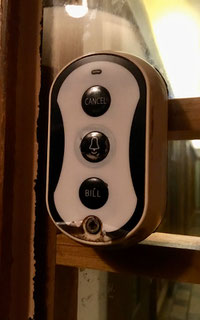 Wireless Bill Buttons: Not only to order, when you're ready to go, you can also just press one button to instantly get your bill delivered. No flagging down your server with insane hand gestures.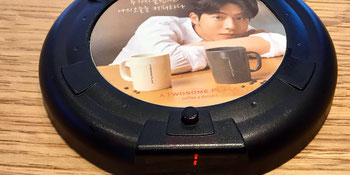 Wireless Buzzers: Korea's coffee culture is epic. With so much demand, cafes and takeout restaurants use wireless buzzing pager systems to alert you when your order is ready for pick up.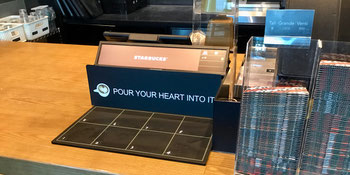 Digital Order Pickup: Grab your coffee at Starbucks with a digital panel that displays your order number and corresponding drink number location.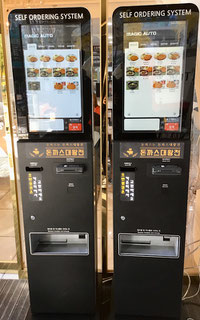 Self Ordering Systems: Order and pay for your meal in seconds on computerized self ordering systems, located at most all cafes and restaurants.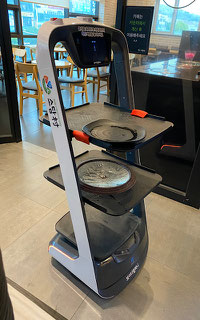 Restaurant Robots: In many restaurants, these clever machines autonomously deliver food to tables and also return plates back to the kitchen, all by themselves.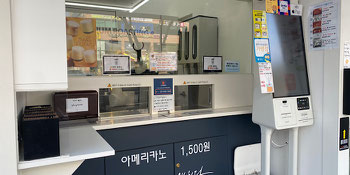 Robot Baristas: Unmanned coffee pods have robot baristas with 5G AI that can communicate with you while making your cup of joe in record time with perfect accuracy and zero human contamination.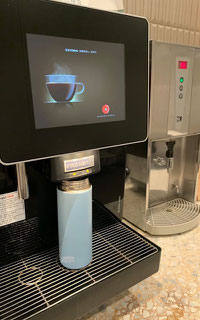 Touchscreen Coffee Makers: A machine will brew a perfect coffee with just a couple taps on a digital display screen.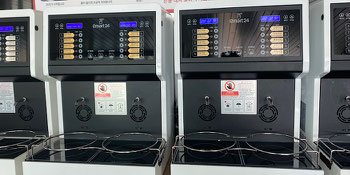 Ramen Cookers: These specialized machines are solely for cooking you the prefect bowl of ramen.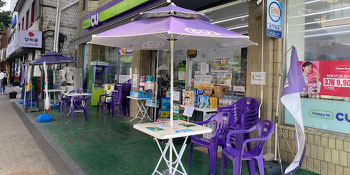 Convenience Stores: There are multiple chains of convenience stores everywhere that are open 24 hours, stocked with everything you could possibly want, and you can also dine inside or outside!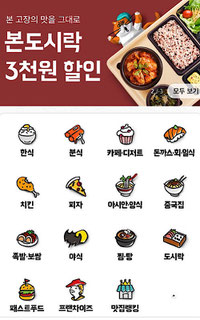 24/7 Food Delivery: Quickly and easily order food anytime with an app, and a scooter will be on its way in minutes.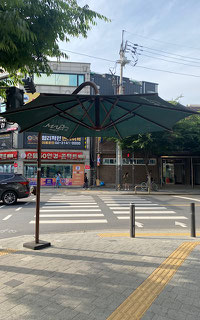 Curbside Umbrellas: In summertime, wait to cross the street comfortably under the shade of a giant umbrella.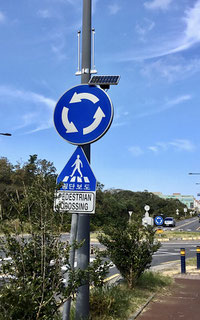 Solar Powered Traffic Signs: Illuminated traffic safety signs have their own solar power supply.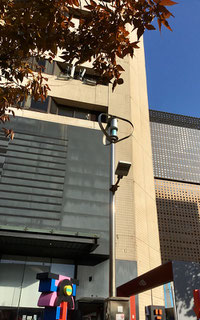 Wind Powered Street Lights: Street lamps come with their own wind turbine power supply.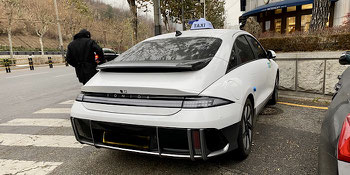 Electric Taxis: Find eco-friendly, all electric Hyundai IONIQ taxis around town for a cheap and green ride!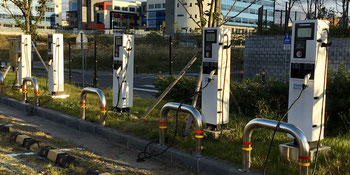 Electric Car Charging Stations: Electric vehicle charging stations are everywhere so driving gas-free is super easy.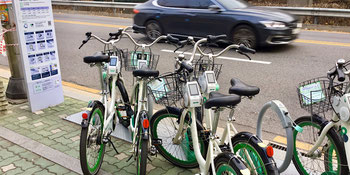 Bike Rentals: Easily rent city bikes for greener transportation.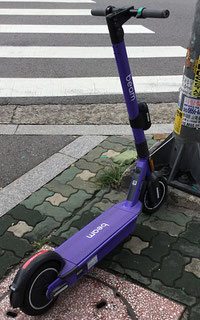 Shared Electronic Scooter Rentals: Rent a scooter and ride around town.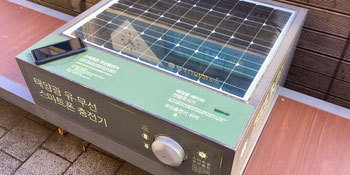 Solar Powered Cell Phone Chargers: Public benches come with free solar powered wireless cell phone chargers.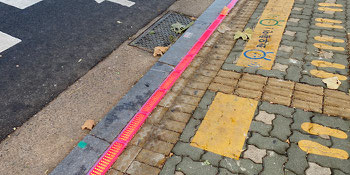 Curb Lighting: Digital lighting embedded in the street will automatically change from red to green to signal when you can cross the street.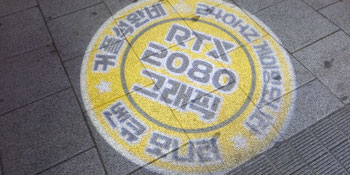 Lighting Advertisements: Graphic images are projected via light to inform and entertain pedestrians, while also providing crime prevention through environmental design.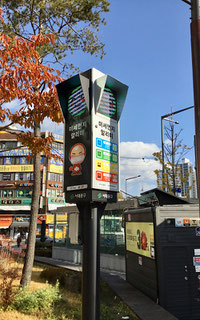 Air Quality Monitors: Helpful displays show the current air quality along with a cute faces for easy readability.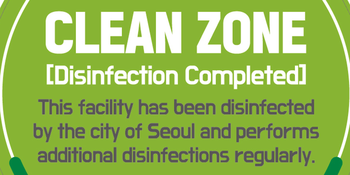 City Disinfections: Seoul performs regular outdoor citywide clean zone disinfections.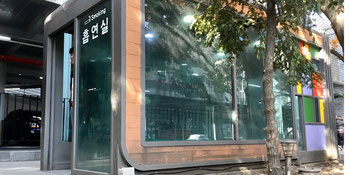 Outdoor Enclosed Smoking Areas: Smokers can avoid contaminating public air spaces by smoking in enclosed, ventilated spaces.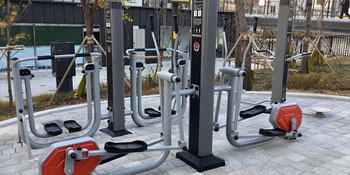 Free Outdoor Gyms: Free state of the art gym equipment is located in residential and public parks so you can skip the gym membership and exercise outside.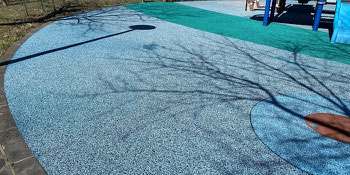 Soft Fall Playground Flooring: Children's playgrounds all have anti-slip, shock-absorbing, soft fall flooring that also protects against sharp objects like glass or sticks.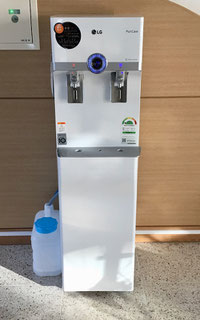 Free Filtered Water Everywhere: There's free filtered water dispensers for hot and cold water, in restaurants, cafes, common areas, commercial and residential buildings.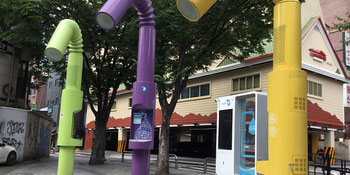 Drinking Fountains: Artful, free, and eco-friendly public drinking fountains.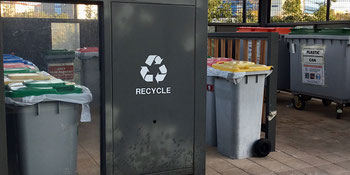 Recycling Stations: Easily recycle glass, aluminum, paper, cardboard, plastic, plastic film, plastic bags, styrofoam, fluorescent light bulbs, compact fluorescent light bulbs, broken glass, textiles, and batteries.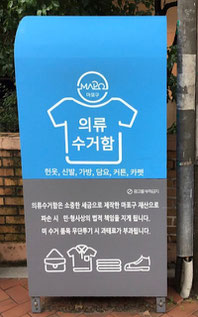 Clothing Recycling: Easy donation boxes around neighborhoods gather clothes, shoes, and bags to prevent textile waste.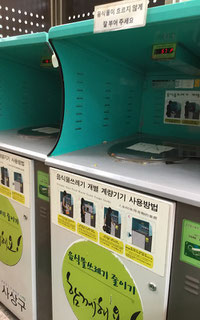 Food Waste Management: A computer will weigh and properly dispose of organic compost.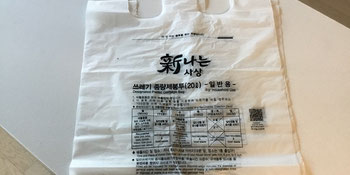 Limited Waste Allowed: Since you can recycle almost everything, you should make little waste, especially because you have to pay for and dispose of it in special government garbage bags designed to be incinerated.
Multi-use Trash Bags: When purchasing trash bags at the store, you can immediately use them to carry your groceries home, and then use them a second time to discard trash.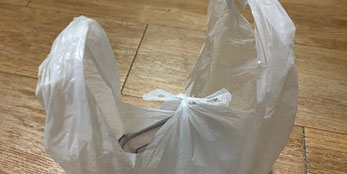 Plastic Bag Ties: All plastic bags - from a convenience store to a food cart to a pizza shop - have two additional, smaller  flaps in the middle to tie the contents  closed so they can be securely carried.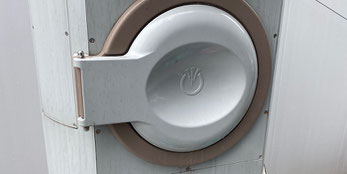 Trash Disposal Receptacles: A computer will read a scan code on your trash bag and then open the door for you so you that can deposit your trash.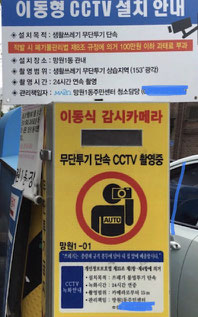 Restricted Waste Disposal: Smile, you're on camera. So don't ever leave trash anywhere.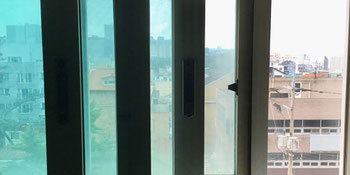 Double Energy-Saving Windows: Windows are in double sets of locking pairs to insulate and save energy. A barrier against weather, temperature, and noise, the glass is also shaded to prevent solar radiation transference.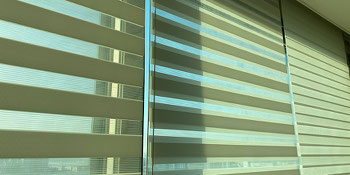 3-in-1 Window Blinds: These blind screens rotate into 3 different shade levels to adjust the light how you want, and the flat panels don't collect dust.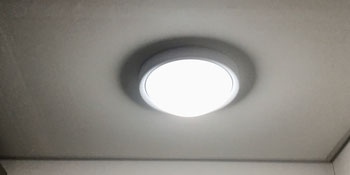 Motion Sensor Lighting: In busy spaces like foyers, hallways, vestibules, and stairwells, lights are instantly motion sensor activated and deactivated to save energy.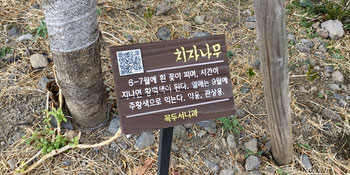 Plant Info Plaques: Learn more about the plants around you with easy little information signs and QR codes to scan.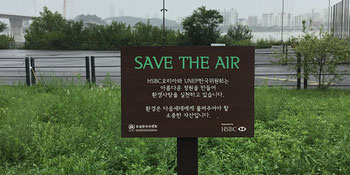 Eco-Landscaping: Natural Parks are designed with oxygen enhancing plants for future generations.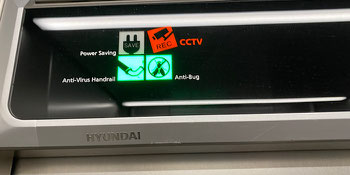 Clean Elevators: Hyundai elevators come both anti-bug and anti-virus.
Clean Air Elevators: Hyundai elevators come with continuous air filtration.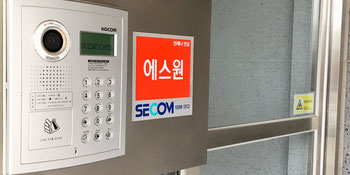 Building Entrance Video Intercoms: State of the art video intercoms allow restricted entry only into residential buildings.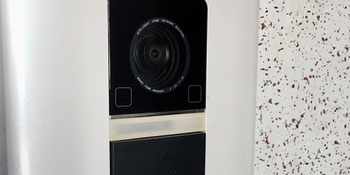 Intelligent Home Networking Systems: Even more video monitoring at the apartment door. Goodbye, robbery!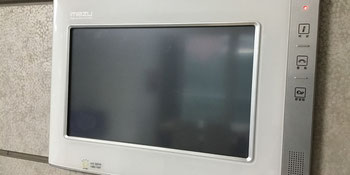 Smart Home Management Systems: Inspect everything including the pores on your potential visitor's face with this giant video display screen tucked safely inside your apartment.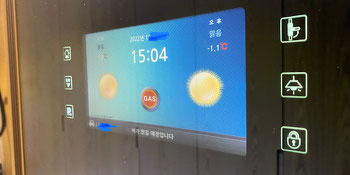 Smart Touchscreen Panel: These magic computers welcome you home, give the weather, can disconnect power and gas, check courier packages, call the elevator, and remind you where your car is parked.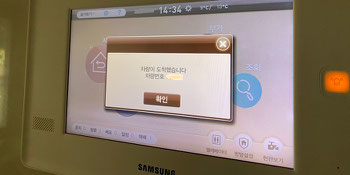 Smart Alert Notifications: No more surprises with this smart screen that tells you exactly when specific cars arrive into your building parking lot.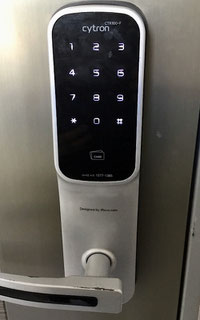 Digital Door Locks: My absolute favorite gadget - digital door locks. These make daily life completely keyless and super safe, because nobody's getting in unless you want them to.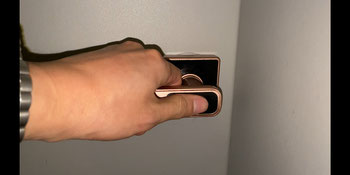 Fingerprint Door Locks: Open your door with your fingerprint!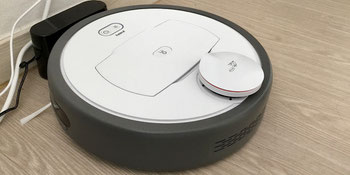 Vacuum and Mopping Robots: Talking robot vacuums can sweep and mop entire apartments on a schedule and then automatically dock to recharge.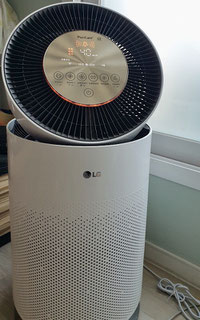 Air Purifiers: Smart air purifiers silently clean the air inside the home.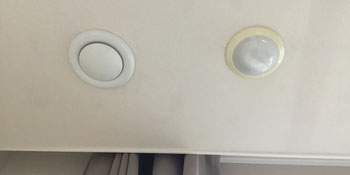 Home Air Purifier Systems: Homes comes with air purifier systems already installed, including vents, 24/7 monitoring system, and digital wall control panels.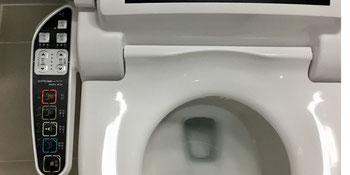 High Tech Electronic Toilets: Electronic toilets are a treat for your senses and your butt. No more cold seats. Some even come with lights, sound, and aromatherapy.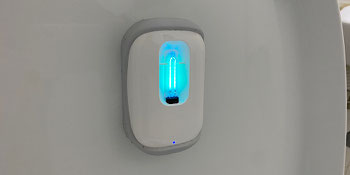 Toilet Sanitizer: This toilet automatically disinfects itself every time it closes.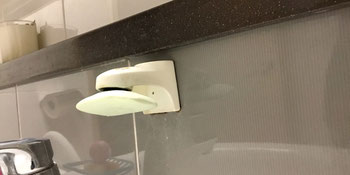 Magnetic Soap: Bathroom soap stays clean and dry attached magnetically to its holder.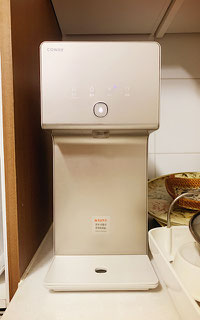 Smart Water Purifiers: Touchscreen water purifiers both filter your water and serve it either hot or cold and in specific amounts.
Smart Touchscreen Refrigerators: Reach-in panels and digital touchscreen displays make Samsung fridges awesome.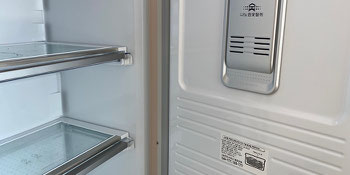 Kimchi Refrigerators: Specially designed refrigerators built specifically for kimchi keep the fermented cabbage at the perfect temperature.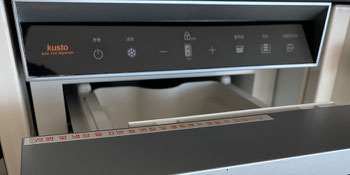 Built-in Rice Cooker: No need for extra  kitchen appliances when you have a rice cooker built right into the kitchen. 
Built-in Sterilizer: This gadget sanitizes by sterilizing.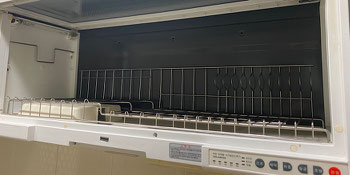 Electronic Dish Sterilizer: Get your dishes clean and sanitized with a built in machine that both dries and sterilizes.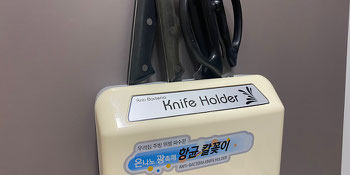 Anti-Bacteria Knife Holder: Knives stay safe, clean, and ready to go - all safely inside the cupboard.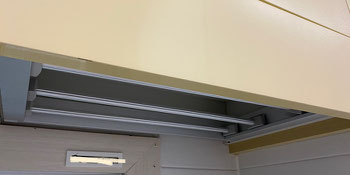 Hidden Storage System: Adjustable storage racks are cleverly embedded into the underside of the kitchen cabinet.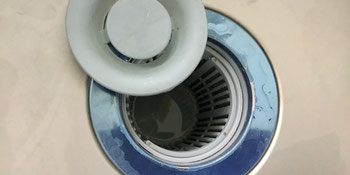 Sink Drain Strainer: A simple strainer stays hidden under a cover and has a handle to easily lift out to empty.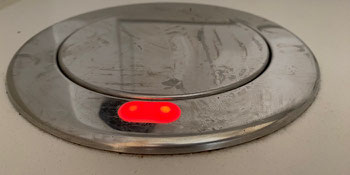 Food Waste Disposal: Toss your waste into this magic disposal system and it's instantly sucked out of your apartment.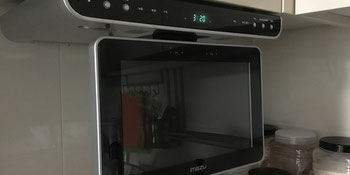 Kitchen Multimedia Systems: Because any chef knows that you can never have too many gadgets in the kitchen. Answer the door, watch tv, play music, and more, with this foldable swivel flat screen.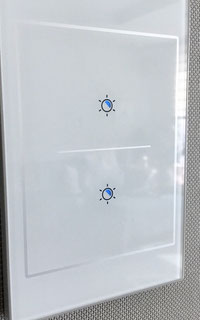 Touchscreen Light Buttons: Who has time to be pressing buttons or flicking switches when this cool touchscreen pad will turn your lights on and off instantly with one tap.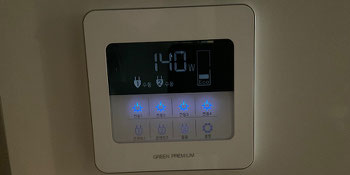 Smart Eco Wattage Monitor: This cool gadget turns lights on and off with just a tap, and monitors the outlets and current energy usage in any given room.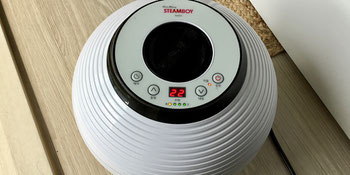 Water Heated Mattress Pad: Hot water steam circulates inside a mattress topper to ensure warm and cozy sleep.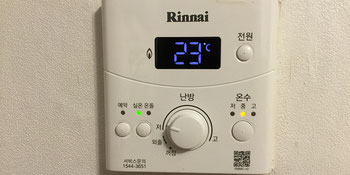 Boiler Control Panel: Easily activate and adjust hot water and floor heating. Turn the boiler off with just one button to save energy and money when not in use.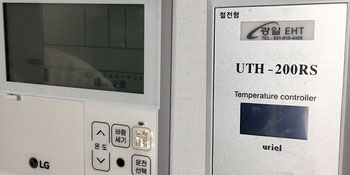 Digital Heating: Easy smart control panels to instantly adjust heating and keep your toesies warm.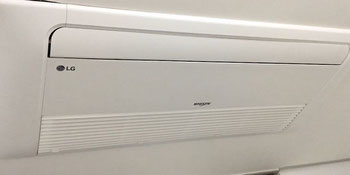 Room Heating and Cooling: Dual air conditioning and heating units are installed in the ceiling, per room, with smart wall controls. More efficient than central air, because you only use it in the room you need it, when you need it.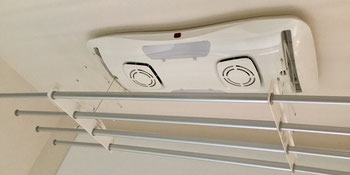 Electronic Drying Rack: Save energy, money, and your clothes, with a ceiling mounted electronic drying rack with a remote-controlled retractable rack.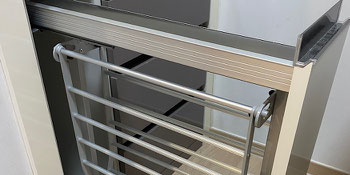 Hidden Drying Rack: This clever rack folds up and rolls right back into the wall.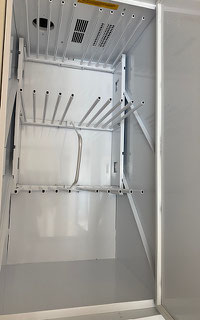 Vertical Dryer: Easily hang clothes to dry, wrinkle-free!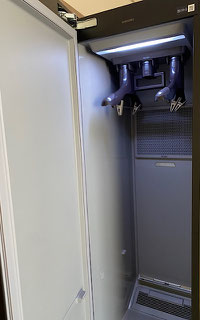 Wardrobe Steamer: Hang your clothes in this cool gadget that uses air and steam to clean and sanitize.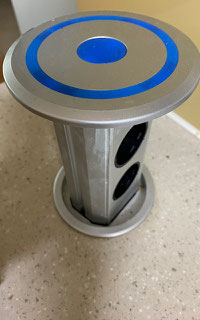 Popup Outlets: Easily get more electricity with a convenient popup outlet seamlessly built into the kitchen countertop.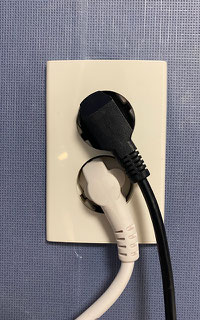 Angled Electrical Outlets: These clever angled outlets let you easily plug in multiple cords without the hassle of squeezing them in on top of each other or upside down.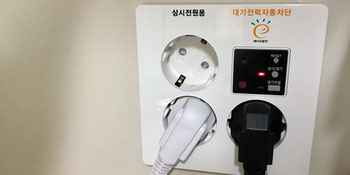 Energy Saving Smart Outlets: Smart outlets switch themselves into power saving standby mode to save energy and money when not in use.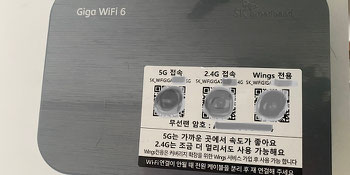 Wi-Fi QR Codes: Don't worry about copying long passwords to get online - this router comes with its own QR codes so you can just scan and connect instantly.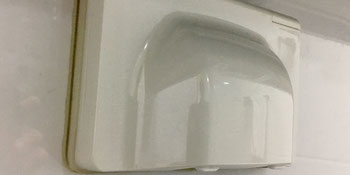 Covered Panel Outlets: Cleverly designed covered outlets hide the outlet and protect it from getting wet, so you use the hairdryer in the bathroom and hair doesn't go all over your house.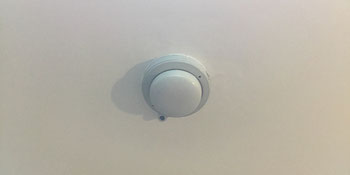 Covered Smoke Detectors: Smoke detectors are hardwired and completely covered in safety design panels. Never replace a beeping battery again.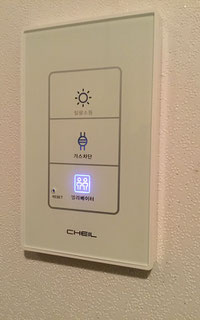 Elevator Call Buttons: Why wait for the elevator? A touchscreen call button located inside your apartment will call the elevator for you instantly.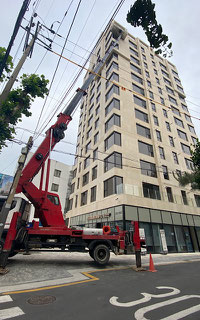 Aerial Moving Ladders: Massive ladders make moves easy by moving stuff up the side of the apartment building and directly into the living room.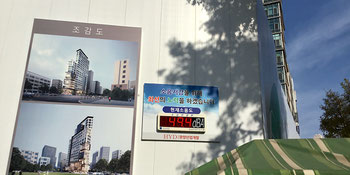 Noise Pollution Control: New construction promises to not cause additional noise pollution, displaying digital decibel monitors to check the sound levels.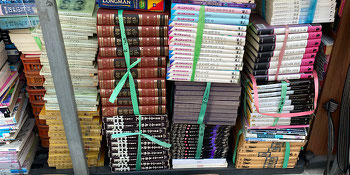 Ribbon-wrapped Book Stacks: Easily move piles of books by simply holding a ribbon instead of a carrying a huge, heavy box.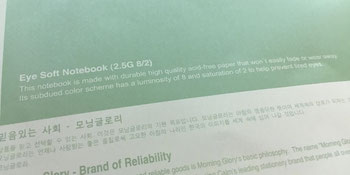 Eye Soft Paper: Paper is printed with specific luminosity and saturation for eye health while reading.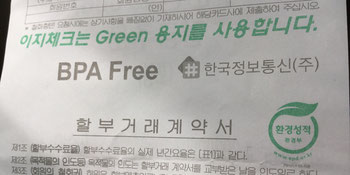 BPA-Free Receipts: Safe BPA-free receipts prevent contact with the carcinogenic chemical.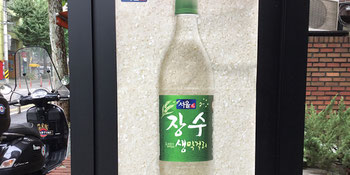 Makgeolli: The Korean sparkling rice wine that's also a health elixir because it's full of vitamins, minerals, antioxidants, probiotics, and more.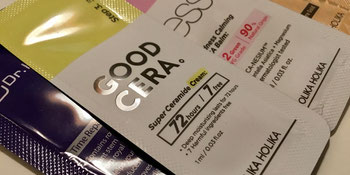 Clean Skincare: Korean skincare products are free from 7 harmful ingredients.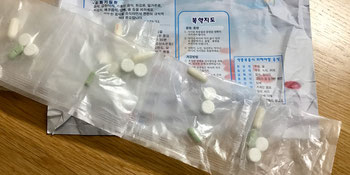 High Tech Healthcare: Korea has high quality, high tech, ultra modern healthcare at affordable cost. Prescriptions are automatically sealed into individual doses to ensure patients take their medication correctly.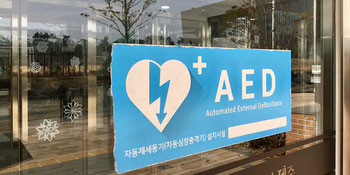 Automated Defibrillators: Get instant emergency assistance with easily accessible wall mounted automated external defibrillators.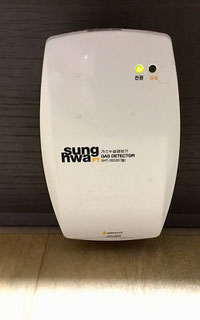 Kitchen Gas Detectors: This smart device monitors the house for kitchen gas leaks and alerts if danger.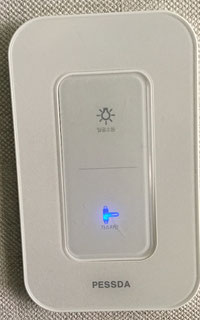 Touchscreen Utility Shutoffs: Instantly disconnect the power and gas to your entire apartment with one tap.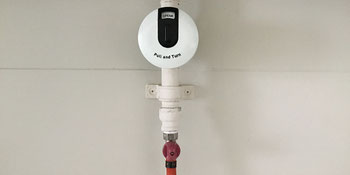 Manual Gas Valves: Manually turn off the gas to your kitchen stovetop with double safety t-valves so gas isn't constantly flowing when not needed.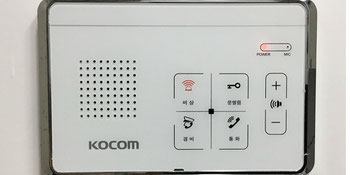 Emergency Intercoms: Instantly call for help with a touchscreen hardwired emergency assistance panel.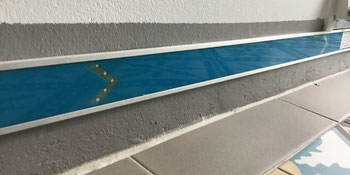 Escape Route Lighting: Illuminated fire safety escape routes light up in an emergency to lead to safety.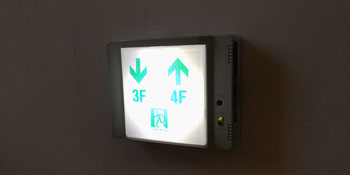 Stairwell Safety Lighting: Helpful stairwell lights display the connecting floor numbers, illuminate the landing, and point you to safety.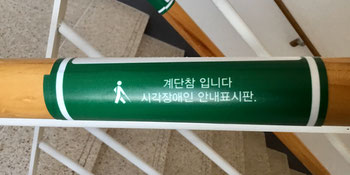 Stair Blindness Safety: Special markers nearing stairwell landings alert the blind.
Fire Safety: In residential buildings and hotels, fire safety is taken extremely seriously. Find multiple alarm panels, emergency flashlights, water hoses and fire extinguishers on every floor.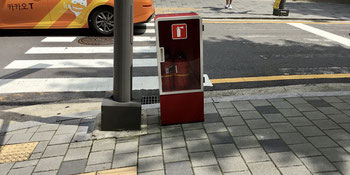 Outdoor Fire Extinguishers: More fire extinguishers outside on the streets.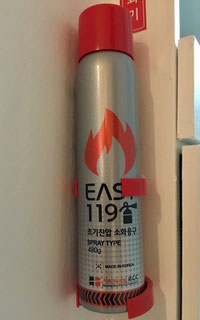 Spray Can Fire Extinguishers: Skip the bulky hose fire extinguishers by using an easy spray can in a pinch.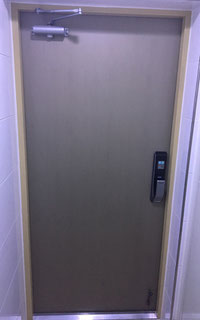 Fireproof Doors: All homes have thick, tightly sealed, secure fireproof front doors.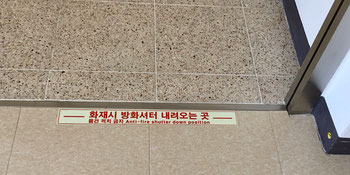 Stairwell Anti-Fire Shutters: Retractable shutters will close off entire stairwells in the event of fire.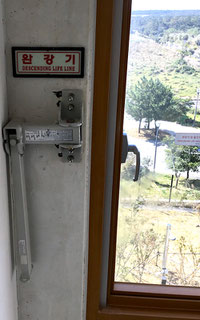 Descending Life Lines: Emergency descending life lines are located inside your apartment and in the hallways to safely rescue you out of a burning building.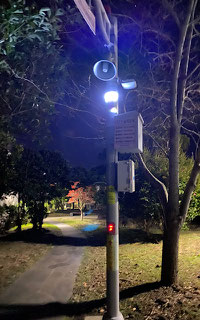 Public Emergency Bells: One button will trigger light, sound, and police alerts, while recording everything on CCTV.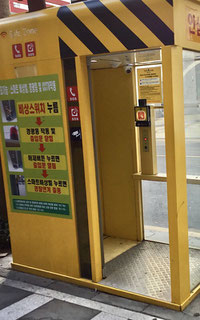 Safe Zone Boxes: In case of danger, find a yellow safe zone box, push one button, and you're instantly enclosed inside, and monitored on camera, while the police are on their way to rescue you!