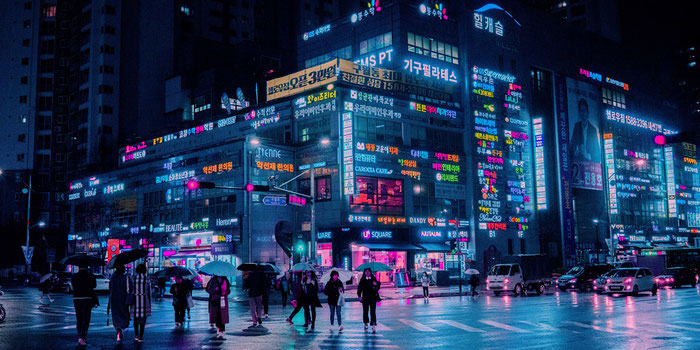 Unless you're a K-drama fan, you probably have no idea that South Koreans enjoy a far better standard of living than anywhere else in the world. With green living, clever design, smart technology, digital everything, and doors that open like Star Trek, daily life can be like living on a spaceship. This is a giant photo essay of cool Korean tech, gadgets, and design, and how they make life safer, easier and more convenient.
technology
fastest internet In the world
Korea is ranked #1 in the entire world for fastest mobile speeds by Speedtest, at 95.11 megabits per second, soon to be 5 to 10 gigabites per second. For comparison, the US averages just a fraction of that, at 18.7 megabits per second.
aRtificial intelligence robots
Get passenger assistance at the airport from artificial intelligence robots named Air Star who can help you navigate, give airline schedules, plus more helpful advice. 


AUgmented REALITY INformatioN
Find giant digital display screens featuring touchscreen augmented reality that show historical sites in the exact location as they would look today.
Cctv everywhere
Cctv is everywhere - stores, restaurants, airports, bus stops, subway stations, train stations, streets, office buildings, apartment buildings, hallways, stairwells, elevators, anywhere and everywhere. Nobody's getting away with anything. Goodbye, crime!
Lg everything
Korea's own powerhouse brand LG is seemingly ubiquitous. They make virtually every electronic product and have huge display stores where you can test them all out. 


Samsung everything
Samsung also makes virtually everything, especially smartphones, contributing to Korea's distinction of being "the only nation on earth with 100% mobile phone ownership" according to DeviceAtlas. Samsung also has fun Samsung Experience stores where you can play with all the latest gadgets to your heart's content. 
The everything browser - naver
Naver is Korea's Google. It's an all-in-one website and browser that pretty much has everything, including news, blogs, webtoons, and it's own translation apps.
Instant Messaging - Kakao tAlk
Korea's instant messenger, Kakao Talk, is just one of many Kakao services like maps, metro, bus, taxi, and it's very own contactless mobile payment system, Kakao Pay.
Rechargeable smart cards
Tmoney is a rechargeable smart card can be used to pay all transportation fees and shop at stores. It can be used for buses, subway, taxis, and convenience stores countrywide, and also has an app to use instead of the card.
Electronic bus inFo systems
Find electronic real-time bus informations systems to easily and accurately monitor bus arrivals. Also at bus stops - free wifi, phone chargers, and heated seats! And as if that's not futuristic enough, Korea plans to have autonomous bus services by 2022.
Pc bang Gaming cafes
Pc cafes offering state of the art computers and sound systems, ergonomic chairs, and food and drink delivery ordered via the screen, are the perfect environment to use the fastest internet in the world to play live LAN multi-player games. photo Joop via CC-BY-2.0
karaoke rooms - norebang
Korea takes karaoke to a whole different level. You rent private soundproofed rooms, play with a state of the art video and sound system, and get food and drinks delivered to you while you sing your heart out. It's pretty much the most fun you could ever have.
photo Julio Martinez via CC-BY-NC-ND-2.0
Giant Led display screens
Walking around most cities, you'll see massively large display screens everywhere airing news or commercials. It's a really fun distraction while waiting to cross the street. 
Unmanned hOtels
Check yourself into a high tech unmanned hotel hotel by simply paying at a machine that will unlock your door for you. Check out by pressing one button and you're done. 
Entertainment AdVisories
The content warnings on Netflix are on another level. Just saying.


In restaurants
Automatic doors
Enter any cafe, restaurant, or shop simply by tapping your hand on a touchscreen button and the glass door instantly slides open and closed like magic. It's as cool as it sounds. 
Wireless BuzzErs
Korea's coffee culture is beyond epic. With so much demand for the beans, cafes use wireless buzzing pager systems to alert you when yours is ready for pick up. 
Wireless call Buttons
While out for Korean cuisine, when ready to order, you press a small wireless button at the end of your table that silently calls the server.
Self ordering Systems
Simply and easily place your own food order on a self order system at restaurants.
Robot baristas
Unmanned coffee pods are now a major thing. Some have robot baristas that use 5G for AI enhancement, and can communicate with you, while making your cup of joe in record time with perfect accuracy.  photo Daily Coffee News
vending cafes
Unmanned cafes operate as vending machines where you can order, pay, and get your coffee all from a machine.
Restroom lightlocks
Public bathroom door locks instantly turn on an illuminating red light to signal the stall is in use to outsiders. 
App food delivery 24/7
Food delivery is available anytime, anywhere. Order and pay via an app and a super fast scooter will be on its way to you in minutes.
Green lIving
Electric car charging stAtions
Electric vehicle charging stations are everywhere. Drive gas-free with ease.


Solar powered traffic signs
Illuminated traffic signs all have their own solar power supply.
Wind powered Street lights
Street lamps come with their own wind turbine power supply. 


Solar poweRed cell chargers
Public benches come with free solar powered wireless cell phone chargers that also have USB ports to charge other devices.
Air quality Signs
Helpful displays show the current air quality along with a cute, easy to read faces ranging from good to bad.
filtered water everywhere
In stores, apartments, hotels, offices, gyms, airports, and (everywhere), there are free filtered water dispensers for hot and cold water. So, reusable water bottles rule.
RecyclinG & waste DiSposal
There are stations everywhere for recycling and waste disposal, including glass, paper, cardboard, plastic, plastic film, styrofoam, fluorescent light bulbs, compact fluorescent light bulbs, broken glass, clothing donations, and compost collection. A zero waste lifestyle is a breeze.
Recycling explained
Look at the cool way recycling is explained with a flow chart. They make it easy and fun.
Diy Waste Disposal
Some charge for waste disposal to incentivize proper waste management.
Energy-saving windows
Windows are installed in double sets of locking pairs to insulate and save energy. Not only a barrier against weather, temperature, and noise, the glass is also shaded to prevent solar radiation transference.
Motion sensor lighting
In most busy spaces like front foyers, hallways, vestibules, and stairwells, lights are motion sensor activated and deactivated to save energy. You'll have to trust that my physical body activated this one, and that I'm not actually a ghost entity.
Outdoor gyms
Free state of the art gym equipment is located in natural parks so you can skip the gym membership and exercise outside.
In Cars
car Dash cams
Cars have front and rearview dash cameras installed so all road traffic is always recorded, and can be used in the event of a scam or accident. Goodbye, road rage.


Wireless toll payments
Rearview mirrors hold a chip card inside them that allows wireless toll payments to be instantly read and charged without even slowing down the car.
Home safety
Video intercom - front door
State of the art video intercoms allow restricted entry only into residential buildings. 

Video Intercom - apT door
More serious video monitoring at the apartment door. Goodbye, robbery!


video intercom - inside apt
Inspect everything including the pores on your potential visitor's face with this giant video display screen tucked safely inside your apartment. And if your visitor is Korean, good luck even trying to find pores.
Touchscreen Digital door lockS
My absolute favorite gadget - digital door locks. These make daily life completely keyless and super safe, because nobody's getting in unless you want them to.


In homes
Robot vacuums
What's more advanced than a robot? Robot vacuums clean entire apartments and then automatically dock themselves to recharge. 
Air purifiers
Smart air purifiers silently clean the air inside the home.
High tech ELECTRONIC ToilEts
Electronic toilets are a treat for your senses and your butt. No more cold seats.
touchscreen refrigerators
Reach-in panels and digital touchscreen displays make Samsung fridges awesome.
Kitchen multimedia systems
Because any chef knows that you can never have too many gadgets in the kitchen.
Floor heating
Easy smart control panels to instantly adjust floor heating and keep your toesies warm.


room ac uniTs
Air conditioning units are installed in the ceiling, per room, with smart wall controls. More efficient than central air, because you only use AC in the room you need it in.
Electronic Drying racks
Save energy, money, and your clothes, with an easy drying rack with a circulatory fan.
EnErgy saving outlets
Smart power saving outlets offer standby mode to save energy and money.
Covered oUtlets
Clever designed covered outlet panels prevent prying kid fingers and hide the eyesore.
Touchscreen lightswitchs
Who has time to be pressing buttons or flicking switches when this cool touchscreen will turn your lights on and off instantly instead.
emergency safety
Touchscreen Utility shutoffs
Instantly disconnect the power and gas to your entire apartment with one tap.
Gas detectors
This smart device monitors the apartment for kitchen gas leaks and alerts if danger.
Emergency Intercoms
Instantly call for help with a touchscreen hardwired emergency assistance panel.
Fire hydrants & extinguishers
In residential buildings and hotels, fire safety is taken extremely seriously. Find multiple alarm panels, emergency flashlights, water hoses and fire extinguishers on every floor.
Anti-Fire shutters
And even more seriously. Anti-fire shutters will close off stairwells in the event of fire.
Descending life lines
Yet even more seriously. Find emergency descending life lines to rescue you out of a burning building. If I'm ever in danger of fire, I sure hope it's in Korea.
Safe zone Boxes
In case of danger, find a safe zone box, push one button, and you're instantly enclosed inside, and monitored on camera, while the police are on their way to rescue you.
Let's just face it. They've thought of everything, they're better people, and they live better lives. We should all pay attention and do better.
Choose your own aDventure