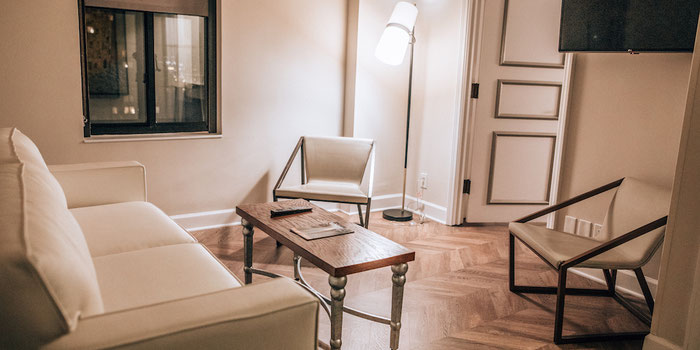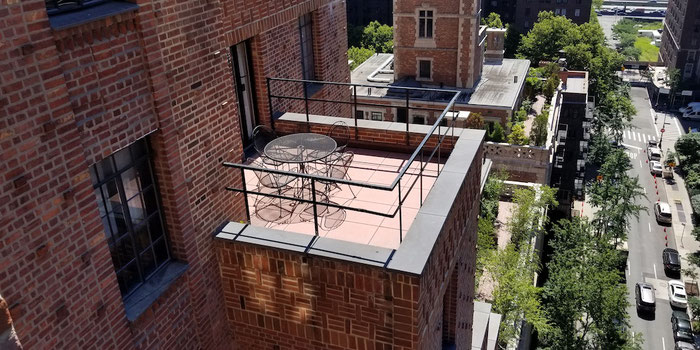 1. Westgate New York Grand Central
Are you searching for the best luxurious hotel in NYC?
Check out the new $20 million renovations of Westgate New York Grand Central that can serve as a perfect home for anyone searching for a boutique hotel in New York City at a price that you can afford.
This elegant-looking hotel near Grand Central Station is ready to accommodate you with its luxe rooms and suites.
The hotel can be found at Tudor City, considered the 'quiet district' of NYC.
Although you can ensure a quiet stay on Tudor, the Westgate New York Grand Central still features triple panel glass to keep the street noise out of the rooms. 
There's also nothing to worry about with its accessibility and travel time because the hotel is strategically located just 3 minutes away from Manhattan Island.
You can also enjoy a short 20 minutes door-to-door location from LaGuardia airport.
Your guest room is also conveniently located within a short walking distance from great locations like Central Park and Rockefeller Center.
With lots of contemporary designed hotels today, the Westgate Resorts offers you the timeless classic elegance that tells the 1930's history in New York City. 
Whether you travel for business or pleasure, this is a historic hotel you don't want to miss during your stay in Manhattan!
2. Stewart Hotel
Stewart Hotel believes that proximity is the best - the reason why it is located in Midtown, where Times Square and the Empire State Building are located. 
This hotel will let you taste the New York experience, especially the Broadway life and live shows, which are features.
They welcome visitors of all kinds and offer unique amenities to suit your needs through their Accessibility Statement. 
You can freely choose from their available studio suites, one-bedroom, deluxe studio, and executive rooms.
With a total of 610 accommodations, Stewart Hotel could be your ideal place to stay during your NYC vacation. 
You can enjoy premium bedding, recreational amenities, fast wireless connection, a 24-hour fitness center, and a lounge or bar area.
3. Row NYC
Are you looking for a gigantic Victorian in Manhattan?
The Row NYC has 1331 accommodations with available laptop-compatible safes and iPod docking stations.
It has 2 bars, two restaurants, a fitness center, a coffee shop, and a 24-hour business center. 
The hotel is located near Central Park and Bryant Park, which offers a natural aesthetic.
Guests love its convenience to public transportation such as 49th St. Station, and 42nd St. Station is nearby.
You can choose from the hotel's standard room, superior room, and deluxe room with a city view.
Some of their popular amenities are the gym, business services, restaurant, and free WiFi. 
You can also experience a contactless check-in and check-out and individually-wrapped food options for your breakfast, lunch, and dinner as you'd like.
4. The Westin New York Grand Central
Aside from the golf course beside it, The Westin New York Grand Central offers a great cultural highlight of Radio City Music Hall and Broadway in Midtown. 
The Yankee Stadium and Madison Square Garden could also be your go-to sports entertainment if you want an NYC thrill. 
Located near the Grand Central Terminal, you can easily reach this as your first destination in Manhattan so you can take a rest before indulging yourself with the metro.
The hotel offers 774 air-conditioned accommodations with included safes and minibars.
Guests are overwhelmed with its features, particularly its clean and attractive amenities.
There are also premium bedding, pillowtop beds, LCD televisions, digital channels, and pay movies. 
The rooms of the hotels vary from traditional rooms, suites, presidential suites, deluxe rooms to premium rooms.
Room service is also available, with continental breakfast available from 6:00 am to 11:00 am, with an additional fee per person.
5. The Belvedere Hotel
Situated near Rockefeller Center and Broadway Theatre, The Belvedere Hotel offers a convenient staycation for NYC tourists.
This smoke-free hotel also features easy access to public transportations like 49th St. Station and 50th St. Station, which only takes 6 to 7 minutes of walking. 
With the 355 accommodations available, the hotel aims to provide a new and well-equipped place to stay for all its guests. 
All their accommodations feature their kitchenettes with fridges, microwaves, television, safes, and hairdryers.
Aside from the great features of their accommodations, they offer a restaurant, 24-hour fitness center, lounge, business centers with friendly desks, and concierge services.
Are you wondering about their rooms?
The Belvedere Hotel has a beautiful double bedroom, a superior king, a standard deluxe double, double, a superior double, and executive single and double rooms.
Offsite parking is available but with height restrictions.
6. Yotel New York
For shoppers who want to take their shopping passion to NYC, Yotel New York is your perfect place to be.
The hotel is nearly located at Bloomingdale's, Times Square, and Broadway, while you can also enjoy Madame Tussauds Wax Museum.
Since it's in the central part of Manhattan, you can enjoy the fast-paced metro.
This busy 4-star New York hotel offers a total of 713 accommodations with hairdryers and safes in each room.
It has a restaurant, bar, fitness center, snack bar, coffee shop, and valet parking. 
The hotel has junior suites first class, premium rooms, penthouses, solo rooms, and junior rooms with multiple beds.
There is limited on-site parking, but they offer a limo/town car service.
Public areas have free WiFi available. 
They also have centers with desks and phones that offer free local calls if you're visiting for business travel. 
7. Pod Time Square
Pod Time Square is one of the hotels near the metro station in Midtown with an airy, high-rise atmosphere.
It is also located near the Port Imperial Ferry Terminal and American Dream, which are famous if you search for activities to do within the day. 
Meanwhile, if you prefer crowded or popular attractions, you can enjoy the Central Park Zoo and Madame Tussauds Wax Museum nearby.
The 3-star hotel is famous for naming its rooms as 'pods.'
They have an available bedroom pod for four people, a bunk pod for 2, a queen pod for 2, and an entire pod for 2. 
Talking about their rooms, they have a total of 665 accommodations with typical hairdryers and safes.
They also have guestrooms included with flat-screen televisions.
42 St. Station and 42 St-Bryant Park Station are also two options of convenient public transportations.
Previous guests admire this hotel due to easy transport.
8. Club Quarters, Times Square- Midtown
Club Quarters is also one of the hotels you can find at the central metro.
You can enjoy a 5-minute walk to Times Square and Broadway and a 9-minute walk if you want to experience Rockefeller Center. 
This 4-star New York hotel offers entrepreneurs a restaurant, bar, business center, and conference center. 
Club Quarters has 170 accommodations with docking stations, safes, premium bedding, flat-screen televisions, showers, toiletries, and other necessities that would make you feel like you're home. 
Although they have a minimal number of accommodations, they can still offer a double room, classic room, standard room, superior room, and suite.
It's small but a pretty good option for those who have a tight budget. 
9. The New Yorker A Wyndham Hotel
Known as an Art Deco New York hotel located in Midtown, The New Yorker A Wyndham Hotel is a top-of-the-line nearby place you can stay.
It has two restaurants, a business center, fitness center, bar, coffee shop, conference center inside, and promotes a smoke-free environment. 
It has a massive 1,050 rooms that have comfortable and premium bedroom amenities.
If you're an entrepreneur, you can enjoy the hotel's business centers with phones and desks.
Meanwhile, refrigerators and dryers are available on request. 
Located in the central part of the metro, there's a lot to discover around the hotel.
You can have a 3-minute walk and reach Madison Square Garden immediately and indulge yourself with the view. 
If you're heading out for public transportation, 34 St.-Penn Station and 34 St.-Penn Station (Fashion Ave.) is just 3 minutes away.
10. Hotel Edison Times Square
If Hotel Edison Times Square would be your choice, you can easily reach and see 5th Avenue and Times Square. 
The hotel is also near the metro station and can give you easy access to public transportation like the 49th and 47th and 50th Sts - Rockefeller Center Station in just 6 minutes of walking.
This splashy, bright hotel in Midtown has the famous Signature Suite and has different room deals like queen beds, suites, signature suites with terraces, classic rooms, presidential suites, and more. 
All the rooms are air-conditioned, while the whole hotel is furnished with restaurants, a fitness center, lounge and only has self-parking.
With a total of 810 accommodations, the Hotel Edison Times Square could give you the safest and affordable place to stay in the famous NYC!