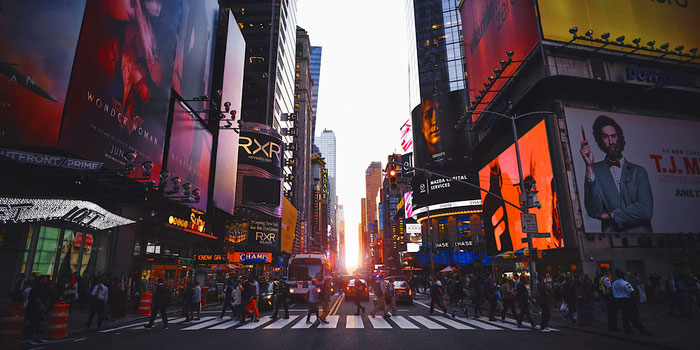 New York is a city like no other.
From the bustling streets of Manhattan to the soaring heights of the Brooklyn Bridge, there is always something to see and do.
For art lovers, New York is a veritable paradise, with world-renowned museums such as the Metropolitan Museum of Art and the Museum of Modern Art. 
And no visit to New York would be complete without taking in a Broadway show or two.
Whether you're looking for culture, history, or simply a good time, you'll find it all in New York. 
The city offers something for everyone, from world-class museums and theatres to legendary restaurants and boutique shops.
However, it can also be an expensive place to visit.
If you're looking to explore New York on a budget, here are a few tips to keep in mind!
Buy USD When the Currency Exchange Benefits You the Most
When it comes to currency exchange, timing is everything.
If you wait too long, you could miss out on a favorable rate.
However, if you act too quickly, you could end up paying more than you need to.
So how can you determine the best time to buy USD? 
There are a few factors to consider.
First, keep an eye on the current exchange rate.
If it's trending upward, it may be a good time to buy.
Second, pay attention to economic indicators.
If there's good news about the economy, that could lead to an increase in the value of the USD. 
Finally, watch for political stability.
Uncertainty can cause fluctuations in exchange rates, so buying when there's calm on the political front can help you get a better deal.
By keeping these factors in mind, you can help ensure that you get the most bang for your buck when buying USD.
Travel During the Off-season
If you're willing to travel in the off-season, you can find some great deals.
For example, hotels are often much cheaper in the winter months, and you'll avoid the crowds at popular attractions.
If you're interested in visiting some of the city's museums, many offer free admission on certain days or during specific hours. 
And of course, New York is always full of things to do, no matter what time of year you visit.
So if you're looking to save some money on your next trip to New York, consider travelling in the off-season.
You may be surprised at how much you can save.
Take Advantage of Free or Discounted Attractions
Many attractions offer discounted or free admission at certain times of day or for specific groups of people.
For example, the Empire State Building offers reduced-price tickets for seniors, students, and military personnel. 
Or if you're willing to get up early, you can snag free tickets to the top of the Statue of Liberty by participating in the ranger-led tour.
So whether you're interested in culture or history, there's no need to break the bank to enjoy everything New York City has to offer.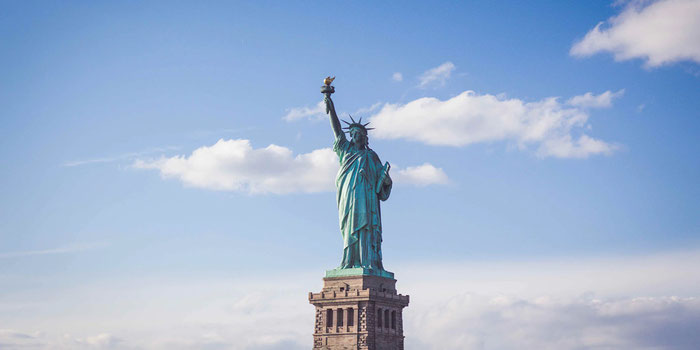 Purchase a CityPASS
For tourists planning to visit New York City, one of the most effective ways to save money is to purchase a CityPASS.
This ticket allows access to some of the most popular attractions in the city, including the Empire State Building, the American Museum of Natural History, and Top of the Rock. 
Not only does this ticket offer significant savings compared to purchasing individual tickets, but it also helps to avoid long lines at many of the attractions.
Furthermore, the CityPASS can be used over a period of nine days, giving visitors plenty of time to explore everything that New York has to offer.
For anyone looking to visit the city on a budget, the CityPASS is an essential purchase.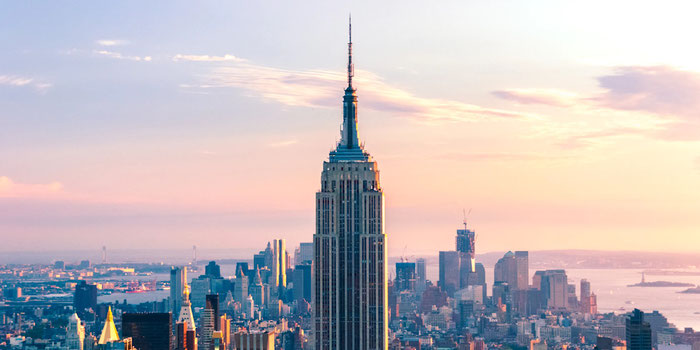 Consider Staying in a Hotel or Hostel Outside of Manhattan
Rather than booking a room in Manhattan, staying in a hotel or hostel outside of the city is a great way to visit New York on a budget.
There are many affordable options in the boroughs of Queens and Brooklyn, and you can easily take public transportation into Manhattan. 
If you're looking for an authentic New York experience, staying in one of these neighbourhoods is definitely the way to go.
You'll be able to find great food, culture, and nightlife without spending a fortune.
And who knows?… You might even make some new friends along the way.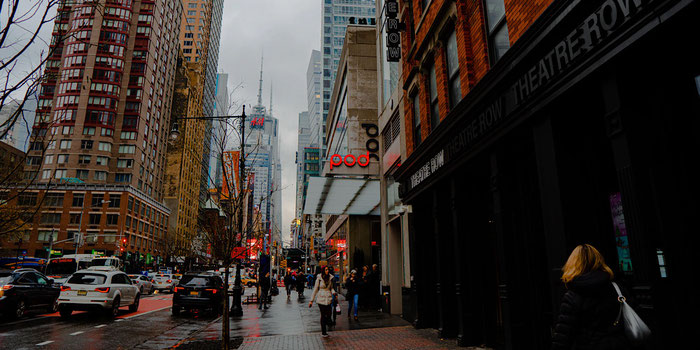 Be Choosy When it Comes to Food
When it comes to food, New York is a city of endless possibilities.
Whether you're looking for a quick bite or a five-course meal, you'll find what you're looking for here.
However, if you're on a budget, it's important to be choosy about where you eat. 
In general, the pricier restaurants are located in Manhattan, while the budget-friendly options can be found in the outer boroughs.
Street vendor food is also a great way to save money.
If you want to experience the best of New York's food scene without breaking the bank, here are some tips to keep in mind. 
First, don't be afraid to venture away from Manhattan.
There are plenty of great places to eat in Brooklyn, Queens, and the Bronx that won't leave your wallet empty.
Second, take advantage of happy hours and specials.
Many bars and restaurants offer discounts on food and drink during certain hours. 
Third, do some research before you go out.
Check online menus and reviews to get an idea of prices and quality ahead of time.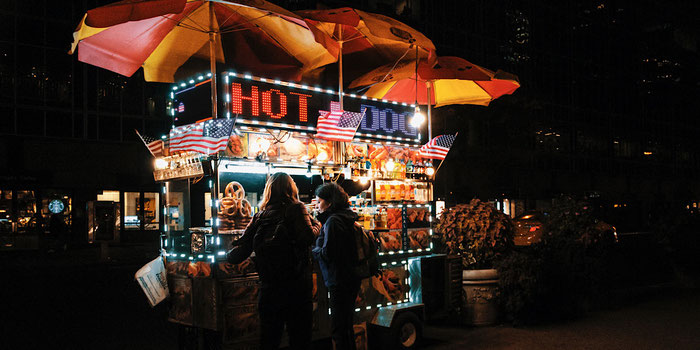 By following these tips, you'll be able to enjoy all that New York has to offer.
So there you have you have it - a penny pinching guide to seeing this popular tourist destination on a budget.
By making the right choices in regards to your travel dates, where you'll be staying and how you eat each day, you can explore New York without breaking the bank.
Bon Voyage!