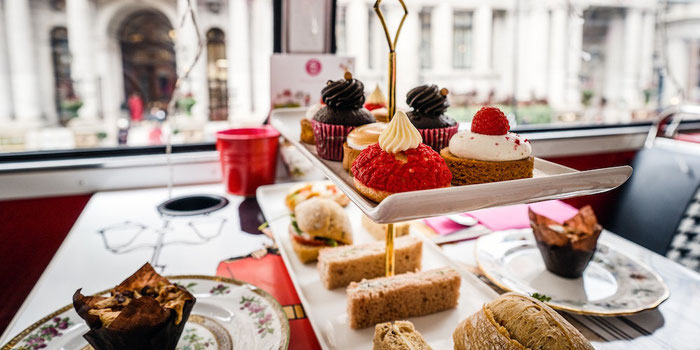 Afternoon tea is a uniquely English tradition.
However, it has also become an enjoyable treat for many people worldwide.
Many restaurant owners and event organizers have adopted the afternoon tea culture, including it in their menu packages.   
Even quick business meetings are sometimes conducted in the afternoon tea style.
A light and healthy tea somewhere cozy after a sumptuous lunch is a welcome treat while discussing important business matters.
Because of the relaxation it induces, having a good strong cuppa is excellent for business networking and meeting clients.
Occasions For An Afternoon Tea
Aside from business meetings, afternoon tea is also perfect for the following occasions: 
Resting tired feet after browsing around high-end boutiques in London
Relaxing a bit before watching a musical at a West End theater
Getting some refreshment after exploring the main attractions of London
Having a respite from a stressful day in the office 
There's an array of Mayfair restaurants that offer tasty baked goods to go with your afternoon tea.
If you have a discriminating palate, you could opt for a gourmet restaurant. 
Healthy Snacks To Go With Tea
For guilt-free indulgence, pair your afternoon tea with the following healthy snacks:
Cakes with apple, carrot, strawberry, blueberry, or lemon
Tofu egg-less sandwiches
Vegan scones
Flaxseed brownies
Shortbreads
Pastries and deserts
Best Tea Spots In London
London has a rich tradition of drinking tea.
Here are London's best spots for afternoon tea that will please your palate!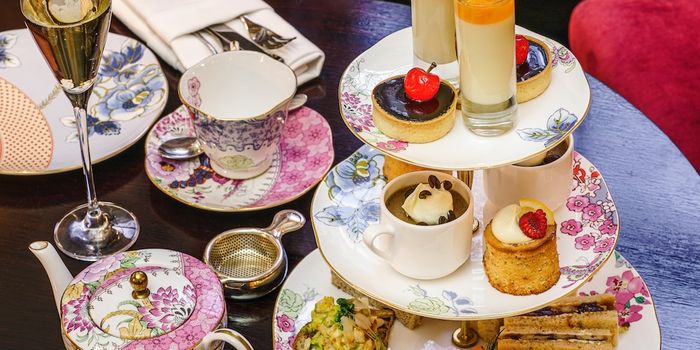 1. One Aldwych
One Aldwych is located in the City of Westminster.
It's within walking distance of London's top theaters, chic boutiques, and buzzing bars.
Taking inspiration from Roald Dahl's Charlie and the Chocolate Factory, One Aldwych promises you a magical afternoon tea indulgence.
You'll be delighted with their delicious yet healthy treats, such as beetroot macarons or spinach roly-poly.
To wash down the sweet treats, you can choose from lemon sherbet tea, berries and hibiscus infusion, and lychee and rose tea blend. 
2. Brigit's Bakery
Brigit's Bakery offers a unique afternoon tea experience while taking a bus tour around London.
They have a vegan menu along with other dietary options, namely vegetarian, gluten-free, halal, and traditional.
Their vegan treats include avocado and carrot roll, vegan quiche, roasted veggies on ciabatta, quinoa verrine, and sandwiches with vegan spreads.
You can choose from lemon tart, chocolate cupcake, and vanilla-frosted carrot cake for delightful sweets. 
They also offer a wide selection of tea, including Earl Grey, Peppermint, Berry and Elderflower, Darjeeling, and Rooibush Jardin Rouger, among others. 
Tourists and locals alike enjoy the Classic Afternoon Tea Bus London Tour.
Sipping your afternoon tea while marveling at London's landmarks on a vintage double-decker bus is a memorable experience you'll surely treasure. 
3. Swan London Bar & Restaurant
Shakespeare's tragic love story is relived at Swan's afternoon tea setting inspired by Romeo and Juliet.
The menu features roasted squash tartlets, sultana and orange blossom scones, and other sweet but healthy treats.  
You can partake of flower-based teas while enjoying the scenery of the River Thames and the grandeur of St. Paul's Cathedral.
4. Ampersand Hotel
The Ampersand Hotel won the Best Themed Afternoon Tea at the Afternoon Tea Awards in 2018.
Their winning Science Afternoon Tea theme was inspired by the Science Museum, their famous neighbor. 
From jams served in Petri dishes to chocolate spacemen and dinosaur biscuits, there's always something sweetly scientific for everyone at the Ampersand Hotel's Science Afternoon Tea. 
Like Brigit's Bakery, Ampersand Hotel has vegetarian and vegan menu options.
The Science Vegetarian Tea menu offers savory and sweet treats such as truffle egg mayo sandwich, scones served with clotted cream and strawberry preserve, and raspberry and hazelnut praline moon cake.
On the other hand, the Science Vegan Tea menu staples include leek and mushroom tart, grilled vegetables brioche bun, and chocolate mousse half-moon cake.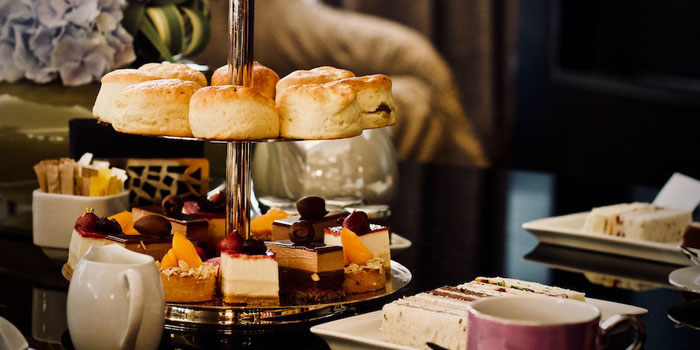 5. Dukes Hotel
Located at St. James, the Dukes Hotel serves afternoon tea every day, with seven themes to choose from.
The options include Vegan Afternoon Tea, which boasts a selection of traditional sandwiches with a plant-based twist most appealing to vegan taste buds, scones fresh from the oven, and assorted pastries.
You can pair these delectable treats with finely concocted teas and infusions by the East India Company. 
6. Wands & Wizard Exploratorium
The Wizard's Afternoon Tea at the Wands & Wizard Exploratorium is an interactive and fascinating tea-brewing experience.
It allows you to step into the magical world of your childhood and learn the subtle science of tea brewing.  
Aside from its standard menu, Wands and Wizard Exploratorium also offers vegan, vegetarian, and gluten-free options. 
The Wands and Wizard Exploratorium is in upscale Soho in London.
7. Farmacy
Farmacy London is a bohemian and trendy eatery in Westbourne Grove, London.
It has a High Tea menu that features gluten-free dishes served with a pot of tea from their Farmaceutical Tea selection. 
You might want to sample their Mediterranean quiche, cucumber sandwich, or smoked carrot sandwich.
If you're craving something sweet, go for either plain or multigrain scones served with whipped vegan butter and organic strawberry jam.  
Whether you wish to complete your bucket list or simply want to enjoy your favorite beverage, the top spots mentioned above will provide you with the best afternoon tea experience when you visit London!