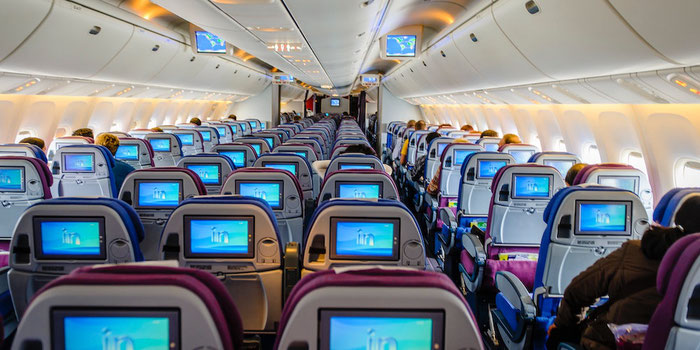 Here are some top tips on how you can save money, time and stress. 
It's time to take the flight crew's advice - and have a pleasant flight. 
Go carry-on only
"When preparing to travel, lay out all your clothes and all your money. Then take half the clothes and twice the money."
Susan Heller Minimalist Travel Quotes
minimize accessories
You don't need specialty travel accessories to travel.
So, avoid the airport shops and tear your eyes away from the shiny new Sharper Image whatever-it-is.
You don't need an inflatable travel pillow, travel socks, travel eye masks, or even special travel earphones.
It's just extra disposable crap you don't need, and even if you think you do, there's still no need to purchase any of it because long haul flights will give you all of that stuff for free anyways.
Instead be kind to the environment by carrying only re-usable eco-friendly travel gear.
Avoid overheads
Instantly make your life easier and pack all your belongings in one bag so you can avoid the overhead bins on planes.
Overhead bins are time wasters that just aren't worth the stress, and airlines are charging passengers more to use them.
Different airlines may have different boarding policies, so make sure you do your research ahead of time.
A carry-on traveler with one personal item can simply just sit down and slide their bag under the seat.
A bin user, however, will create a bottleneck while boarding by stopping to locate an empty bin, fight for bag space, take more time stuffing their bag into the bin, all before settling into their seat, where they'll get up several times during the flight to move stuff in or out of the the binned bag.
And finally, they will hold everyone up yet again when getting off of the plane by taking time getting their bag out of the bin.
This wastes so much time and if less people used them, we could all board and deboard so much faster.
"The journey is part of the experience - an expression of the seriousness of one's intent. One doesn't take the A train to Mecca."
use apps
Make traveling easier by utilizing apps.
Apps will save you time and money, and they also will help you aim for zero waste by eliminating printing on paper.
Use apps to navigate routes, plan travel, buy flights, and display mobile boarding passes.
There are many apps to breeze through immigration, translate languages, book hotels, go out, take a tour, track your visa, and most importantly - find food anywhere.
If you're traveling in Asia, there are dining reservation apps such as Eatigo that provide you with the best restaurant deals in Bangalore, Jakarta, and other top places where you can wine and dine on your vacation.
Make your travel journey easier by learning some of the local language so you can read signs, understand announcements, and communicate with locals. 
Remember to download your airlines' app ahead of travel in order to be able to access inflight entertainment and wifi while onboard.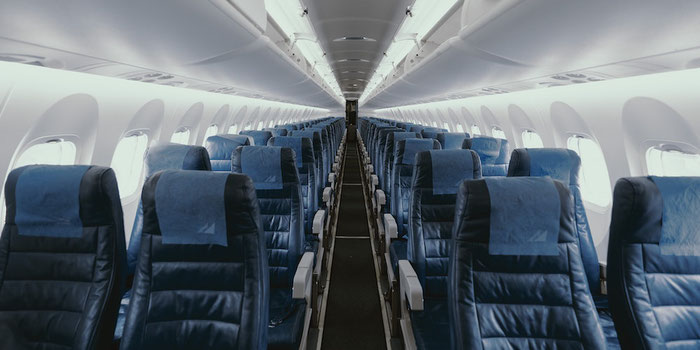 bring entertainment
Bring your digital entertainment along so you have something to do.
Don't rely on any inflight entertainment or wifi to either be free or to actually work.
Somebody always gets stuck with the broken display or the non-working touchscreen or the volume button that only functions at either level 1 or level 20.
Whether you're into books, movies, or documentaries, pre-load media onto one or more of your devices so it's ready to use when you need it.
plan ahead
don't stress
Since travel is full of changes, delays, and cancellations, even if you plan ahead, things will often change.
There's always another route, another way, and another plan. 
Worrying about details that are out of your control will only stress you out.
Missed your bus?
Maybe you can just walk.
Walking makes you happier anyway.
Don't sweat the small stuff.
(And it's all small stuff.)
be polite
Sometimes the best way to be a better traveler is simply by being a better traveler.
A bit of consideration, kindness, and plain old fashioned good manners can go a long way.
Treat others as you would want to be treated.
Don't recline your seat back and restrict the person sitting behind you to an even tinier area of space.
Don't turn on your overhead light and shine light in all your neighbors' eyes. 
Don't blast loud music that can be heard outside of your headphones. 
Be considerate to your fellow travelers so everyone can have a pleasant travel experience together.
Being nice can also improve your travel karma, and get you helped faster, served better, and maybe even score an upgrade or a freebie along the way.
Niceness counts!