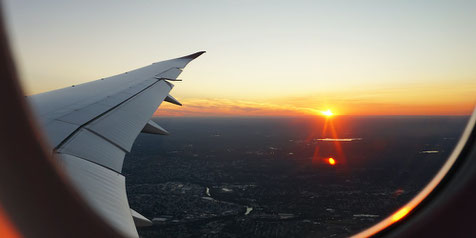 I often get asked how I travel full-time and live on the road as a minimalist.
The prequel to this article, Carry-on Only: Travel in 11 Pounds is one of my most popular posts, so I thought it was time, after (well over) one year of full-time travel, to write a newly updated detailed packing list to show exactly what I choose to own and why. 
*And check out the new article the 40 things I own.
First let me explain that I travel strictly carry-on only. I never check bags. It costs time, money, stress and you really don't need to drag so much stuff along with you. Not only do I travel carry-on only, I also travel under-seat only. I never use the overhead bins.
I find it super annoying to have to wait for people to put everything in and then take everything out of the overhead compartments, especially when I'm standing like an awkward flamingo waiting to get off the plane. Instead I sit down, slide my bag right under the seat in front of me, and then I'm buckled up and relaxing in my seat while everyone else takes a million years to get settled. 
Likewise, on a train or a bus, one small bag can easily live right at your feet or even on your lap. Bonus: you now have an instant footstool, desk, or pillow. And, double bonus: you don't have to put your stuff in the luggage racks and risk it getting swiped.
I still manage to travel in 11 pounds or less, as I find this easiest to encompass all airline's rules, especially Wow Air, since I'm very much in love with Iceland. And yes, Wow Air does, in fact, weigh your bag every time. You gotta be under the limit if you want the purple seal of approval. Which you do.
So here is exactly what I currently own, weighing in at 11 pounds (5 kgs).
Heads up, this post contains affiliate links to recommended products. 
1. Bag
My bag is a Lite Gear Mobile Pro. I used to carry a backpack, purse, packing cubes, organizer bags, and protective cases for all my gadgets, but I've scaled that all down to just the one bag. 
Super versatile, it can be worn as a backpack or a cross body bag. It organizes everything, and has padded pockets for laptop, pad and phone. It's lightweight at only 2 pounds. And my favorite thing is that it's made of recycled polyester. 
2. Gadgets
Unlocked iPhone 6. Love the simplicity, the wireless syncing and ease of use. Unlocked so you can swap out sim cards.
Wifi and cellular iPad mini you can do everything with. Cellular version so you can use sim data if you can't find wifi.
3. Clothing
Here's where I write the disclaimer that I'm not into fashion or brand names. I housesit full-time, so I spend the majority of my time with animals who are mostly color-blind and don't care what I look like. And clearly I have the wardrobe palette of Johnny Cash.
I can easily go a week without doing laundry. And then it's only one tiny load in a washing machine, or can all be hand-washed in a sink and hung to dry in a few hours. On travel days, I wear the heaviest pieces so that weight doesn't count against my bag weight.
It's way easier than you'd think to have so few clothes. A few multi-functional pieces can work really well year-round. Layering is your friend. You can always change along the way and adjust for the temperature, the continent, the activity, or the season.
If I need to add pieces, I always shop second-hand stores. There's no point in buying brand new clothes. I got my North Face jacket at a thrift shop in Brighton, England for 15 pounds. You can't beat that deal.
And if I need to subtract pieces, I always drop them at clothing donations sites like Salvation Army or Goodwill. Someone can always use them again. 
4. Shoes
Flip Flops. Because you need them. For general wear, pools, showers, or if you like to walk on the beach as much as me.
5. Accessories
6. Toiletries
I only carry these toiletries because these are the only things I can't make or easily purchase from local shops. I like to be green and aim for zero waste. I don't like using dangerous chemicals, so I make my own toothpaste and deodorant with baking soda and coconut oil. Soap I can find anywhere, usually awesome locally handmade soaps, too. And I don't wear makeup or style my hair, so I don't need that stuff at all. 
I travel liquid-free. A huge benefit of not carrying any liquids means never having to bother getting your liquids out at airport security! I can waltz right on by while everyone else is fiddling around with their plastic bags and little ounces of shampoos. It really saves lots of time. And I also never have to worry about anything spilling inside my bag or exploding at high altitude either. Win-win.
Also: I have glasses (so I can see), a passport (of course), some bank cards, a US drivers license and an international drivers license (so I can drive all over the world).
So that's it people! That's everything that I currently own and travel with! 
I'm a minimalist so I've ruthlessly pruned out all the crap that I don't need, and this is what remains. Don't forget to check out the original post Travel in 11 pounds. When your entire life fits in one bag, the real estate quickly becomes quite valuable.
*Update: also check out the original packing list and the next packing list with this bag!
Disclosure: This post contains affiliate links that may earn me compensation if you purchase through them. 
Erin McNeaney of Never Ending Voyage has been traveling full-time with just carry-on luggage for 6 years. Her book The Carry-On Traveller shares practical tips to help you pack light and never check luggage again!